New Gen Transport continues rapid rise
19/01/2021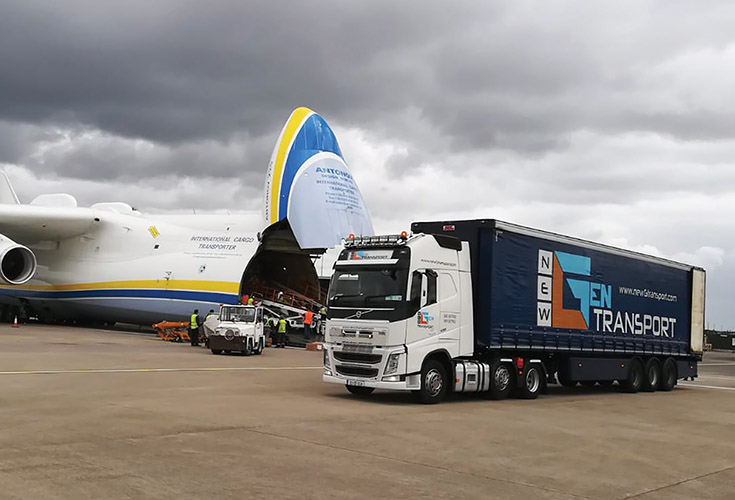 Based in Cratloe, Co Clare, New Gen Transport Ltd provides its clients with an excellent transport and logistics service throughout Ireland and the UK. Irish Trucker heard more from the company's General Manager Paul Cuddihy and its Transport Manager Gillian Harney recently.
New Gen Transport Ltd has enjoyed a rapid growth since its inception three-and-a-half years ago and the plan right now for Paul Cuddihy and Gillian Harney is to continue that growth into 2021.
Situated at Unit 2, Portdrine Business Park, Cratloe, Co Clare, the company currently employs 25 staff and has more than 20 vehicles on the road to keep up with the demands of its clientele.
Paul Cuddihy heads up the business as General Manager, while Gillian Harney is its Transport Manager.
Both started the company together in early 2017 off the back of 40 years' combined experience in transport and logistics and both were good enough to take the time to tell Irish Trucker all about their thriving business venture.
"We supply to all the major freight agents in Ireland," explained Paul.
"We transport anything from pharmaceutical goods to the transportation of aircraft engines and parts.
"We also have a storage facility which is 20,000 square foot and offer cross docking, storage and distribution in a clean and secure facility."
Indeed things have come a long way for Paul and Gillian and their company in under four years.
Today, they are viewed as company which provides a transport and logistics service throughout both Ireland and the UK.
Their location gives them easy access to Shannon Airport and they are also within easy reach of all major road networks and surrounding counties, including Galway, Limerick, Cork, Kerry, Tipperary and Dublin to name a few.
Back when things were getting off the ground in the early months of 2017, they had started relatively small out at Portdrine Business Park and it seems as though business has grown by the quarter since.
"I started with Gillian a couple of years ago and we both felt that we had strong knowledge of the transport industry," said Paul.
"I have 25 years' experience in the industry, while Gillian has 15 years' experience working in
transport and logistics. So we were confident that we could manage a successful business at the time and, thankfully, we're still here and still growing."
Since 'Day One', New Gen Transport Ltd has strived as a company to try and maintain the highest levels of service and quality providing all customers with transport and logistics solutions.
They pride themselves on providing an effective and efficient service with highly trained professional staff getting to destination on time every time.
The company operates on a 24/7 basis and are always contactable to fulfil their customers' needs.
All in all, things have run smoothly for Paul and Gillian since setting up shop, with the COVID-19 pandemic having been the first real bump in the road thus far.
"We certainly felt the impact of it," said Gillian. "But, I have to say, that we've been lucky because we did a lot of work for our medical and pharmaceutical clients during those lockdown months.
"Hopefully now in a couple more months, we'll be employing a few more drivers and get one or two more trucks on the road for next year."
As it stands, the company's fleet is already very impressive.
There are 11 articulated trucks in the yard which are made up of Volvos and MANs, while the seven rigids are DAFs.
New Gen Transport Ltd also has four Renault Master vans on the road and will be adding four brand new Smith trailers to its fleet in the weeks to come.
All of the company's temperature controlled trailers are ATP Certified.
To put in plainly, New Gen Transport Ltd operates a modern, reliable and eco-friendly fleet.
It's continued investment in reliable quality trucks, trailers and vans ensures that down time can be kept to a minimum and customers deliveries reach destination on time every time.
It has been a key part of the secret to success to date for New Gen Transport Ltd, with a continued emphasis on quality being driven on by the company's founders since the beginning.
"We feel that we drive a high quality business and attention to detail has always been a big thing for us here. Hopefully we can continue that going forward," said Gillian.
Today, New Gen Transport Ltd provides specialist transport and logistics services for the Pharmaceutical, Air Freight and ADR industries.
They also offer the collection of waste, both hazardous and non-hazardous, throughout all of Ireland and hold a multi-regional waste permit which allows the transport of hazardous and non-hazardous waste.
As regards time critical service, the company is always on top of matters when it comes to time sensitive shipments while offering direct vehicles to mainland Europe for those sensitive shipments.
New Gen Transport Ltd offers an online booking system which gives live updates on deliveries and
collections for customers to facilitate in the smooth running of their day to day activities.
It's a service which saves time for customers by cutting out the need for multiple phone calls while having full visibility of all jobs assigned to New Gen Transport Ltd.
Looking towards the months ahead, the company is targeting further expansion with regards to both personnel in their staff and vehicles on the road.
It's safe to say there's no lacking ambition at New Gen Transport Ltd.
"We offer a 24/7 service here and we're hoping to expand to keep up with demand from customers. Please God, we will have a further few trucks on the road by the end of the year," Paul concluded.

New Gen Transport Ltd
Unit 2,
Portdrine Business Park,
Cratloe,
Co. Clare
V95 YX70
Tel: 061 587 998
Web: newgtransport.com
Published in Irish Trucker & Light Commercials magazine, Nov/Dec 2020, Vol 23 No 5