A family tradition for Michael Walsh Transport
12/01/2021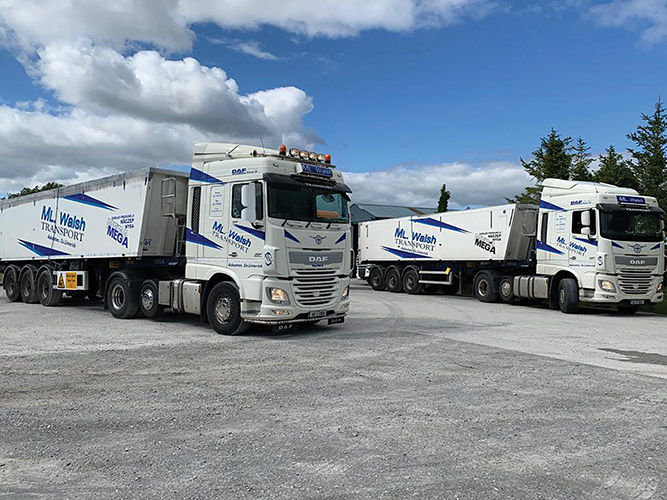 Michael Walsh Transport Ltd is a family-run general haulage services company based in Askeaton, Co. Limerick and specialising in the transport of bulk, packaging, construction, precast, hazardous, fuel and farming products.
The business covers all rural areas, towns and cities nationwide. Established over 50 years, it continues from strength to strength thanks to its expertise, experience and professional services in transport and logistics.
Michael and Jonathan Walsh are the third generation of hauliers for Michael Walsh Transport Ltd, following in the footsteps of their parents Micheál and Kathleen, and grandfather Johnny.
"We have been around trucks all our lives," says Michael who is a mechanic by trade (Jonathan is a qualified electrician).
"We both hold our truck driving licenses for over 25 years now. The experience and work ethic of our parents has generated more than just financial value for us as we were always encouraged to look ahead to the long-term and align our values with those of our customers, as well as always providing a quality, reliable and value-for-money service. All this has contributed to our success," explains Jonathan.
The company runs a modern fleet of trucks and trailers, and employs drivers who are highly skilled, experienced and have a great rapport with all their customers. The Walsh's have many long -standing clients who they have worked with for decades. When asked what the secret to their success is, they answered: "We provide a wide array of services, modern equipment, and of course, we are willing to go the extra mile for our clients.
"It is essential to be flexible to our client's needs and to always ensure that the products are delivered on time and in the correct condition."
Michael also comments that "another key element is that we both share a strong focus on transparency and communication, not only between ourselves but also our clients and staff.
"It is a tough profession to be in and never more so than during the recent lockdown caused by Covid-19 pandemic. Thankfully we are back operating at full capacity again and doing what we do best, providing a top-quality service to all our customers. The dedication of our drivers and skills of our in-house mechanics also serves us well. Our drivers are great ambassadors for the company. It's a real team effort and everyone works hard."
Michael and Jonathan are confident that their own children will carry on the family trucking tradition in years to come. Michael has three children, Mikey, Gearoid and Faye and Jonathan is father to Emma and Kate.
The brothers are proud to be among a number of second- and third-generation hauliers in West Limerick.
"Although competitors, we all do our best to support each other where possible. We might be small, medium or large hauliers, but collectively we can offer any industry thinking about setting up in our region one of the largest commercial fleets in Ireland," they added.
Michael concludes by saying: "We would like to take this opportunity to thank all our customers for their continued business, our sponsors for this article, our suppliers for their prompt delivery of products and our staff for standing by us at all times. A special thanks also to our wives Lorraine and Joan for all they do. It is a 24-hour, 7-day-a-week business and they have always been there to support us."
For any additional information or a competitive quote, be sure to get in touch with Michael or Jonathan - who are currently recruiting experienced drivers (both full-time and part-time) - at the numbers below.
Michael Walsh Transport Ltd
Toomdeely South,
Askeaton,
Co. Limerick.
Telephone: 087 2655299 (Michael) / 087 2228397 (Jonathan)
Email: [email protected]
Published in Irish Trucker & Light Commercials magazine, Nov/Dec 2020, Vol 23 No 5