Dedication the secret to Stephenson Transport's success
07/01/2021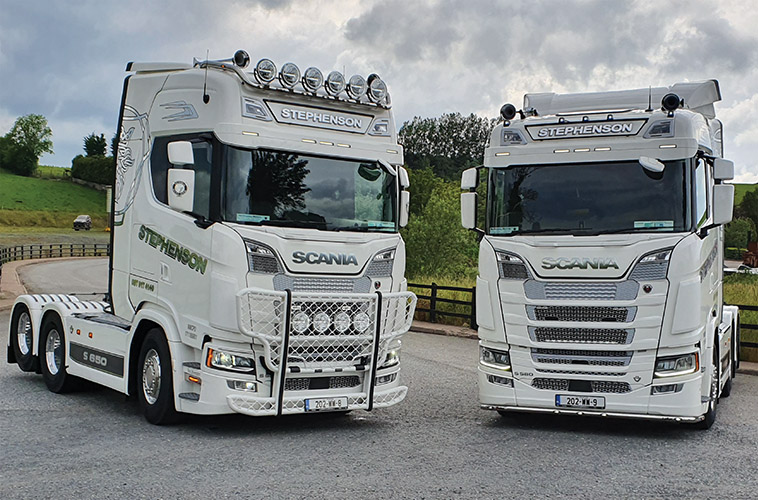 Stephenson Transport became the proud owner of two new '202' Scania V8 Tags when the '202' registration plates came into force. The County Wicklow operation continues to grow from strength to strength.
Managing Director David Stephenson chose an S580 normal cab and an S650 Highline - both of which are fully loaded with every extra possible – from McElvaney Motors.
Always an impressive presence, Scania V8 trucks can be tailored to meet your individual needs and there's a really touching tribute to David's dad, Herbie Stephenson, on the rear of the S650 cab – a picture showing a very young David alongside his late father.
Herbie Stephenson worked in timber haulage and the sand and gravel business all his life before he tragically passed away following an accident in 2001. David inherited his passion for haulage from Herbie and he has been putting that to good use of late by building a business which has developed an enviable reputation for reliability.
After working alongside his mother Ann and brother Herbie in the family business following his father's untimely passing, he decided to forge his own path.
Headquartered in The Glen of Imaal in the picturesque Garden County, Stephenson Transport commenced trading under David's watchful eye in 2012. It began life with David, another driver and two trucks and it is no exaggeration to say that the business has come a long way since then.
"David grew up in haulage, he lived in lorries. He has been driving trucks from a young age and it's just a way of life for him. It's a way of life for us all," explained David's partner and 'right hand woman' Ruth Kelly who is one of 10 people who are gainfully employed in Stephenson Transport nowadays
These are the first new Scania trucks to join the Stephenson fleet and judging by Ruth's comments they won't be the last.
"I'd say that is safe to say," she laughed. "We got them on July 1st and David and the driver that drives the other Scania absolutely love them. They're gorgeous trucks."
Volvo is Stephenson Transport's other brand of choice and their 10 trucks are rarely idle. The company specialises in site clearance and general haulage. They also have a specific focus on supplying sand, aggregates, woodchip, sawdust and shavings.
"The animal bedding side of the business has really taken off in recent years, delivering woodchip to racecourses and horse trainers, that type of work" Ruth revealed. "Overall, business is going very well and we're on the on the up. It's great to have something positive to report amidst all the uncertainty that there is at the moment."
What are the secrets of Stephenson Transport's success to date?
"Definitely David's dedication," Ruth answered. "I'm his partner as well and I see both sides of it. There's a lot of sacrifices and hard work put in. David's dedication to his work is unbelievable. It's his second family and that attitude filters down through all the drivers. They are all brilliant in what they do every day. We also have our secretary in the office who also does great work in keeping the other side of the business going on a daily basis. Myself and David see all this and are very aware of all the work and effort that's put in by everyone.
"That effort, dedication and David always being true to his word - I feel that's what sets him apart. He's constantly striving forward and fully committed to developing and growing the business further."
The company's ever burgeoning client list is testimony to the high levels of customer service that David and the Stephenson Transport team provide on a day to day basis.
Ruth continued: "We consider ourselves lucky to have built up a list of loyal clients who regularly avail of our services. At the start, like any business, you have to get going and get your name out there. Now that we are more established, we have frequent customers and more coming on board all the time which is good.
"As I said, we're very happy with how things are going. David's young himself, we have a young family and he has achieved a lot in the last eight years. We are very proud of him."
And David has no intention of resting on his laurels…
"There has been a lot of expansion in the last five years and, please God, down the line we'd hope to expand more. We'll see how things go, but yes, absolutely, there are future plans for the company, and hopefully the same work ethic will help us achieve those goals," Ruth concluded.
To find out more about Stephenson Transport and how it can respond to your haulage needs, contact David at the number below.
Stephenson Transport Ltd
The Glen of Imaal
Co Wicklow
Mob: 087 917 4140
Email: [email protected]
Published in Irish Trucker & Light Commercials magazine, Nov/Dec 2020, Vol 23 No 5