Claremorris Repair Centre – the one-stop shop for commercial vehicle services
05/01/2021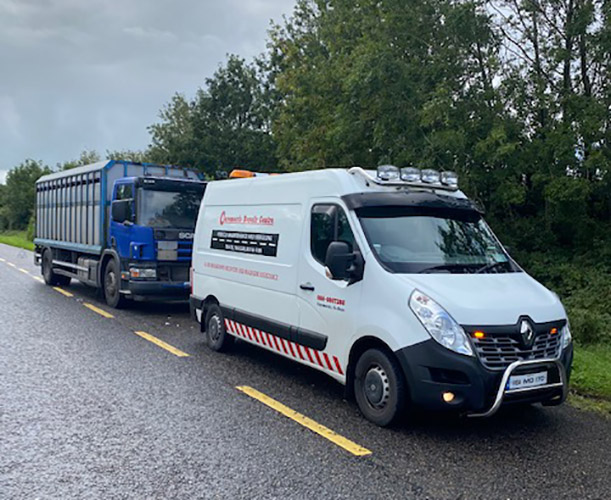 Commercial vehicle operators from across Mayo know they can depend on Claremorris Repair Centre to provide professional, value-added servicing, repair and breakdown solutions. We sat down with proprietor Mick Mulkeen to discuss the history of his exceptional, in-demand operation and the full range of industry-leading services provided to discerning truckers.
When it comes to looking after trucks, trailers, vans or indeed cars, there's nothing that Mick Mulkeen and the trusty team at Claremorris Repair Centre can't do. From servicing and inspections to diagnostics, recovery and repairs, Claremorris Repair Centre provides the full range of proactive and reactive solutions to ensure that downtime is kept to an absolute minimum and vehicle owners can get back on the road as quickly, efficiently and safely as possible.
Mick, who has worked with trucks and trailers all his life, has been operating out of his existing, state-of-the-art, two-bay facility at Drumkeen for a decade now. "We actually moved into this building over August Bank Holiday, 2010," he reflects. "Prior to that, I'd been working out of a rented shed but the time was right to move into a new building."
It was an inspired decision and Claremorris Repair Centre has never looked back, developing an enviable reputation as one of the premier truck services providers in the West and organically building up a steady flow of business from satisfied customers and also through positive referrals alike.
Years of experience working with commercial (and passenger) vehicles has led Mick to realise the validity of the old adage that prevention is better than cure: "We certainly find that if owners keep their inspections up and service the vehicles regularly, then it's going to work out better for them in the long run," he agrees. "If you keep on top of things, then there should be no nasty surprises. When a truck or van owner sticks to the proactive approach, there will be small, regular outlays and this is preferable to potentially being hit by one big bill later in the year after something unexpectedly goes wrong because the vehicle wasn't properly inspected or serviced."
Flexible, diverse and all-encompassing, Claremorris Repair Centre is the veritable one-stop workshop for all commercial vehicle needs. "We do servicing, DOE pre-checks, twelve-week inspections of heavy vehicles, maintenance and repairs of all makes and models of trucks, trailers, vans and cars and we also provide a 24-hour breakdown recovery service for light and heavy commercial vehicles," Mick states.
Although the services are sometimes extended to cover cars, commercial vehicles are very much at the heart of the operation: "We carry out a little bit of private work on cars of any models, but to be honest, it's mostly lorries and light commercials," Mick confirms.
The modern workshop is packed full of the latest tools and equipment, including diagnostics, with no expense spared to ensure that truckers and their vehicles get the best possible service. Four-wheel alignment is provided for trucks and Mick has invested heavily in high-end Snap-on tools and diagnostic equipment. On the diagnostics front, all the equipment and software is fully-licensed and kept up to speed. "It can be expensive and there are a lot of overheads involved in keeping everything up to date and modern, but you simply have to do it if you want to provide a good service," the Mayo man notes.
The hard work and expenditure are paying off… "We have two mechanics here full time and we're flat-out, thankfully. We're lucky to have a good selection of loyal customers, who stick with us, and the twelve-week inspections are a big part of it now. That keeps us going. We wouldn't be here without the support of local businesses. A lot of local operators are coming back and we're delighted to have built up such strong contacts with local companies."
Generally, a catchment area of within a 20-30km radius of Claremorris is covered, taking in Ballyhaunis and Castlebar, although of course breakdown and roadside recovery services are offered nationwide. "With breakdowns, you could find yourself literally anywhere in Ireland," Mick points out. "I took the decision to purchase a recovery truck, again to improve our services to our customers. Realistically, you need to be covering as many bases as possible.
"With modern vehicles, even though there are a lot of improvements, you still never know for sure when they are going to break down. My phone is never off and I'm on call 24/7 just in case a customer runs into a problem."
Like practically everyone else in the world, Mick's business was adversely affected by the novel coronavirus outbreak earlier in the year, but things have slowly returned to something approaching normal: "It quietened off a bit but we were kept going," he concludes. "We are not quite back to where we were pre-Covid but thankfully we are returning to something resembling normality as far as the business is going. During the period of lockdown in which we were forced to close I seized this opportunity to fully repaint the workshop including the floor and the pit so it was good to get that achieved at least.
"Going forward, we will keep doing our best to offer the best possible service to our customers. We have a lot of loyal customers and then you are also picking up new ones all the time. The key is to be able to do whatever they need us to do. You have to take the good with the bad and it's been an unusual year but, if things stay as they are, then we'll be grand."
Claremorris Repair Centre
Drumkeen,
Claremorris,
County Mayo.
Tel: 086 0807288
Published in Irish Trucker & Light Commercials magazine, Nov/Dec 2020, Vol 23 No 5