Silverdock's service is pure gold
22/12/2020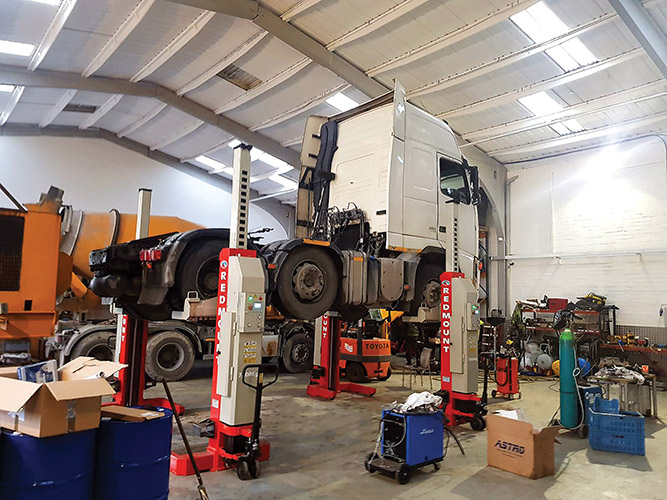 Over the past twelve years, Silverdock Ltd. has developed into one of Dublin's premier haulage and commercial vehicle repair companies, offering professional, prompt and value-added services to an ever-growing list of satisfied customers. We popped into their well-appointed Dublin 24 HQ to get an insight into this exceptional, industry-leading operation from director Giedrius Lukosius.
Fronted by Giedrius Lukosius and Mykolas Kliusenkovas, Silverdock Ltd. (t/a Amga) is a multifaceted trucking company, offering top-class haulage and commercial vehicle repair, servicing and testing services from its state-of-the-art depot in Cookstown Industrial Estate.
With a fleet of 20 trucks on the road and a modern, spacious workshop, Silverdock's unrivalled business model is built on solid cornerstones of dependability, professionalism and genuine passion for all things truck-related. A strong work ethic permeates every facet of the operation and all personnel – directors, technicians and drivers alike – are completely dedicated to achieving absolute customer satisfaction.
Silverdock is the archetypal one-stop for all trucking needs – from haulage to repairs, servicing, testing and recovery, with a 24-7 service provided to customers and no stone left unturned in the relentless pursuit of perfection. By looking after customers morning, noon and night, Silverdock's reputation for quality and reliability has spread through positive word of mouth and all aspects of the business have grown exponentially as a consequence.
Although born in Lithuania, Giedrius has lived in Ireland for a decade and a half already. He has been assimilated into the local culture and sees himself as half Irish at this stage. And he's pleased to report that, despite the challenges presented by the ongoing global pandemic, business is brisk:
"It's not too bad, in tough times," he states. "I'm in haulage twelve years and we started the commercial vehicle garage four years ago. We were doing our own repairs and then expanded that service to offer repairs and servicing to other hauliers as well. Both sides of the business are going very well."
The haulage business started off as a small, modest one-truck operation but grew gradually as more customers sought out Silverdock's services. As the size and number of jobs increased, so too did the fleet (now comprising twelve trucks and eight mixers). Today, Silverdock can count the likes of Roadstone, Kilsaran, DHL and Tesco amongst its regular clients, while the fact that commercial vehicle repair garage is around the corner from Roadstone's quarry means they get a lot of service / repair business from fellow Roadstone hauliers.
At the time of writing, between haulage and the workshop, gainful employment was being generated for a full-time crew of 25 – a massive contribution to the local economy! No job is considered too large or too small and the commercial vehicle repair and servicing centre is a hub of activity, with rapid-response 24/7 call out, roadside recovery (catering for trucks up to 46 tonnes) and roadside repairs also provided across the Greater Dublin area. A mobile tyre repair and fitting service is also available.
Silverdock's team of highly skilled, vastly experienced technicians know trucks inside out and enjoy nothing more than the challenge of getting vehicles back on the road in perfect running order as quickly as possible.
All types of commercial / heavy vehicle work is undertaken, including trucks and trailers, vans, buses and coaches while the in-house technicians even have the wherewithal and knowledge to work on boats if required.
"As well as skilled mechanics, we have all the latest equipment, tools and software in the workshop, including diagnostics and high-tech lifting equipment," Giedrius continues. "We can do everything from servicing and pre-tests to gearbox, engine and clutch repairs."
All staff members are trained to the very highest standards, so customers can rest assured that their vehicle – or cargo - is in safe hands. Indeed, Silverdock's motivation, hard work and determination to provide a high level of service ensures that customers are satisfied every time!
In everything they do, Silverdock invariably put the customer first and this is the reason why both the haulage and commercial vehicle repair aspects of this two-pronged business have proven to be incredibly successful without any need to advertise or promote the company.
"We are known for providing a dependable haulage service and our rates are flexible," says Giedrius. "Through the haulage business, the guys from Kilsaran and Roadstone have got to know our garage, which is conveniently located around the corner from Roadstone's quarry in Belgard. We try to be as competitive as we can in the garage but quality workmanship has to come first and the main thing is to do a professional job and make sure the lorry leaves in the best condition and don't come back to you."
Very much a hands-on director, Giedrius is delighted that Silverdock has managed to earn such a stellar reputation through word of mouth: "It's one of the things that makes us really happy because it's a reflection of the quality of our services. People know from talking to one another one-on-one that we are providing top-quality services and we are really pleased to have such a strong reputation."
Having expanded the fleet quite significantly - from one to 20 units - inside the past five years, Giedrius says further expansion is not a priority at the moment due to the uncertainty of the economic situation. He concludes by pointing to the vital role that trucks and truckers play in sustaining not just the economy in Ireland but our way of life:
"The country wouldn't be running without lorries, simple as that. It's very important to look after lorries and keep everything moving and keep everybody happy."
Keeping people happy is what Silverdock is all about!
Silverdock Ltd.
Unit 81A
Cookstown Estate Road,
Cookstown Industrial Estate,
Tallaght,
Dublin 24.
Tel: 087 6976852 / 085 7819100
Web: silverdock.ie
Published in Irish Trucker & Light Commercials magazine, Nov/Dec 2020, Vol 23 No 5