Centre of Excellence
18/12/2020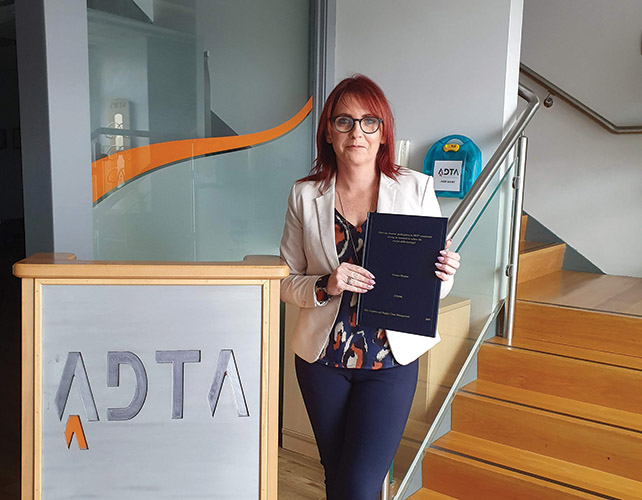 These are exciting times for ADTA (Advanced Driver Training Academy) which is evolving all the time to meet the ever-changing needs of the transport industry.
Based in Mullingar and established in 2008 by Yvonne Sheehan, ADTA is pivoting its business to become a blended learning consultancy and training company which will see it provide an online eLearning platform to support its clients. The company is currently working with Skillnet CILT to develop and design courses to support the logistics industry.
"We would consider ourselves more of a consultancy and training firm nowadays than a driver training academy," says Yvonne, who has 23 years' experience in the transport industry.
"I started up my own School of Motoring in 2003 before upskilling into truck and bus training which led to me setting up ADTA in 2008. I have 12-14 contract trainers who have helped thousands of drivers upskill in the logistics sector to progress their careers. To provide services in such a vast industry, you have to keep moving with the times and that's what we are doing. We provide our clients with the services they need."
ADTA offers consultancy services on transport operations primarily in Transportation Strategy Development and Transport Management Systems (TMS) Selection and Implementation in preventative maintenance programmes as well as Tachograph Analysis and Software Installation. In addition, the company provides advice and representation in court for logistics companies and drivers as a Tachograph analyst for any legal proceedings in the resolution of disputes in the transport and logistics sectors.
"If there has been a breach in regulations, we will represent that company in court and explain what measures they have taken to ensure compliance. If drivers or transport managers require training arising from Tachograph audits, we also provide that," Yvonne continues.
Some of the training services cover CPC Transport Management, ADR Hazchem, Driver CPC, Tachograph training and consultancy, DG Awareness, Decision Driver Training, Driver Assessments for Insurance, and are tailored to suit the needs of the clients.
ADTA is the only provider in Ireland approved by the Department of Transport and CILT currently delivering CPC Transport Management online. As well as resulting in the rescheduling of the next CPC Transport Management examination from September 2 to December 8, the COVID-19 pandemic has prompted Yvonne to look at how the course is delivered. Traditionally, this course is delivered via face-to-face lectures. This system has worked well up to now and will work again into the future, but for now, Yvonne is calling for online training to be mandatory.
"I have been lobbying the RSA on this issue," she explains.
"The classroom environment is not the best fit with social distancing. Online Driver CPC training has been made available in Northern Ireland and the UK since COVID-19, why not here? We need to facilitate our drivers, especially those over 55 who may have underlying health conditions and aren't willing to come back into a classroom at this time. The RSA must be seen to support the logistics industry and training providers on this matter. We need to work together to get through this pandemic.
"In order to keep training going and to allow candidates to progress to their examinations in December, we looked at our methodology of delivery. The traditional requirements of a minimum of 100 hours of programmed training with candidates availing of a minimum of 75 hours still apply. Therefore, we have adapted this for the industry and are able to offer this to combine both evenings and day-time training to suit all clients.
"This should also apply to the Driver CPC training which is delivered in a classroom environment for seven hours. We need to commit to ensure logistics workers can continue to receive the vital training they require to keep operations safe, efficient and compliant."
Yvonne is an accomplished logistics and transport manager whose core values are delivering high level work practices coupled with a focus on continuous improvement and innovation to provide excellent customer service. Through her extensive business experience, her focus is always on developing strategies to increase performance and optimise services in the logistics and transport sectors. The Co. Clare native's approach is further supported by her excellent personnel management and corporate training skillset which allows her to successfully manage and lead cross functional teams across a range of projects.
Additionally, Yvonne's educational qualifications and legislative compliance knowledge provide her with a strong toolkit to deliver successful projects. She is an energetic self-starter, disciplined, adaptable and a proven leader and team builder.
Her qualifications include: Bachelor of Science – Logistics & Supply Chain Management, First Class Honours, Technological University Dublin (2019)
Certificate of Professional Competence in International Road – Business Haulage & Passenger (2001 and 2002)
Dangerous Goods Safety Advisor – Hazardous Chemicals (2011)
Approval of ADR Driver Training Courses HSA (2015)
Approved Driving Instructor – Train the Trainer (1997)
First Aid Response Instructor (2016); Manual Handling Instructor (2016)
Fire Warden Instructor (2016)
Yvonne is currently studying an MSc in Strategic Management at Technological University Dublin (TUD) where she is also an assistant lecturer in Road Freight Logistics Apprenticeship. She was delighted that her dissertation "How can women's participation in HGV commercial driving be increased to reduce the current skills shortage" was accepted for the e-LRN 2020 Special Web Conference where she presented her findings on September 9, 2020 last. Yvonne is grateful for the support she continues to receive from Declan Allen at TU Dublin and is also thankful to all the participants interviewed during the course of her research. She also presented her dissertation at the National Manufacturing & Supply Chain Conference in City West Hotel, Dublin last January 2020.
ADTA reopened its doors on June 29 last following the COVID-19 outbreak and has put in place all the necessary safety precautions along with achieving two-metre distancing at its newly-renovated training centre. ADTA has also reopened its training centres across the midlands in the Bailie Hotel Bailieborough, Cavan and the Talbot Hotel, Carlow.
To secure your booking, please see the contact details below.
ADTA (KM Driver Training Ltd)
4 Church Avenue,
Mullingar,
Co. Westmeath.
Telephone: 044 9345740 / 086 7958001
Email: [email protected]
Published in Irish Trucker & Light Commercials magazine, Nov/Dec 2020, Vol 23 No 5