'On time, every time'
16/12/2020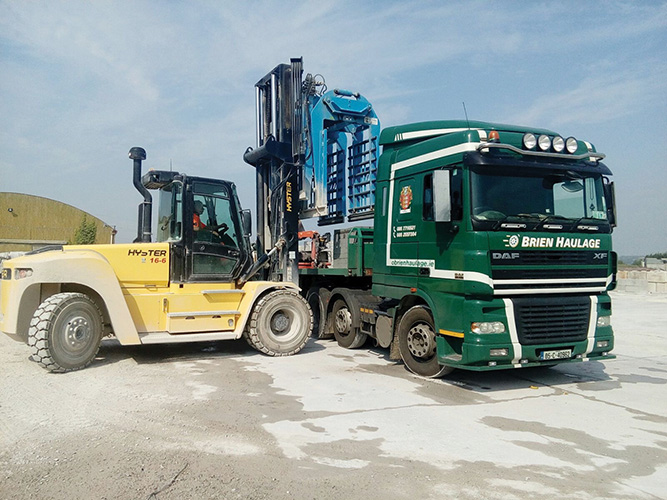 Providing a service that guarantees your goods arrive "on time, every time", O'Brien Haulage is a long-established, multi-faceted haulage provider based in West Cork which continues to go from strength to strength.
The family-run business was founded in 1976 by PJ O'Brien who operated as a sole trader until a decade ago when his son Kevin came on board after studying and working as a Civil Engineer since 2001. Since becoming a limited company, O'Brien Haulage has expanded its services to include general haulage, food / general purpose tanker haulage, bulk haulage, container haulage, livestock haulage and waste water / slurry haulage.
"My father specialised in livestock transport for over 30 years, doing runs to marts and factories. I always wanted to return home to West Cork to live and had an interest in trucking from a young age. I qualified as a transport manager in 2015 and we set up to O'Brien Haulage and branched into other areas," managing director Kevin O'Brien reveals.
"We have grown our expertise and fleet to meet the expanding industry locally, nationally and internationally. We have 14 staff on our books, including my wife Ailleen, who takes care of the admin. We also have our own in-house mechanic who maintains and services the fleet, and carries out 12-week vehicle inspections in accordance with the guidelines implemented by the RSA."
Kevin and PJ run a fleet of 12 DAF tractor units and 25 trailers which are a mix of bulk tippers, flats, tankers, curtain-siders, skeletal and livestock. The livestock trailer is a three-deck Pezzaioli. All of the tractor units are plated for 46-tonne gross weight which allows a more competitive quotation for clients. They also have satellite tracking and are fitted with three-way cameras.
"Truck Services in Cork is our local DAF dealer. We've been running DAF trucks for over 40 years and continue to do so because of their reliability, comfort and fuel economy. We know them inside out at this stage," adds Kevin, whose striking green and white fleet is always meticulously turned out.
Health and safety are of paramount importance to O'Brien Haulage whose drivers undertake annual CPC training and have completed Hazchem training for both tankers and packaged ADR goods. The drivers have also completed Safe Pass training, tachograph training and daily walk around checks training courses. O'Brien Haulage is fully licensed and insured to work both nationally and internationally.
From its base in Leap near Skibbereen, the family-business prides itself on its professional, reliable, friendly and value-for-money service as well as its modern fleet. "We provide a service that ensures your product will be delivered with 100% commitment," Kevin says.
With their flat and curtain-side trailers, the O'Brien's can transport a wide range of products. They are ADR certified and have a range of food grade and GP ADR road tankers which can carry up to 35,000 litres of liquid depending on product weight. They also provide on-board pumping facilities which allows independent loading and unloading of their tanks. Their tanks are cleaned with EFTCO certification.
They can also transport bulk food and animal food products, and have been TASCC-approved for the past six years. The TASCC code of practice aims to combine food / feed safety legal requirements with recognised industry good practice and specific customer requirements to provide confidence in the food / feed chain. As a TASCC-approved haulier, O'Brien Haulage can provide full traceability and ensure that trailers are cleaned and sterilised accordingly.
Livestock transport remains a cornerstone of the business and in this regard, O'Brien Haulage is certified by the Department of Agriculture, Food and the Marine for livestock transportation. The company is also a member of the Red Tractor Assurance Scheme. In addition, the West Cork concern has a range of tankers to transport wastewater and slurry. Vehicles are steam cleaned and disinfected after use to eliminate the risk of disease and cross-contamination from farms.
O'Brien Haulage boasts a wide and varied client list ranging from co-ops and meat processors to distilleries and breweries.
"Our customer-base is growing all the time. It includes Drinagh Co-op, Rosderra Meats, Dawn Meats, Stauntons Foods, West Cork Distillers, Glendalough Distillery in Wicklow, Cooley Distillery in Dundalk, Craft Irish Whiskey, Cork Bonded Warehouses, The Malting Company of Ireland, Albatrans Ireland, Doyle Shipping Group, Goulding Chemicals, Grassland Agro and Swantons Nurseries to name a few.
"We are livestock agents for Dawn Meats and Rosderra Meats, and have strong relationships with various other beef and pork factories and marts throughout the country. We do three runs a week to Rosderra's factories in Edenderry and Roscrea. We transport bulk feeds, fertilisers and coal for Drinagh Co-op, and transport bulk distillers grains, spelt grain and Pot ale by-product for West Cork Distillers in Skibbereen. The spelt grain and Pot Ale are used to feed dairy and beef cattle.
"The work we do for West Cork Distillers has led to us securing work for other distilleries, breweries and micro-breweries. It has also led to us doing a lot of container work between Cork and Dublin and we have tankers in and out of the UK weekly. This is a growing area for us. We transport timber casks as well. All in all, we're very busy and long may that continue to be the case."
O'Brien Haulage supports the local community and is proud to sponsor Kilmacabea GAA club in Leap.
Kevin and PJ would like to take this opportunity to thank all their staff, valued customers and suppliers for their continued support.
O'Brien Haulage
Shreelane House,
Shreelane,
Leap,
Co. Cork.
Telephone: 086 7716921 / 086 2597304
Email: [email protected]
Web: www.obrienhaulage.ie
Published in Irish Trucker & Light Commercials magazine, Sept/Oct 2020, Vol 23 No 4