Tyrone's gas specialists
14/12/2020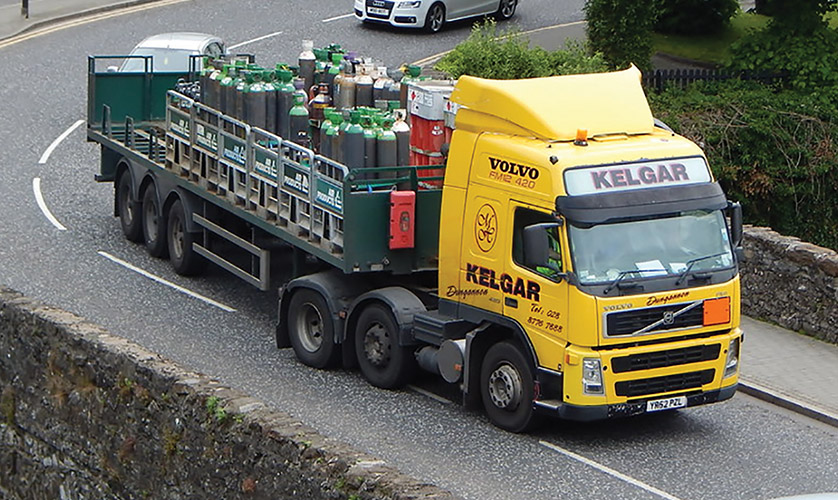 Established in 1987, Kelgar Haulage is a family-run business which specialises in delivery of Liquid Petroleum Gas. Irish Trucker learned more about the Dungannon-based company from founder and owner Malachy Hughes.
This November sees Kelgar Haulage mark 33 years in business and for Managing Director Malachy Hughes, or as he describes himself 'The Leader of the Band', the plan is to simply keep moving forward.
Based along the Old Ballygawley Road outside of Dungannon in Co Tyrone, the company has dedicated lorries delivering LPG gas to outlets throughout Ireland.
Kelgar Haulage has always prided itself on developing good working relationships with its customers such as Calor Gas adapting to their specific requirements.
Malachy himself took time out from a busy schedule to fill Irish Trucker in on the details.
"Right now we have four lorries on the road there delivering and there are two different two companies in the yard," the Managing Director explained.
"The haulage is Kelgar Logistics and then the pallet end of the business is Kelgar Limited. So we've two different companies here."
He continued: "2019 was a reasonably good year and we were fairly steady throughout. Calor were quite happy as the figures went up and while it wasn't a very cold winter in 2020, we've been keeping the wolf at the door, you could say."
Kelgar employs fully trained ADR drivers and industrial gas deliveries are now an integral part of the business, delivering to gas agents all over Northern Ireland.
The company has a distribution network delivering beverage gas to the drinks dispense industry throughout Ireland.
Gareth Hughes, Malachy's son also undertakes contract work undertaking the transport of abdominal loads such as large storage vessels from up to 100 tonne and will undertake all aspects including method statements, risk assessments and can offer an appointed person and banks man for all crane lifting operations.
Before becoming an employee with Calor, Malachy gained some engineering experience with a firm that he would use to good effect in later life.
He had started out as a temp with Calor for two months helping out on their trucks and before long he was employed as a full-time driver.
"I was with Calor for 18-years before they moved delivery to outside hauliers. I formed Kelgar then which was named after my sons Kelvin and Gareth and started delivering for Calor."
From his days as a helper on a Calor truck, Malachy knew the importance of the helper as a driver would never manage a delivery on his own.
"Unless you had a helper on a truck, there was no point in going out with deliveries as the driver would never manage on his own," he outlined.
"It was something that always gnawed me. I worked on a system where deliveries could be made safer and also quicker.
"I brought this to Calor, but they reckoned that there was no need for a change. So I patented a pallet system where all the bottles were loaded on pallets and then put on trucks that had forklifts mounted on them.
"So this means that the deliveries can be made by the driver on his own, while it also cuts down on manual labour.
"Not only have Calor decided to use this system but most of their rivals are doing so now as well, while it is used in England also," said Malachy.
At 73 years old, you could safely say that Malachy Hughes knows what it takes to survive and thrive in the industry.
In November 1987, he took the decision to start up Kelgar Haulage and the rest, as they say, is history.
"We're a very small and humble company," Malachy put it plainly. "Calor have been good to us here and we've been good to them.
"We don't agree all the time but it's a good way of working with people. Thankfully, business is good enough right now."
A big boost to business has been the palletised system introduced by Kelgar for the storage, handling and distribution of LPG gas cylinders.
These pallets have numerous uses for the storage and handling of products across a broad range of industries and can be manufactured to the client's exact specifications.
The pallets and trailers are built in compliance with stress and impact testing to CE Standard. This innovative modular handling system has proved a great success with LPG companies showing interest throughout Europe.
Kelgar can design and manufacture palletised systems tailored to individual requirements.
As regards contract lifts, Kelgar can undertake the transport of abominable loads such as large storage vessels from up to 100 tonne and will undertake all aspects including method statements, risk assessments and can offer an appointed person and banks man for all crane lifting operations.
November will see the company mark 33 years in business and, even at the ripe age of 73, there's no sign of Malachy letting up as Kelgar's trucks continue to travel the roads of Northern Ireland.
For the Co Tyrone native, the customer has always (and always will) come first.
"Calor are the biggest suppliers of gas in the 32 counties, so you can just imagine the customer base that they have.
"We look after a certain area in the north and through the trucks that we have on the road, we cover many shops and forecourts.
"It's up to us make sure that all deliveries are made on time, otherwise Calor will just get someone else to do it, simple as that," he concluded.
Kelgar Haulage
122 Old Ballygawley Road,
Eskra,
Dungannon,
Co Tyrone, BT70 1TA
Tel: 028 8776 7602
E-mail: [email protected]
Published in Irish Trucker & Light Commercials magazine, Sept/Oct 2020, Vol 23 No 4