One of Ireland's newest CVRT test centres opens in Midleton
14/12/2020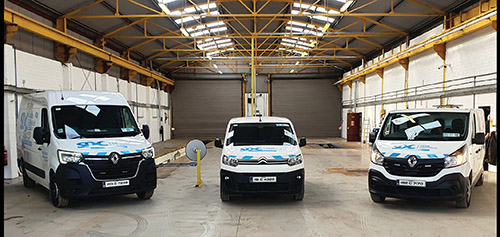 Sean Dennehy Commercials Ltd in Midleton, Co. Cork is home to one of Ireland's newest CVRT test centres, which opened in March and complements the existing truck, trailer and van repair and maintenance workshop.
The test centre is an exciting addition to the exceptional family-run business which started out as a commercial garage in October 2018. Its founders, father-and-son John and Sean Dennehy, have a wealth of experience in the trade.
"We opened on March 9 and were very busy for the first few weeks before the lockdown caused by COVID-19 put a sudden stop to vehicle testing across the country. Thankfully, testing was allowed to resume in May and we haven't looked back since. We have received tremendous support from light and heavy goods vehicle owners in the surrounding area," Sean explains.
Sean Dennehy Commercials is now a one-stop shop for all your LCV testing, HCV testing, speed limiter calibration, HCV and LCV servicing and repairs, tachograph calibration, EU plating, voluntary testing, 12-week inspection and 24-hour breakdown assistance needs. Its state-of-the-art workshop, which has separate testing bays for HGVs and LGVs, is centrally located in Midleton.
Sean Dennehy Commercials is the latest addition to a network of independently-owned CVRT test centres dotted throughout the country which carry out inspections on behalf of the RSA on all commercial vehicles. The CVRT inspection includes checking brakes, lights, markings, wheels and tyres, steering and suspension, chassis and underbody, tachograph, speed limiter, exhaust emissions, electrical systems, glass, mirrors and more. Sean Dennehy has invested heavily in the latest equipment for testing all LCV and HCV commercial vehicles. The purpose of the test is to ensure that these vehicles are in good condition throughout their entire life.
"We have made a significant investment in providing the best facilities for our customers. Their safety on the road and the safety of others is of paramount importance to us," Sean says.
"We have two test bays with qualified testers who are more than happy to answer any questions that you may have before and after the test. As a family-run business, we place a strong emphasis on customer service. We will always try to accommodate our customers at a time that suits them. They can relax with a cup of tea or coffee in the waiting area while the test is being completed. It's a nice, friendly atmosphere and we have ample parking space."
Unsurprisingly, the opening of the test centre has had a positive spin-off effect for the commercial garage which offers a wide range of vehicle repairs, servicing, pre-testing and parts sales.
"Our business has been built mainly on repeat custom which pre-dates the opening of this premises. We have customers who my dad and I would have dealt with going back over the years. Our aim has always been to ensure that our customers are 100% satisfied."
Sean continues: "We know that any haulier's biggest fear is downtime and we do our very best to have their vehicle or trailer fully repaired or serviced and back to them as quickly as possible. Our customer-base is growing all the time and we are always looking at ways of improving the service we provide, and the CVRT test centre is helping us to do that.
"We have invested heavily in things like diagnostics which makes it so much easier to locate the source of a problem, which in turn means less downtime for the client.
"We have nine staff who are experienced and very good at what they do, and between us, we can solve any problem. We would like to take this opportunity to thank our customers and Suppliers for their continued support, and look forward to catering for all their repair, servicing and vehicle test needs for many more years to come," Sean concludes.

For your next CVRT test, service or repair, be sure to give Sean Dennehy Commercials a call.
Sean Dennehy Commercials Ltd
Healy Business Park,
Ballinabointa,
Midleton,
Co. Cork P25YY96.
Telephone: 087 1797306
Email: [email protected]
Published in Irish Trucker & Light Commercials magazine, Sept/Oct 2020, Vol 23 No 4