Building a reputation for excellence 
09/12/2020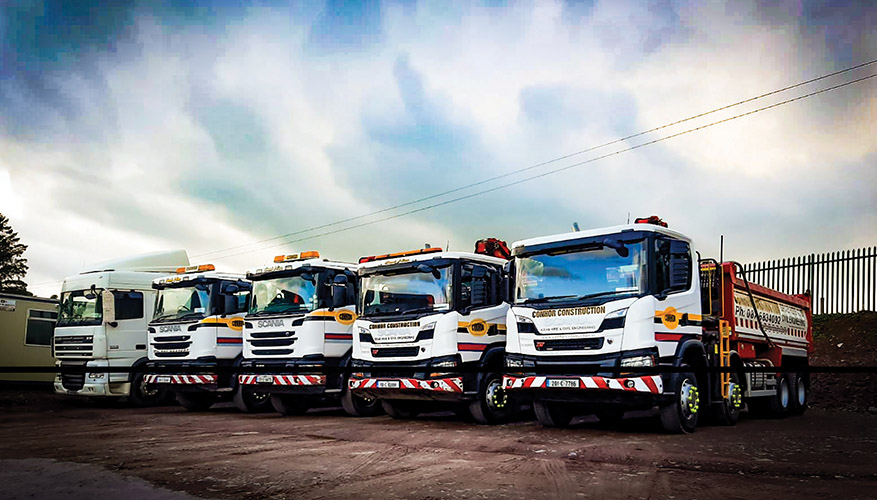 On the go since 1997, Conhor Construction is a leading provider of Grab Hire, Plant Hire and Civil Engineering services throughout Munster. Irish Trucker learned more about the company, as well as its impressive machinery fleet, from Managing Director Martin Horgan.
Business is good right now at Conhor Construction and the plan for company founder Martin Horgan is to keep things that way right through to 2021.
Based in Ballymichael, Lissarda, Co Cork, Conhor Construction is a company which has been quietly
been building a reputation for excellence, reliability and great value throughout the Munster region.
It's a business which works closely with its customers and suppliers while always remaining committed to efficient project delivery.
Irish Trucker caught up with Managing Director Martin Horgan recently to learn more.
"We're established since 1997 and right now we have between 22 and 25 staff working here," Martin outlined.
"Grab Hire is a big part of what we do here and we have a lot of private work on right now for one off customers.
"We've our own landfill and arctic trucks on the road as well to draw concrete to one of our clients in Waterford.
"So the service of the service of the grab trucks is huge for us and we also supply and deliver top quality top soil grabbed off into difficult areas behind kerbs over walls etc.
"We would also supply and deliver stone 804 blinding etc, which is also grabbed off or tipped off."
Conhor Construction pick up soil stone, tarmac, concrete, rubble, clean timber, greens etc.
From multi-utility connections on huge-scale projects, to plant hire for one-off residential building works, the experienced team in Ballymichael are dedicated to providing the most efficient and cost-effective solutions possible.
At the centre of all they do is an understanding that no two jobs are the same.
Each project that the company undertakes is planned thoroughly and in meticulous detail, ensuring the specific requirements of the job are delivered to high standards, on time and on budget.
Down through the years, Conhor Construction has carried out a lot of work for the Cork City Council whether it was Civil Engineering, Plant Hire, Grab Hire, Reinstatement or Utilities.
The company takes pride in being able to offer effective and innovative solutions to a wide range of clients.
Its investment in the latest technology allows them to work efficiently, even in the harshest of weather conditions or in the most hostile of environments.
All of the equipment at Conhor Construction meets the highest Health & Safety guidelines and its workforce is reliable, amenable and well-trained.
They pride themselves on openness and dedication at Conhor Construction and you will find their approachable team are only too happy to discuss your individual needs whenever you require.
Another source of pride for Martin is his company's fleet, which is superbly maintained by in-house mechanic Dave Murphy.
"We've five lorries here, including four Scanias with grabs," Martin stated.
"We've two excavators, three JCBs, dumpers, Bob Cats and a lot of plant 20-tonne machines. Right now we're doing a lot of grab work and we're hoping to do even more going forward.
"We've a nice fleet of clean trucks here and, thankfully, they're all busy on the road at the minute."
Providing cost-effective and reliable solutions for your haulage and compliance requirements, Conhor Construction operate a fleet of modernised lorries providing grab hire in the Cork/Munster area.
The company's project vehicles, which can carry up to 16T, are all fully equipped with all of the safety features required under Irish construction law, including reversing sensors, high visibility markings, back-up alarms, ABS braking systems and fire extinguishers.
Conhor Construction's drivers are highly skilled, certified and insured and they have received in-depth training across a range of aptitudes.
Whether you need material delivering into an awkward space or a difficult-to-reach environment, or whether you're transporting aggregate or green waste, the team at Conhor Construction will be up to the task and can get your materials exactly where they are needed.
They offer a flexible service so you can hire a vehicle and driver by the hour or for a longer-term project, depending on your individual requirements.
Whether you need to excavate a site or lay a patch of tarmac, Conhor Construction is sure to have the solution you require.
They have an extensive range of plant equipment for hire, including excavators, dumpers, ride-on rollers, rock breakers and much more, and are maintained to the highest standards so you can be confident you will receive a vehicle that will do the job first time.
Conhor Construction also offers a high quality reinstatement service, planning, managing and overseeing all aspects of the job from beginning to end.
Their workmanship is second-to-none and for them the job is not done until they have achieved 100% complete client satisfaction.
Its first-time reinstatement has a track record of providing sustainable and great value solutions for clients, including major utility companies and county councils.
Conhor Construction's teams, which receive annual auditing and project management training, all work to the highest expectations and are experienced in providing top quality reinstatements on time and on budget.
Some of areas of expertise include rectifying defects, installing flagging, block paving and kerbs and constructing areas of carriageway and pavement.
The company's ground works team have been working in the Bord Gáis all over Ireland since 1997.
The team at Conhor Construction have carried out many large scale road and warehousing projects with clients such as John Sisk & Son, Summerhill Construction, Cork City Council, Cork County Council, Tipperary County Council and Irish Water.
They use only the best-quality materials in their first-time pass reinstatements and are sure to be able to offer you the surface-type you require, be it york stone, modular blocks, concrete, tarmac or top soil and seeds.
Completing the project, Conhor Construction will ensure your chosen surface is left with an excellent level of finish by adding road or pavement markings and anti-skid top, if required.
All of those things considered, it's no surprise to see business flourishing at the minute down in Ballymichael.
"Business was going good enough until Covid-19 and the lockdown," explained Martin, "but we've bounced back from it and, look at, we're always busy here with the trucks.
"I've probably too much on at the minute but you can do a bit more when you have the trucks.
"We've a lot of work on and we're organised and we do it right."
Great to hear.
Conhor Construction
Ballymichael,
Lissarda,
Co. Cork
Mobile: (087) 683 4092
E-mail: [email protected]
Published in Irish Trucker & Light Commercials magazine, Sept/Oct 2020, Vol 23 No 4