O'Harte Transport turning heads with new fleet additions
07/12/2020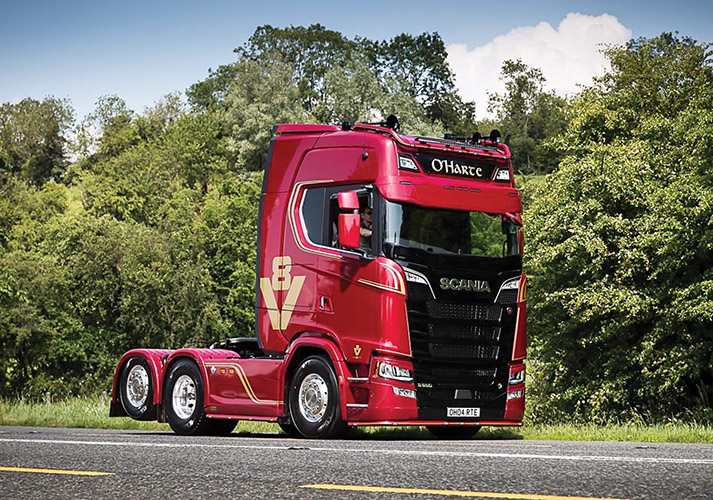 These are exciting times for O'Harte Transport Ltd who have taken delivery of a number of stunning new tractor units in the last 12 months to service their growing customer-base.
While the Clones, Co. Monaghan-based company was only formed in May 2019, the O'Harte family have been in the transport business for over 30 years. They also recently set up a separate company just across the border in Dungannon, Co. Tyrone called O'Harte UK in response to Brexit.
Specialising in walking floors, bulk tippers, flat trailer and low loader transport services, O'Harte Transport employs over 30 people, including four technicians and four fitters / welders who man the company's state-of-the-art workshop, which carries out maintenance and repairs to its own trucks and trailers as well as to those of local transport companies. The garage boasts a full range of diagnostics for all makes and models, and offers a prompt, clean, value-for-money and friendly service.
"The work is coming to us. The garage has been very busy since we opened it a few years ago. It's another string to our bow," says managing director Aidan O'Harte, who is joined in the business by his brother Sean and wife Julie.
By operating one of the most modern fleets in Ireland, O'Harte Transport is able to deliver the best possible service to its clients.
"We pride ourselves on our modern fleet of trucks and trailers, and on our exceptional and reliable service. We haul everything from peat, to woodchip and sawdust, and also do a lot of groupage work."
O'Harte Transport's eye-catching red fleet has been embellished by the arrival of five new tractor units already this year. In June, the family-run business took receipt of two stunning DAF XF 530s from DAF Trucks Ireland.
The superbly spec'd trucks include cab air suspension, deep external sun visor and lower stone gaurd, daytime running lights, integrated bumper mounted fog lights, roof sky lights with LED lights, Kelsa black powder coated top bar with led stripe, Dutch-style headboard and lighting, Kelsa black powder coated bottom bar, rear cab surround perimeter lighting kit, additional front grille safety amber LED beacons, two Dutch-style roof LED amber rotating beacons, 9-tonne front axle, Michelin tyres, luxury leather air suspended driver and passenger seats, comfort mattress sleeping compartments, Bluetooth radio with sat nav, multifunction leather steering wheel, LED cab interior lighting system, eco fuel performance software for maximum fuel efficiency, adaptive cruise control, forward collision warning, advance emergency braking system and reverse warning, MX-13 530hp engine, 12-speed Traxon automated gearbox and much more.
Additional works include paintwork by Tierney's Motors, Emyvale Co. Monaghan, lighting accessories supplied by DAF TRP stores, headboards, sunvisors and stone guards by MC Truckstyling in Scotland, rear cab surround perimeter kit supplied by DG Engineering in Dungannon and tipping gear, fuel tanks and additional catwalks supplied by SM Components, Newtownabbey.
O'Harte Transport has also collected two new Renault T-High 520hp 6x2 tractor units from Setanta Vehicle Sales Ltd to add to the two they purchased from the same dealer last year. The new Renaults are equipped with every possible extra, including 60T rear axle, front air suspension, pneumatic sliding fifth wheel, durabrite alloy wheels, top and bottom light bars, SM Components 700L diesel tank, LED perimeter kit from DG Engineering, side skirts by Daran Hollywood Signs, deep visors by MC Truckstyling, TV, microwave and fridge along with full leather pack. The stunning colour coded paint and graphics were completed by Tierney Motors.
In addition, the O'Hartes recently picked up a limited edition Scania S650A 6x2 V8 50th anniversary tractor unit from Road Trucks in Larne for their new UK enterprise. Additional optional extras on this beauty include factory painted chassis in gloss black, PTO preparation, three-year bumper-to-bumper repair and maintenance package including Scania OnBoard services. Dealer extras include Kelsa LED name board, Kelsa bars, LED light bar, four air horns, deep stylish sun visor and lower wiper panel by MC Truckstyling.
Steen Commercials, Dungannon carried out the colour coding of the striking grill, Kelsa bars, visor panels, kerb view mirror and door handles and pinstriping in matching gold to finish the aggressive look. The brothers were awaiting the arrival of another new tractor unit, a Volvo FH540, from McDonnell Commercials in Monaghan at the time of writing.
The recent lockdown caused by the COVID-19 pandemic posed problems for many fleet operators, but not for O'Harte Transport who have clearly hit the ground running and are going from strength to strength.
The Clones operator would like to take this opportunity to thank its customers and suppliers for their continued support, and its drivers, workshop and office staff for their hard work and dedication.
O'Harte Transport
Leonards Island,
Clones,
Co. Monaghan.
Telephone: 047 51557 / 087 3363791
Published in Irish Trucker & Light Commercials magazine, Sept/Oct 2020, Vol 23 No 4