Quick response times and reliability guaranteed with Express Truck Repairs
04/12/2020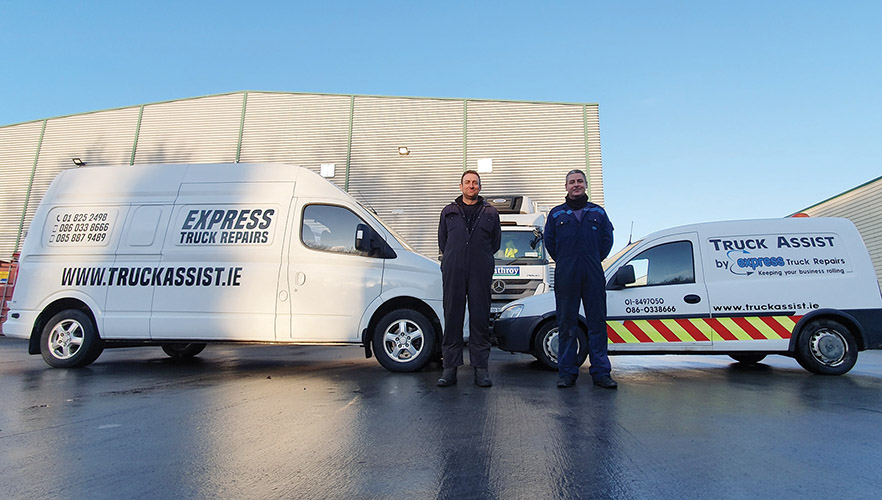 Approaching 10 years in business, Dunboyne, Co Meath based Express Truck Repairs has come a long way from humble beginnings. We spoke to proprietor John Sutton who outlined the services they provide and his plans for expansion post-Covid 19.
Back in May 2011, Ireland was in the depths of an economic recession and, like many others, experienced mechanic John Sutton found himself out of work. The company he had been employed with for 11 years prior to then was forced to let him go. He didn't, however, wallow in self-pity. Instead he went out on his own, set up Express Truck Repairs and its breakdown division, Truck Assist, and it's fair to say that he hasn't look back since.
"If you can make it in a recession then you can probably make it!" he reflected in conversation with Irish Trucker & Light Commercials. "It was a case of having to or else the mortgage wouldn't get paid.
"I did a business course and started off in a breakdown van by myself for the first few months from home. I then moved into my first premises at Clonshaugh Industrial Estate, I was there for a couple of years then, six years ago, moved here to Barstown Industrial Park in Dunboyne, Co Meath."
Open Today, Express Truck Repairs specialise in Repairs, Servicing, Breakdowns, Diagnostics, CVRT preparation and Safety Inspections and have built up a loyal customer base.
"In the company I worked with before I had become the breakdown guy over the years. I had a bit of a shine for it. There is a bit of an art to it too because when you are driving a breakdown van, you need to know what to carry with you all the time.
"When I started the business it was based on roadside assistance which we still do. We have two vans on the road for roadside assistance which we do 24/7. The vans are equipped with compressors and all the equipment required to get vehicles off the side of the road. Anything bigger comes to the workshop."
Covid-19 has thrown a spanner in the works but John is already noticing green shoots of a recovery and is optimistic that normal services will soon be restored.
"Due to Covid there is only two of us here at the moment. We had been quiet as we lost our construction clients for a time but we held on to our food companies which kept us ticking over during the bad times.
"I'd be very optimistic that things will turn around, especially now that the CVRT's have started again. We are inundated with enquires and business is coming back up. Business had been going very well pre-Covid. We have some very good customers on our books and I visualise getting back to normal very quickly and very soon."
Well-known clients such as Strathroy Dairies and KLM Utilities can vouch for the professional service that Express Truck Repairs provide at all times.
"We also have various other small businesses around the local area here in Meath on our books while we cover everywhere." John point outed.
"For example, we also repair generators for Ultrakabins on behalf of Grange Builders Providers in Baldoyle. They hire out welfare units all over the country and these units have generators with diesel engines for electricity for the cabin. We are the sole agent for servicing and repairing these and we do that countrywide."
When asked why these clients regularly employ their services, John replied without hesitation: "Our quick response to roadside assist. That always takes priority over whatever work we have on in the workshop. For anything within a 50 mile radius, we respond within the hour."
Despite the current uncertainty, John revealed there are ambitious plans for further expansion in the pipeline. "We plan to move to a premises at Ballycoolin when the dust settles while we also plan to expand into the truck and van rental market."
Back when he started out, did John envisage Express Truck Repairs growing to the extent that it has to date?
"No, I didn't. As I said, I did a business course before I started and had a forewarning where the pitfalls might lie, I kept an eye on things and we are in a much more comfortable position now. I started working by myself and over the years had four or five people working here but, unfortunately, not at the moment.
"We've been lucky to attract good customers and we keep those customers happy through our response times and our reliability.
"Our location on the outskirts of Dunboyne allows us to reach most parts of Dublin and Meath fairly quickly. We are always at the end of the telephone, we'll answer it 24/7 and we'll assist anyone that is in trouble. We're up for new business all the time and every single customer is important us," he concluded.
Express Truck Repairs
Unit 1A
Barstown Commercial Park
Dunboyne,
Co Meath.
A86KK30
Office: 01-8252498
John: 086-0338666
Tom: 085-8879489

Email: [email protected]
Website. www.truckassist.ie
Published in Irish Trucker & Light Commercials magazine, Sept/Oct 2020, Vol 23 No 4