Grabbing success
02/12/2020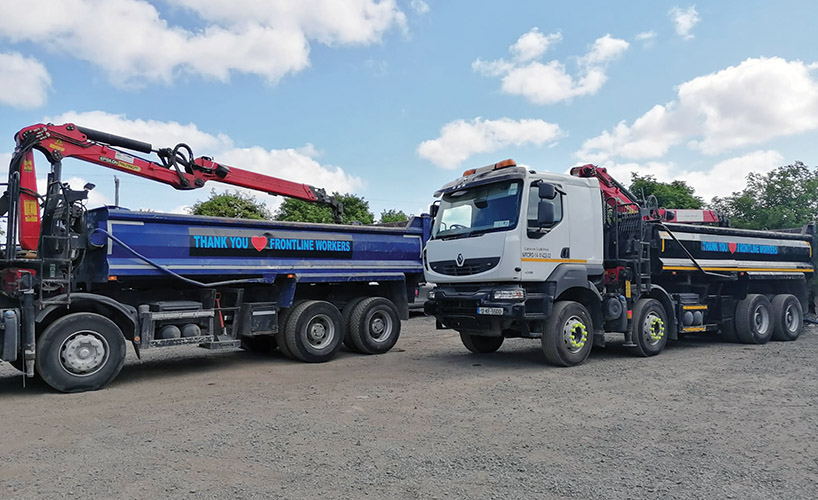 For the past couple of decades Dublin based Joe Gannon Grab Hire has been supplying a reliable and efficient service to an ever-increasing customer base.
Providing nationwide grab hire services to remove muck, topsoil, demolitions, construction waste, sand and gravel from both commercial and private sites, no job is too big or small as far as Joe Gannon Grab Hire is concerned.
They can also help when it comes to clearing a site, landscaping or just removing large amounts of waste. C2 registered, the business is fully licensed and insured while all of their drivers are insured and all hold a current safe pass certificate.
They always approach each project carefully ensuring that all work is carried out efficiently with due thought and regard for the surrounding area.
The company and staff pride itself on its reliable service and the importance of providing a good customer service making them leaders within the road haulage/construction industries.
They also pride themselves on the loyalty to their customers and always welcome new customers and their challenges.
"We would have a good customer base, many of who have been with us from the start and they have stuck by us, which we greatly appreciate, but we know that if our level of service drops then they will go elsewhere, so it is up to us to ensure that doesn't happen," said Joe whose business in based in Raheny.
"It's all about providing the service. That's all we focus on. We concentrate fully on providing a stellar service that's second to none. Regardless of the volume of work we're doing, we treat every customer as though they are our only customer.
"We have seven grab lorries and one concrete lorry. Four of them are Renault and three of them are Volvos. We are back as busy now as we were before the lockdown and there seems to be plenty of work on at the moment. Hopefully that continues and we are not faced with another recession down the line, but who knows what is really going to happen."
The success of any business can be attributed to a number of factors. However, one key area is having a reliable and efficient work force. Some companies take their employees for granted resulting in a lack of trust on both sides. This in turn can negatively impact performance and output. However, it is no coincidence that those companies who focus more on their staff reap the benefits and production levels are at a maximum.
"To maintain the level of service, we are fortunate to have a loyal and hardworking staff, many of who have been here over ten years. They are very experienced at what they do, and they are familiar with the customers and the customers are familiar with them, which is very important."
Removal and disposal of waste is an important part of each project and dealt with by a professional workforce that makes sure that your site clearance is carried out quickly and efficiently to your specific requirements.
Customer service is a cornerstone on which their day-to-day approach to business is built while they also pursue a policy of continuous investment in upgrading and maintaining their fleet to ensure it is pristine condition.
"We would sub out most of the maintenance work, which ensures that the trucks are kept in pristine condition at all times and we avoid any unnecessary downtime."
When you set he bar as high as Joe Gannon has, there is no such thing as resting on one's laurels. By optimising and maximising the company's strengths - embracing technology, automation etc. in the manner that best suits his own requirements – Joe continues to become more efficient, more competitive…
"We have put ourselves out there as a serious grab hire company and I like to think that people will look at us and say 'this is the way it should be done'.
"We pride ourselves on building longstanding relationships with all of our customers as well as providing an efficient and reliable service.
"When a client is working on a particular site, we'd normally take waste away and then load up in their yard and bring other materials back to the site. As well as utilities, we also do a fair bit of work for small builders."
There are a number of overheads to contend with in the haulage industry, but Joe revealed that the diesel bill is still the biggest outlay.
"There are plenty of bills to be paid, but the diesel is the dearest of the lot. Insurance has evened out a bit, but even though the price of diesel has come down a bit, we are still spending thousands on it every week."
Overall, Joe is happy enough with the direction of the business and their workload, but still he urges an air of caution as we head in to uncertain times.
"Looking to the future, we would hope to increase the size of our fleet if things keep moving in the right direction. Business is steady enough at the minute, we're keeping the wheels turning and there's a positive outlook despite all the uncertainty that surrounds the economy at the moment. I've done a good bit of marketing recently and promoting the business which has brought in some new customers. I've found that Facebook has been a big help."

Contact Details:
Joe Gannon Grab Hire
11 Grange Park Close
Raheny
Co Dublin
Mob: 086 1685235
Published in Irish Trucker & Light Commercials magazine, Sept/Oct 2020, Vol 23 No 4