The hands-on approach works for Phillips Logistics
30/11/2020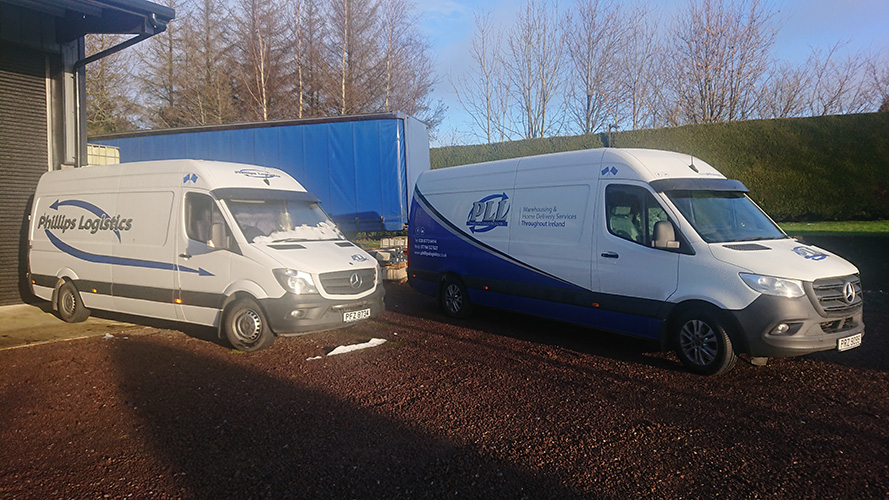 Co Tyrone based Phillips Logistics Ltd have over 30 years' service behind them. They deliver goods ranging from kitchens to bathroom suites to palletised products right to the customers front door.
To carry out their workload, they have an impressive fleet of vehicles ranging from sprinter vans to 12-15 tonne curtain side and 18 to 26 tonne hi-abs.
This family run business provide their services on a daily basis, six days a week and 52-weeks of the year. Their professionalism ensures that there is minimal damage to any of their deliveries.
They are members of the FTA (Freight Transport Association), while their drivers are not only experienced, but undergo regular training to ensure they are up to date with all the latest changes in regulations and legislation.
For this month's edition of Irish Trucker, we profile the Dungannon based company and speak to Director Neil Phillips about the success of the business, which was established by Neil's father Mervyn.
"We have built our reputation on providing a good service to our customers, many of who have been giving us business since we first started the company," said Neil.
Phillips Logistics Ltd cover all of Ireland and the U.K. They are fully insured, giving the customer peace of mind, and their services not only include courier work, but home removals and express parcel deliveries as well.
"We are a small business with just 12 of us here, but that allows us to offer the personal touch and anyone who rings in will be talking to some of the management and not just a call centre.
"Our drivers are very experienced, and they are fully trained, working in two-man crews while kitted out in the company uniform. All our vehicles have Sat Nav and vehicle tracking, so not only can the drivers can to your door quickly, but we know where they are at all times, so if a customer contacts us, we can deal them when the driver will be there."
As stated, the company operate a modern fleet of vehicles and Neil revealed that they added to the fleet earlier in the year. "Last January, we brought in two new Mercedes – a Sprinter and a Luton. All the vehicles are Mercedes as we find them the most reliable and durable. We would do a lot of our own maintenance as well, which not only keeps the overheads down, but ensures that the vehicles are kept in pristine condition and this allows us to avoid any unnecessary breakdowns."
Phillips Logistics Ltd prides itself on offering the personal touch to their customers, something they have worked hard on over the years in business.
"We would be very much hands on here. Both myself and my father would be out doing deliveries on a regular basis. We have a good team that works well together."
The transport industry doesn't come without its issues though and aside the from the price of diesel which is a common problem amongst hauliers, Neil states that a shortage of experienced drivers is another issue.
"There is a shortage of experienced drives in the industry and it is reaching crisis point. It is almost impossible for young drivers to get insurance and when they can't they turn their attentions to different careers, so there are very few drivers coming through to replace the guys that have given a lifetime of service behind the wheel. Unless, there is some allowances made for younger drivers in the industry that there will be a massive problem in a few years. We're fortunate in that many of our drivers generally stay with us for many years. If you have a good driver, it is important to keep them and we treat our drivers well."
Another issue that Neil and the team will have to deal with in the near future is Brexit which is set to bring about its own changes to the industry.
"Brexit is being used as an excuse at the moment, because no one really knows what is going to happen. We're hoping it will be a benefit to ourselves and our U.K customers, but only time will tell how it will work out. There are not many answers to a lot of questions and there is a lot of uncertainty, but hopefully we will have a clearer picture very soon.
For the time being, Neill stressed that they are focused on the work that they have and ensuring that their customers continue to receive a high level of service.
Health and Safety is paramount for the company and they follow all Covid-19 guidelines to ensure both their employees and customers safety with all the necessary measures in place.
"These have been strange times to say the least, but we have been kept busy. We generally don't have a quiet period at any time of the year, and we are happy with that.
"We aim to deliver on the date and time requested by our clients and can work late at night to meet the customers' needs. We cover all of Ireland and the UK collecting and delivering anything from small parcels, single pallets, part loads and full loads. No job is too small."
Phillips Logistics Ltd can boast an impressive customer base which includes B&Q, Trade Point, Argos, Homebase, Woodies, Amazon, Screwfix, Home Décor, PJH Group to name just a few.
"We have a good relationship with all our customers regardless if they are big or small. Everyone receives the same level of service and that has stood to us over the years.
Contact Details:
Phillips Logistics Ltd
36 Tamnamore Road,
Dungannon,
BT71 6RJ,
Co Tyrone
Office:+44 (0) 2887 726414
Neil:+44 (0) 7766527827
Mervyn:+44 (0) 7714897201
Fax:+44 (0) 2887727979
Email:[email protected]
Email:[email protected]
Published in Irish Trucker & Light Commercials magazine, Sept/Oct 2020, Vol 23 No 4