Moloney Transport is up to the TASCC
16/11/2020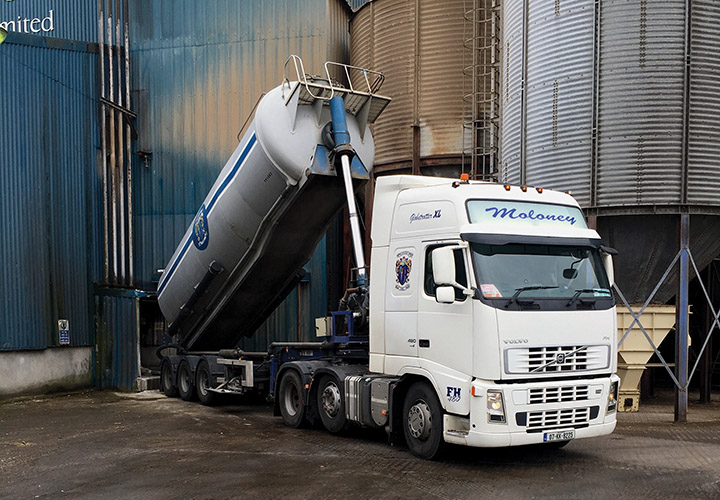 Celebrating 10 years in business, Barry Moloney Transport Ltd prides itself on its professional, reliable, friendly and value-for-money service as well as its modern fleet.
Specialising in bulk tanker, bulk tipper, low loader and curtainsider work, the Skeoughvosteen, Co. Kilkenny-based company has come a long way since Barry Moloney set it up in 2010. Following in the footsteps of his father Michael, who ran Mick Moloney Transport for a number of years, Barry initially operated as a sole trader before forming a limited company in 2014.
Nowadays, Barry runs a fleet of 18 trucks and almost 50 trailers in Ireland and the UK. He is joined in the business by his aforementioned father Michael, brothers Bryan, Mikey and Paddy and a 14-strong team of highly-skilled and experienced drivers. There are 12 Volvo and six Renault in the truck fleet, including two 191-registered Renault T Highs which were purchased from Setanta Vehicle Sales in Dublin. The trailers are a mix of curtain-siders, bulk tippers, bulk tanker, flats and low loaders. All maintenance work is carried out in-house with the exception of the new Renault trucks which are covered with a maintenance and repair contract.
Barry Moloney Transport Services' aim is to provide a top-class service while delivering excellent value-for-money. The company utilises the latest in transport technology solutions, including GPS satellite tracking, which ensures that it knows where your shipment is in real-time. With its modern fleet and extensive range of trailers, the family-run business can transport a wide variety of goods and products.
"We offer a wide range of services. We have a good mix of customers," Barry says.
The company has gained an enviable reputation by building strong, trusting and long-lasting partnerships with clients such as Connolly's RED MILLS, Carlow Warehousing, Provimi Ireland, IAM Agricultural Machinery, Bennettsbridge Limestone Quarries and plastic packaging specialist NPP Group. Connolly's RED MILLS, who are a leading name in animal feeds and agri services, have been a loyal customer of Barry's since the beginning with the work he does for them accounting for a large part of his business.
"Connolly's RED MILLS are a fantastic company to work for, as are all of our customers. We draw animal feeds from their production facility in Goresbridge, which is only up the road from us, to customers all over Ireland and the UK. We do three or four runs to the UK every week for them," he explains.
Barry Maloney Transport would not be able to transport bulk food and animal food products were it not a TASCC (Trade Assurance Scheme for Combinable Crops) member. The TASCC code of practice aims to combine food / feed safety legal requirements with recognised industry good practice and specific customer requirements to provide confidence in the food / feed chain. As a TASCC-approved haulier, Barry can provide full traceability and ensure that trailers are cleaned and sterilised accordingly. The scheme is audited and certified by an independent certification body in accordance with the internationally recognised standard EN45011.
"By adhering to the TASCC code of practice, our customers can rest assured that every job we undertake is to the highest standard and is fully transparent. We comply with the strictest regulations and have built up a strong level of trust with our customers as a result," he adds.
The lockdown caused from March to June by the COVID-19 pandemic posed problems for many fleet operators; Barry's business was reduced to half capacity due to closure of retail outlets.
"The work we do for Connolly's RED MILLS kept us going and we're back up running as normal now. It was a challenging time for everyone in business, but thankfully we got through it."
Barry is proud to support the local community and shows this by sponsoring his GAA club, Black & Whites. Based in Skeoughvosteen, Black & Whites reached the All-Ireland club junior hurling championship in 2003, only to lose to Ballinhassig of Cork.
"I'm 35 now so my best days are probably behind me!" he jokes.
"It's hard to get the time to play hurling when you're in the haulage game and have a young family," adds Barry, who is married to Orla and is father to James (three) and Emma (two).
Led by a knowledgeable and experienced management team and supported by motivated and reliable staff, Barry Moloney Transport Services Ltd is committed to providing quality service at all times – at a reasonable cost.
Here's to the next 10 years of this exceptional family-run operation.
Barry Moloney Transport Services Ltd
Gurteen
Skeoughvosteen
Co Kilkenny.
Telephone: 059-9775277
Mobile: 085-1060811
Email: [email protected]
Web: www.bmts.ie
Published in Irish Trucker & Light Commercials magazine, Sept/Oct 2020, Vol 23 No 4