Three decades plus of haulage excellence
13/11/2020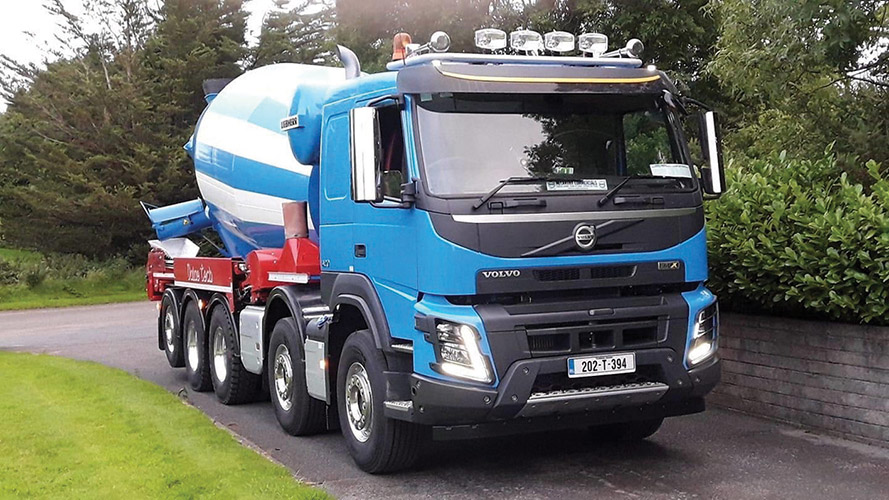 Since 1989, Mountbruis Transport has been providing the construction and agri sectors with unrivalled tipper / readymix services from its well-appointed County Tipperary base. We had a chat with John Merrigan to discuss the ongoing success of this outstanding family business.
In July, MountbruisTransport took delivery of a stunning new five-axle Volvo FMX 420 202-T-394 from McCarthy Commercials, increasing the Rathkea, County Tipperary based haulier's fleet size to 13 – four Volvos and nine Hinos. Using a combination of mixer and tipper trailers, this long-established family operation provides industry-leading services to the construction and agriculture sectors across the south of the country and into the midlands.
Gainful employment is generated for a crew of eleven, including John's wife Susan, with continued support from son Paul, daughter Ciara and son-in-law Jason. As a family-run business, Mountbruis Transport prides itself on providing a strong personal touch at all times.
Although the arrival of the coronavirus pandemic to Irish shores in mid-March caused obvious problems – with the construction sector hit particularly hard in the early weeks – John is pleased to report that things have picked up significantly since Phase One of the easing of restrictions kicked in on May 18th:
"We were back into full swing then, thankfully," the personable Tipperary trucker reflects. "We were doing very little when the lockdown was first imposed but we're very busy now again and hopefully as a nation we can keep moving forward."
The nature of the services provided is such that John has a preference for interchangeable truck bodies. To this end, nine of his trucks are fitted with demountable systems. The latest addition to the fleet is the fifth five-axle Volvo FMX – three of which are interchangeable, the other two mixer with telescopic conveyor. John also runs another FMX and an FM13 400 (mixer / tipper interchangeable).
Regular investment in the fleet – both in terms of replenishment and maintenance - ensures that the vehicles are always firing on all cylinders. "You have to stay on top of it and keep things fresh, keep updating the fleet," notes John, who purchased his first truck in December, 1988 – a D Series Ford six-wheeler.
"I bought my first new Hino from John O'Neill in Kilkenny Truck Centre in March, 1990 and traded that in for another Hino in '95. We've ran Hino most of the time since then," he continues. "I bought the first new Volvo in 2016, the FM13 400 mixer / tipper interchangeable, and then added two more in 2017 and the newest one in July of this year."
What is it about the Volvo trucks that grabs John's attention? "First of all, we're getting a good deal off McCarthy Commercials and a great back-up service. The Volvos are a very nice lorry and the drivers are happy with them. The five axles can handle heavy loads and are more manoeuvrable and comfortable to drive. They travel better and I find that they are a trouble-free lorry."
Around a decade ago, taking on more and more mixer work, John realised that mixer / tippers were the way to go: "I just felt this was the most viable way forward as when one was quiet you had the option of switching to the other and it meant you had lorries working all the time, which is obviously very important from a cash flow point of view."
The interchangeable bodies allow Mountbruis Transport to provide flexible and versatile services, delivering readymix concrete, stone and tarmac, covering a wide catchment area from Dungarvan to Ennis, Waterford to Clonmel, Kilkenny to Tullamore and everywhere in between.
As well as serving the construction sector, John also does a lot of work for farmers and carries out windmill pours nationwide. While the vast majority of his work is for Roadstone, he also delivers on behalf of Patsy Rea at Gortdrum Stone Company.
John sources his Liebherr concrete mixers from Value Tech Ltd. in Cork, where Tim O'Riordan offers outstanding service levels to complement high-quality products. Parts are acquired from Jim Hamill at Kilkenny Truck Centre and Pat Hickey Truck & Trailer Spares, Limerick.
Although most of the work is in and around Roadstone quarries in the south of the country, Mountbruis Transport has travelled all over Ireland – including jobs as far north as Donegal – for large windmill pours. "I've been full-time with Roadstone since 2014 but have been working with them since 1990. They're a great company to work for. I'd been doing a good bit of work with them already prior to that but, between tippers and mixers; they are now giving us enough work to keep us going."
So far, 2020 has been an uncertain year for businesses in all sectors – not just in Ireland but worldwide. The Covid-19 pandemic has wreaked havoc with livelihoods and the future looks unclear. John hopes that the worst of the economic pain is behind us:
"We've been very busy since we came back in May. A lot is going to depend on the Government. We need strong leadership and they have to make the right decisions. We had that new Volvo on hold but you have to go forward and move with the times or you will get left behind. If the Government makes the right decisions and pumps money into construction and roads – as well as agriculture - then the economy can survive.
"Ireland is still very much a farming country and a lot of our work depends on farmers, too. If farmers are turning money, they will spend money. The farmer is always there and they keep the economy going. The boom was in Dublin and Cork but everywhere else it was still the farmers who were propping things up. People seem to forget that. They make a massive contribution to the economy and help keep everybody going."
Although the striking blue-and-white fleet is very much at the heart of Mountbruis Transport, the proprietor points out that the trucks and trailers would be of little use to him if he didn't have great people to operate them:
"We have a good settled team here. They know their way in and out of sites or farms and they can make the right decisions and think on their feet if required.
Mountbruis Transport
Rathkea
Tipperry
Co Tipperary
t. 062 55229 / 086 277 2240
Published in Irish Trucker & Light Commercials magazine, Sept/Oct 2020, Vol 23 No 4