The EDS fleet just got even better!
11/11/2020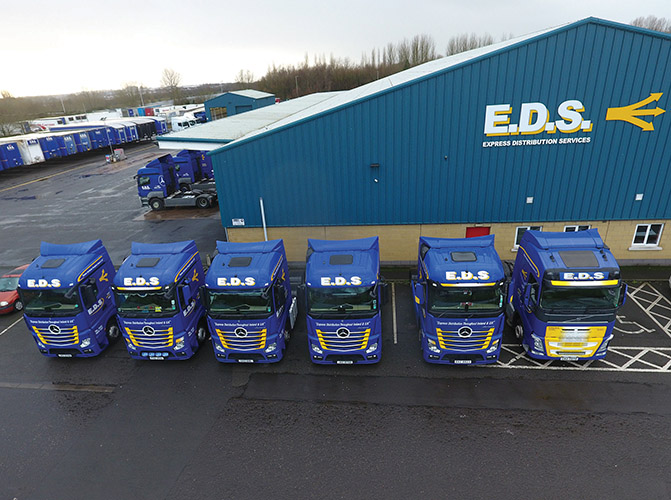 Firmly established as one of Ireland's premier distribution companies, Express Distribution Services Ltd. (EDS) have boosted their spectacular fleet with the addition of six magnificent new DAF trucks. Irish Trucker dropped into their County Armagh HQ and touched base with managing director David Neill to get an update.
Since its inception in 1997, Express Distribution Services has evolved into one of the leading haulage companies on the island of Ireland. At the heart of this industry-leading operation is a superb fleet of trucks and trailers, which is regularly replenished and preserved in immaculate condition at all times to ensure complete customer satisfaction.
The addition of six wonderful new DAFs – three artics and three rigids – from TBF Thompson in Q1 2020 represents the latest upgrade of Express Distribution Services' fleet, which continues to both look great and perform magnificently.
The three artics arrived first, in early January, and heads started to turn immediately. Designed to be the best all-round truck on the road and supplied from factory in EDS' striking colour scheme of blue with a splash of white and a streak of yellow, with signwriting by Johnny Blair, these CF480 are fully loaded with features - Comfortable Space Cab, TraXon Auto gearbox, FTP lightweight midlift axle, SAT NAV / truck phone, fridge, Xtra Comfort mattress, etc. - to enhance performance and comfort.
The equally-stunning 18-tonne DAF rigids arrived shortly afterwards, meaning there were now six brand-new DAFs in the 48-strong EDS fleet – quite a start to the year!
Since he set the business up, founder David Neill has never been afraid to invest in unlocking economies of scale and ensuring that he has the vehicles at his disposal to offer optimal solutions and service levels. This is one of the many reasons why the company has enjoyed steady organic growth since its genesis and continues to grow year on year.
Regarding the latest acquisitions, he notes: "The drivers seem very happy driving them anyway. We'll see what the overall performance figures are like when they get older, but certainly it's case of so far, so good."
As for the decision to go with DAF, the personable MD adds: "TBF Thompson's depot is only three miles from us here in Craigavon, so it made sense from a back-up service point of view. Furthermore, we haven't had any DAFs in the fleet for a number of years and we wanted to try them this time and see how they go."
Five new single-deck trailers have also been added to the fleet this year while a further ten single-deck trailers and five double-deck trailers have been ordered to meet demand on EDS' Ireland-UK route., David confirming that having possession of the best equipment is a prerequisite to providing the levels of service for which Express Distribution Services have become renowned over the past 23 years and counting:
"You need a good fleet," he states. "You have to run fresh trucks and you need to keep them in excellent condition. We have our own mechanics on site to make sure that everything is in top condition. We take care of all the maintenance that's outside of warranty ourselves. It's important to keep the lorries up to date and also looking well, because the reality is that
having a presentable fleet does bring in business."
Operating from a state-of-the-art warehouse and distribution centre in Craigavon. Express Distribution Services is a family-run business, with David joined in the day-to-day running of the company by his son, Jonathan (Transport Manager). Working in conjunction with ACE Express in Dublin and with a second depot in Birmingham, EDS specialises in a 24-hour palletised delivery throughout all of Ireland along with a 48/72-hour service to the United Kingdom. Through a network of contacts, they also offer scheduled exports to all parts of Europe.
As well as specialising in groupage and distribution for a wide range of clients, the company also provides an efficient service with full tracking of documents and deliveries for its customers.
David is pleased to report that business is brisk: "We're expanding year on year, so we're very happy about that. In response to demand, we're growing the fleet by two or three vehicles per year and we've been doing that for a number of years now."
Business is extremely good and this is as a direct result of the level of the service provided, which has made EDS the first port of call for any customer wishing to move goods through Ireland, between Ireland and the UK or indeed to Europe.
"We provide a good service and we would be known for having realistic rates and looking after customers," says David. "We have never had to employ salesmen to drum up business because we give a good service.
"We have a lot of repeat custom and any new business we pick up would be through word of mouth from existing customers or from somebody seeing our vehicles on the road and giving us a call. We've been operating for 23 years now and I can quite honestly say the business sells itself.
"We go out of our way to look after our customers and on the rare occasion where there is a problem, we sort it out for them. Situations will arise and it's all about how you deal with them. We have always been very proactive in solving problems.
"We have also updated our software and have integrated the UK depot into that system under one umbrella, which will enable us to further improve our service. Anything you can improve on, it's worth looking at and we are constantly looking for ways to improve. Sometimes this requires investment, but if it improves your service and makes the business stronger, then it's money well spent."
Speaking of money well spent, those new DAFs really are a sight for sore eyes!
Express Distribution Services Ltd.,
Unit 15,
Silverwood Business Park,
Silverwood Road,
Craigavon
County Armagh.
Tel: +44 (0) 28 3834 3187
Email: [email protected]
Web: www.edsni.co.uk
Published in Irish Trucker & Light Commercials magazine, Sept/Oct 2020, Vol 23 No 4