Bouchier Transport Ltd – a growing concern
09/11/2020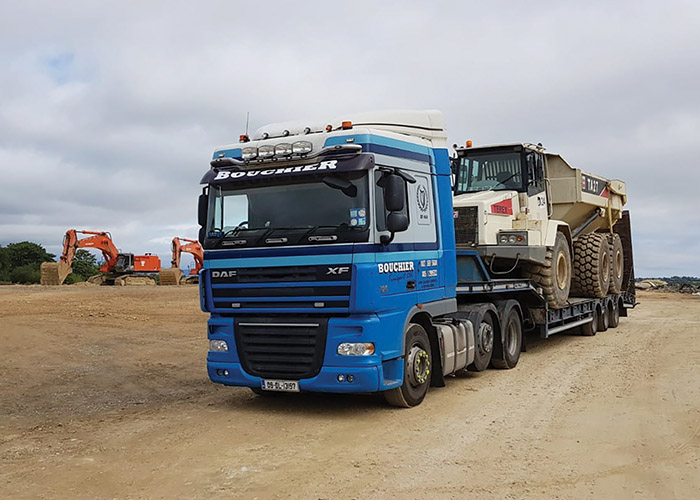 Setting up your own haulage company can be a daunting experience but it's also a rewarding one when the customer enquiries start to flow regularly. Sean Bouchier and his family took the brave decision to set up Bouchier Transport Ltd in September 2016 and it is very much a case of so far, so good.
Based in Kilbride, Co Wicklow, Bouchier Transport Ltd specialise in providing a low loader service and tipper hire. Despite being less than four years in existence, the family-run company has quickly established a strong foothold in their locality and beyond.
The Bouchier family name is synonymous with reliability in their fields of expertise in local haulage circles. The team behind the company is comprised of father Christopher, son, Sean and daughter, Debbie, and their progress to date has been backboned by years of experience in this competitive industry.
Christopher was 18-years-old when he first started driving and has accumulated 50 years' experience since then while 34-year-old Sean is no stranger to life behind the wheel either as he has been driving trucks since he was 21. Debbie, meanwhile, is responsible for all the administration work.
As a consequence, they have the knowledge and hands-on experience that their customers can rely on.
"My father is 68 years old now and we decided to set up our own company when he was due to retire," Sean revealed. "He is still driving and still going strong."
When their customers pick up the phone to contact the Bouchier family they can be assured of on time delivery at a competitive price. Customer satisfaction is of paramount importance to them.
To enable them achieve that goal, they currently operate a fleet of two well-maintained trucks (a 2009 DAF XF105 and a 2006 Scania R420) as well as a King Tri Axl low loader and a Dennison tipper trailer complete with associated equipment.
The forestry sector is strong down their neck of the woods and the movement of forestry machinery is the mainstay of their business. It accounts for the majority of Bouchier Transport Ltd's weekly workload and that means they have to utilise reliable and robust trucks and trailers that won't let them down when they get to work.
"The work we are at is tough on trucks so it's important that we have reliable trucks to work with. We also do a bit of curtain sider work," Sean added.
As far as Sean and his family is concerned, it's all about attention to detail. They care about their customers and their focus is on providing a first-class service for all their clients no matter how big or small.
That is one of the reasons why they have been able to attract their fair share of work in recent times.
"The company has built up nicely. There are ups and downs in terms of the work we have on but, overall, we are kept busy and very happy with how things have gone so far.
"We have established a good customer base and we would be well known in the local forestry sector for the services we provide."
Citing the cost of fuel and a shortage of drivers as the biggest challenges facing the company at present, Sean revealed that the immediate aim is to get another lorry on the road in the next month or so.
He Is upbeat about the direction the company is heading in and there are ambitious expansion plans in the pipeline.
"We'd be very hopeful of keeping things going and building up our fleet. As things stand, we'd be optimistic about the future and of our ability to expand the business further and, down the line, have a business that my son and my sister's son can get involved in in the years ahead. Carry on the family tradition!"
Highly experienced, whatever your haulage needs, Bouchier Transport Ltd is available to help. They are dedicated to meeting the individual needs of their customers. Give Christopher, Sean and Debbie a call at the number below to find out more about the services they provide.
You won't be disappointed because they have a proven track record in transporting heavy machines.
Bouchier Transport Ltd
Ballyclough
Kilbride
Co Wicklow
Tel: 087 169 5680
Email: [email protected]
Published in Irish Trucker & Light Commercials magazine, Summer 2020, Vol 23 No 3