Dublin City Recovery Ltd go that extra mile
06/11/2020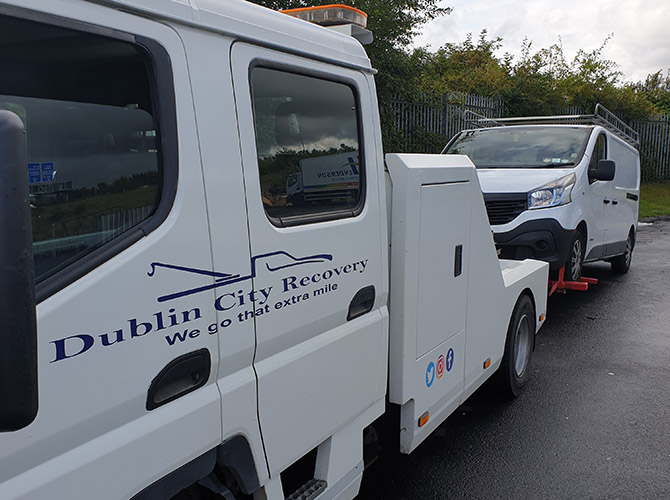 A vehicle recovery service should be prompt and efficient, ensuring minimum inconvenience to you. This is what you get from Dublin City Recovery Ltd who offer a range of different services from Dun Laoghaire to Skerries and everywhere in-between. Dean Murphy tells Irish Trucker why their clients can count on them.
Established by Dean's father Damien in 2006, the family-run Dublin City Recovery Ltd is Dublin's leading breakdown and recovery service. They offer a professional service whether you need a jump start or a wheel change, all the way to car crashes, lost keys and everything in between.
'We go that extra mile' is something they truly believe in and they do their best to live up to that statement, from their top of the range tow trucks to their fully trained staff they offer the best service at competitive rates.
The services they provide include recovery towing services, flat battery jump starts/replacements, flat tyre change/puncture repair, winch installed for non-running vehicles, Garda Station car removal, NCT appointment delivery and collection, workshop maintenance repair deliveries, roadside assistant and road traffic accident rescue and unwanted scrap vehicle removal.
They are open 7 days a week, 24 hours a day so no matter when you need them, they are available. Yes, that includes, bank holidays, Easter and even Christmas. Essentially, they never close.
"My father ran a body shop and was doing recovery since the early 90s," Dean answered when asked to trace the roots of the company, "before setting up Dublin City Recovery with one truck and a van 14 years ago."
A real family affair, Dean's mother, Jo, takes care of the administration side of the business while younger brother Craig works weekends and is expected to join the company full-time when he completes his studies.
Dublin City Recovery are approved car recovery and roadside assistance contractors for the AA, RAC (Hibernian Aviva), MIS Claims and AIG as well as many garages and dealerships around Dublin.
They boast a varied fleet of tow trucks that are capable of towing the lowest sports cars to the heaviest of vans while they have crew cabs that ensure that all of your passengers can be moved as well as your vehicle. They also have a car park assistance unit that they use for car recovery from height restricted car parks, like shopping centres, apartment blocks etc.
In addition, all their tow trucks have vehicle tracking so you can monitor the progress of your vehicle transportation while their secure vehicle storage premises are fully alarmed and CCTV monitored 24/7.
PAS43 approved, which means that all their recovery trucks are tested and maintained in compliance with European Standards. Their fully comprehensive Breakdown & Recovery agent insurance covers your vehicle while in transit or storage.
Dean joined the family business in 2007 after leaving school and he reports that the current economic climate is
"We're in a great position at the moment," he outlined. "Like everyone else, we went through a few rough years during the recession but we managed to pay all our bills and taxes and we're out the other side of it now.
"The business has been profitable for the last four years and basically the aim is to add a new truck a year to our fleet if needed. We are hoping this year to get an electrical charger out on the road. That would be the goal when it comes to upgrading our fleet. We recently signed a new contract with Aviva and are in a position to chase more contracts. Down through the years we have established good relationships with all the main insurers."
What separates Dublin City Recovery Ltd's services from their competitors? "We never miss basically,
if we get a job we deliver.
"As well as that, we're honest to a fault. If we say it's going to take us 90 minutes to get to a breakdown, we will be there in 90 minutes. Our average response time in Dublin is 42 minutes and that's well below what our service level agreements state. In addition, we have a 70% repair rate which is a high in comparison to the competition."
Dublin City Recovery's resources where put to the test during the 'Beast from the East' snow fall in February 2018 and they passed with flying colours. "We were flat out and successfully completed a few hundred jobs in two days. It just proved that we have the capability to cope," Dean recalled.
Dublin City Recovery is never too far from you should your vehicle encounter difficulties on the road. They are experienced professionals who always monitor their customers' needs and strive to offer the highest customer care standards. That's why they get repeat business.
Give them a call on the numbers below.
Dublin City Recovery Ltd
087 218 9200 / 087 754 3000
Website: dcrecovery.ie
Published in Irish Trucker & Light Commercials magazine, Summer 2020, Vol 23 No 3