Browne Commercial Spares - Providing the highest standard of service
06/11/2020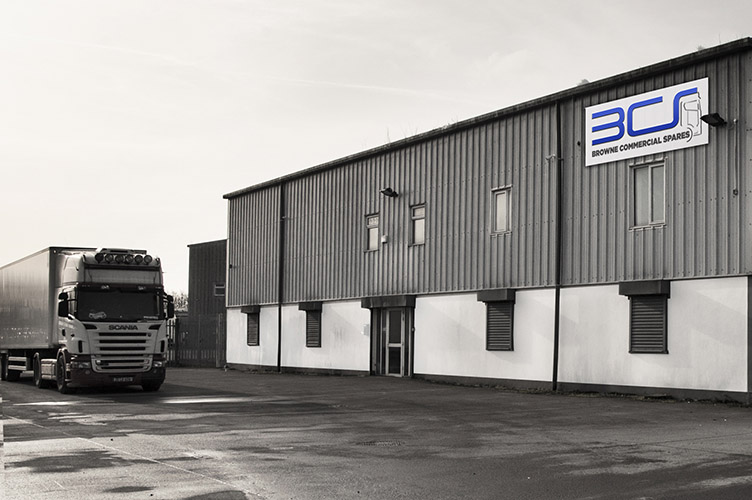 Based in Naas, Co Kildare, Browne Commercial Spares and Repairs provides its clients with a complete, reliable and comprehensive service for the supply of quality spare parts and service of Heavy and Light Goods Vehicles, Tipper Trucks and Trailers. Irish Trucker learned more from company founder, Owen Browne.
It's "getting busier and busier" for Owen Browne and his team down at Naas Enterprise Park these days and the plan is to keep things that way as Browne Commercial Spares and Repairs marks its first year in business.
These past 12 months have flown by for Owen and his company and the hope is to continue to grow going forward down in Ladytown.
The man himself was good enough to take the time recently to tell Irish Trucker all about his young enterprise.
"We set-up here in March 2019 and there's four of us all together working here," said Owen.
"When we started business it wasn't long getting off the ground and you could have 18 to 19-hour days here.
"We provide from the ground up – engines, gear boxes, diagnostics – we do the whole lot."
Browne Commercial Spares services and repairs all types of commercial vehicles including HGVs, LGVs, Trailers and Tipper Trucks.
Since 'Day One', the company has always strived to achieve the highest standard of service through being dependable and it also offers clients a fast turnaround to minimise downtime of their asset and business.
Vision
It had been the vision for Owen from the day he decided to go out on his own after having spent nearly two decades working in the industry.
"I started out in Naas in 2002 with a company and done 12-and-a-half years. I left it 2013 and went to work with my brothers in their haulage company," he outlined.
"I wanted to give it a go then on my own and, thankfully, so far things have been going well here."
Today Browne Commercial Spare Parts' workshop is staffed by fully trained mechanics and technicians whom have many years of knowledge and vast experience working on Scania and many other vehicle types utilising the latest technology and using quality parts for the repair or service of your asset.
Customer Focused
All of the company's mechanics and technicians are extremely customer focused and understand the importance of a fast turnaround to keep downtime of the customer's vehicle to a minimum and offer a quality and competitively priced service.
Owen himself has vast years of Scania technical workshop experience, understands the importance of reliability, minimum downtime and is very hands-on, dealing directly with all of his customers so satisfaction is assured.
Right now, business is "thriving" according to the Managing Director.
"It's getting busier and busier here and at the moment. The phone doesn't stop ringing," he enthused.
"We work with a lot of haulage businesses and most of my customers would be 10 to 20 lorry companies. They look after me and I look after them."
Extensive Range
Browne Commercial Spares and Repairs stock an extensive range of replacement parts for Scania and many other vehicle types available for 24-hour delivery nationwide.
They offer customers a complete and efficient spare part supply service, fitting and repair services are also available in their modern workshop utilising the latest technology and equipment and staffed by fully trained mechanics and technicians.
The company service and repair all makes of commercial vehicles including Scania, Mercedes, Volvo, Hino, Daf, Renault, Iveco etc.
The services which they provide clientele are small and large services, oil change, repairs, electrical diagnostics, ABS/EBS service and repair, injection coding, diesel system, brake system repairs, ECU fault finding, DOE pre checks, trailer inspection service and more.
Owen's own experience has helped him to build the company over these past 12 months and so far the signs are good.
Repeat business has been a key part to the success thus far and the Naas native is hoping the trend will continue right through to 2021.
"The way I look at it, I'm still on the spanners here with the lads so I know what it's like," he stated.
"We've had a lot of repeat business here since we started with the same lads coming back to us. No one has come here once and left, so that's a good sign."
It seems they're doing something right down along Alder Road at Naas Enterprise Park, so what has been the secret to success to date?
"I'll go the extra mile…"
For Owen and his team, the customer always comes first and it's an approach which has paid dividends since setting up shop in March of last year.
"I'll go the extra mile for them," said the MD. "If they ring me at 11 or 12 at night I'll be there for them.
"We're here a year now and we're here to stay. That's the plan."
Conveniently based in Naas Enterprise Park, Co Kildare which is adjacent to the M7 motorway, giving easy access to all the main motorway and national routes, be sure and call into Browne Commercial Spares and Repairs for quality spare parts and service of Heavy and Light Goods Vehicles today.
Browne Commercial Spares and Repairs
3 Alder Road
Naas Enterprise Park
Ladytown
Naas
Co. Kildare
W91NY62
Tel: 085-7264669
Email: [email protected]
Web: www.brownecommercialspares.com
Published in Irish Trucker & Light Commercials magazine, Summer 2020, Vol 23 No 3