New additions to Wyse Transport fleet
02/11/2020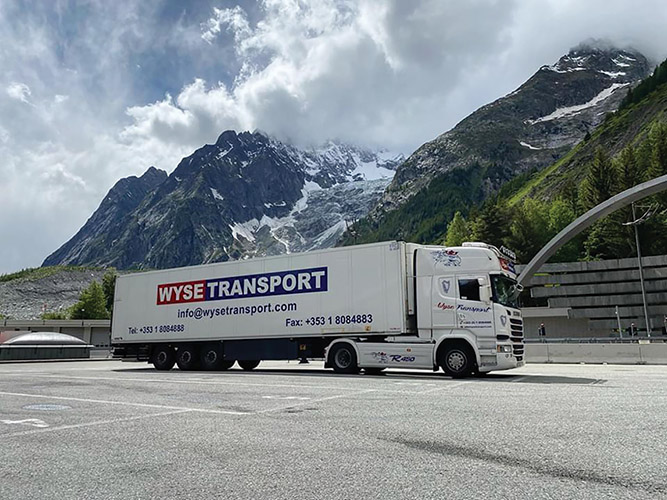 As their 20th anniversary approaches, Wyse Transport – the partner of choice for many of Ireland's major freight forwarders – have boosted their impressive fleet by taking delivery of four brand new Scania trucks.
Purchased from Delaney Commercials in Naas, these stunning Next Generation 13-litre 500hp units (S500a 4x2na) come fully loaded with full leather interior, microwave and television prep, and run on a dual battery system which uses one set of batteries for only starting the vehicle, with the second set for other battery consumers. The new additions represent a major investment by Wyse Transport in their fleet which currently consists of 31 tractor units and 47 trailers.
"We pride ourselves on our modern fleet which gives our customers the peace of mind that their goods will be delivered safely and on time, every time. We're very happy with the new trucks – we put one of them to work in Italy and Portugal straight away. We've also invested in three new Schmitz refrigerated trailers and have another five or six ordered," explains company director Ken Maher.
"Both Brexit and COVID-19 have caused a lot of uncertainty, but you can't stand still in this business. You have to keep moving and looking forward. Our tractor units are a mix of Scania and Volvo, while over half of our trailers are fridges (straight, split door and roller-bed). The rest are a mix of box trailers, curtain-siders and Euroliners, and are of various sizes."
Providing scheduled sea, air and road freight haulage services for all industries in Ireland to and from Europe, Wyse Transport will celebrate 20 years in business next February. From humble beginnings, founders Bernard White and Ken Maher have developed an international profile for their Dublin-based operation working across all sectors and with many blue-chip companies to manage their transport and haulage requirements.
Between them, Bernard and Ken have over 40 years' experience in all aspects of haulage, sea, air and road freight services. Bernard is responsible for the UK and European operations, specialising in air freight management, contract rate negotiation and all aspects of the business' import and export activity.
"We've gradually built it up over the years. We cover all of Europe down as far as Greece. We're often asked where the name 'Wyse Transport' came from. We wanted to be 'wise' in what we do so we just replaced the 'i' with a 'y'. It's as simple as that."
The decision four years ago to relocate to a purpose-built premises in St Margaret's, which is adjacent to the new north runway at Dublin Airport, has paid dividends for the company. Not only has it ensured easy access to the airport, but also to the M50, M1, Dublin Port Tunnel and all national routes. Wyse Transport employs 40 people across all of their distribution and management services. Ken is full of praise for their drivers, who have a wealth of experience in the road haulage business and have GDP training for carrying pharmaceuticals, ADR training for carrying hazardous goods, ASA training for air freight security and have also completed the full five Driver CPC courses.
Wyse Transport will handle all of your day-to-day logistical requirements whether it's European or local. The main countries they serve outside Ireland are Italy, France, Spain, Holland, Austria and the UK. Their knowledge of the industry and top-class fleet have made them the complete haulage specialist.
The underlying commitment from Wyse Transport is a partnership approach to the safe and timely movement of all international forwarding of their customers' cargo with the most modern fleet on the road. Their focus is to continue to be a haulage partner for all industries and sectors, underlined by professional service and the most competitive prices in the industry.
A fully licensed haulage company covered by IRHA and CMR insurance, Wyse Transport are committed to the highest standard of quality and service through every aspect of business. As well as constantly updating and renewing their fleet, they use the most advanced satellite tracking and fleet management system in the marketplace. They employ their own team of mechanics at their St Margaret's premises which boasts a workshop, loading bays and extensive warehouse space.
Wyse Transport specialises in the transport of products in the pharmaceutical, aviation, horticultural and electronic / IT sectors. The company also provides general transport services throughout Ireland. Their location close to Dublin Airport provides customers with access to an international air freight base to fulfil their logistical requirements.
They provide tailored logistical services for all the leading manufacturers of pharmaceuticals, biotechnology, medical devices and healthcare products. Wyse Transport also provide a specialist aviation parts haulage service to a range of industry partners. Their location and range of transport options ensures they can react at the rate required to work in this time-sensitive sector. Their fully monitored, dedicated vehicles will collect any item such as replacement engines and parts which will be delivered to their destination quickly and efficiently.
Clients choose Wyse Transport to manage their day-to-day transport and distribution needs because of their access to a wide range of vehicles and transport, a European wide customer-base, cost-saving haulage solutions, ability to accommodate oversized consignment and temperature-controlled options, ability to accommodate full and part loads, pallets, time or sensitive product deliveries, fragile, same day, next day, economy, third party and remote collections, part or full logistics management, state-of-the-art tracking systems and real-time vehicle tracking and specialist carrier of items from fragile to extra-large goods.
Here's to the next 20 years of this dynamic, reliable and ultra-professional international transport provider!
Wyse Transport Ltd
Food Central,
Roslin,
St.Margaret's,
Co Dublin.
Phone: +353 (1) 808 4888
Email: [email protected]
Published in Irish Trucker & Light Commercials magazine, Summer 2020, Vol 23 No 3