An impeccable service for your diesel system
02/11/2020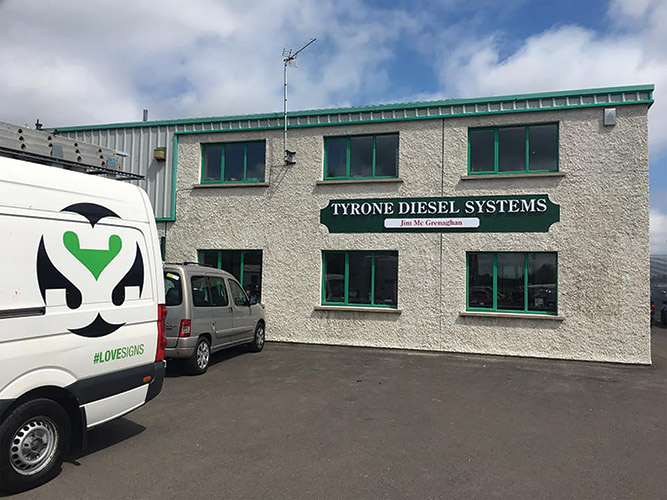 Tyrone Diesel Systems specialise in the testing and repair of diesel fuel systems of all varieties. Irish Trucker caught up with Managing Director, Jim McGrenaghan recently to learn all about the ins and outs of the business.
These are busy times for Tyrone Diesel Systems and the plan for Jim McGrenaghan and his team up in Omagh is to try and keep things that way throughout 2020.
First established in 1978, the company has grown to become a leader in the testing and repair of diesel fuel systems of all varieties – from a family car to a large generator.
Today the business is run by Jim's son Conor, who knows all the details about the up to date technology when it comes to repairing fuel systems for diesel engines.
Irish Trucker recently caught up with Jim himself to hear all about the company – from its origins to the state of business today.
"We started in 1978 and right now we've six working here," outlined the company's founder.
"I'm Managing Director but my son Conor is the man running the place nowadays. He's been in IT all his life and has all the high tech experience, you could say. He's been with us here since July 2010 after finishing a degree in Physics at Oxford University."
Today, Tyrone Diesel Systems is recognised as a well-established Diesel Fuel System Repair company that has built up an enviable reputation over the last 40 years plus.
The business prides itself on its commitment to provide a professional and speedy service at all times, whilst maintaining the highest quality of work.
As it stands, Tyrone Diesel Systems are the only fully-authorised Bosch Diesel Centre, Delphi Diesel Centre and Continental VDO Diesel Repair Service in the whole of Northern Ireland.
That's a very far cry from when Jim first started out in his business, having taken the decision to go out on his own more than 40 years ago.
"I had been working for an engineering company that re-builds engines and had a chance then in 1977 when I bought my own workshop," he explained.
"I just started from there and, thankfully, never looked back. The business grew from there and we got more and more customers as the years went by."
Jim and his business venture slowly but surely began to forge a reputation around Tyrone and, as the good word spread, he was able to meet the demand from customers time and time again.
Nowadays business couldn't be better, according to Tyrone Diesel Systems' founder, and the hope is to keep things that way throughout the New Year at 3 Dromore Road.
"We're very, very busy at the moment. In fact, you could say we're flat out with work," he beamed.
"We've all the latest gear here and make sure to keep all of our workshop equipment up to date.
"With the new emissions laws, it takes a lot of money to keep things going right but we've been able to manage over the years."
Indeed a professional service is always guaranteed at Tyrone Diesel Systems and that goes a long way towards explaining the company's continued success over these past four decades.
The company's work even brings its team outside of Ireland on occasion, as Jim explained.
"We do work all over Ireland and have been over to Scotland on previous occasions," he stated.
"We sell parts in Sweden and Germany and buy different materials from all over the world for what we do here."
With the focus now very much on further growth in 2020, Jim says Tyrone Diesel Systems will be looking at adding to their staff team in Omagh.
However, that process just isn't as simple as it sounds according to the company's founder.
"We probably need a bit more help here the way things are going at the moment alright," he said.
"There's a right bit of training involved when it comes to this particular line of work and sometimes it can be hard to get new lads, but we'll see how it goes in the next couple of months."
With the current team of six headed up by Conor McGrenaghan, Tyrone Diesel Systems is likely to expand in 2020 in order to meet clients' demand.
So what has been the secret to success thus far? How has a small start-up in Omagh stood the test of time after more than 40 years now?
For Jim, maintaining an impeccable service goes a long way in this line of work.
"We like to think that we give a fairly good service here and, like I said, we have all the new equipment," he said.
"Anything that comes over the counter here, we can deal with it and I think our customers know that about us and appreciate that."
Looking at the year ahead, the Managing Director is very optimistic and sees Brexit as the only real concern business-wise.
"We're looking good for 2020 as long as Brexit doesn't throw a spanner in the works," said Jim.
"It could turn into a mess alright, and it is a wee bit of a concern, but hopefully it doesn't."
Hear, hear.
*Based at 3 Dromore Road, Omagh, Co Tyrone, Tyrone Diesel Systems' opening hours are Monday to Friday from 9.00am to 6.00pm.
Tyrone Diesel Systems
3 Dromore Rd,
Omagh,
Co Tyrone
BT78 5JH
Tel: +44 28 8224 9560
Published in Irish Trucker & Light Commercials magazine, Summer 2020, Vol 23 No 3