Looking after the needs of the passenger
27/10/2020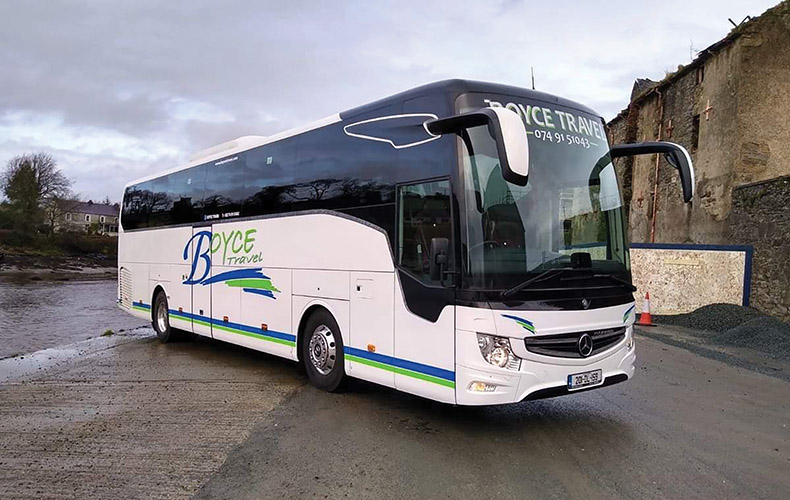 Boyce Coach Travel Ltd is an innovative company that is always looking at ways to improve its service, even though they are the leaders in their field of expertise in Ireland. Based in Ramelton, Letterkenny, Co Donegal this coach hire firm offers a nationwide service, while for many years now they have been providing a reliable service to the people of Letterkenny and Donegal.
Coach travel has certainly changed over the years, long gone are the days of sitting in a bus that has uncomfortable seating, while the nearest thing to air-conditioning was by opening a window.
Comfort is now a main priority of all coach companies and providing a service to their customers that ensures their journey is as smooth as possible. To say the coach industry has been subject to many changes in recent years would be an understatement, but for one Donegal based company, they have gone to a whole new level.
Boyce Travel (as we will refer to for the article) was established in 1990 and thus the company are celebrating 30 years in business. However, the actual genesis of the business came about in the late 1970s when John Joe Boyce started operating runs from Donegal to Glasgow. The business soon grew and school trips, Bus Eireann runs and tour work were added to the portfolio, while all the time, the fleet was growing.
These days, John Joe's sons Peter and Sean run the business which consists of a wide range of services catered for by a fleet of 16 top of the range vehicles and enabled by an experienced team of ten employees, while ten more can be called on at any time.
This family run business, which is headquartered in Ramelton has gone from strength to strength over the years and provides a wide range of services including their own brochure.
Since 2016, five brand new Mercedes Turismo 53-seater coaches along with their Mercedes Sprinter 19-Seater and 2 33-Seater DAF Turas were added to the fleet and Peter revealed that they are continuously upgrading the fleet.
"We would upgrade every few years alright. The fleet has to be kept in pristine condition both under and over the bonnet. We would deal with the M50 Truck and Bus, McElvaney Motors, Evobus, Donegal Commercial Vehicles and the main Scania dealer in Dublin where Neil Gladstone has looked after us very well," said Peter.
"Great care and attention are given to the vehicles. They are not only washed and cleaned almost daily, but service checks would be carried out on a weekly basis."
Boyce Travel has emerged as one of the leading tour operators in Ireland and Peter stated that it is an area that they have put a lot of time and effort into.
"We offer our own tour packages, whether it be down the country or across to the UK for soccer games, we cater for all. We run tours to Euro Disney, Harry Potter land and Legoland.
"We cater for all age groups and organise complete travel solutions for groups and clubs of all ages including bus, boats and hotel if required. We even run a bus to the ploughing championship, which is very popular amongst our customers."
Being situated in Donegal means that this family run business is based very close to the border and so a lot of their work is carried out in Northern Ireland, which as we all know has the uncertainty of Brexit hanging over it at the moment and Peter admits that it is hard to know what will be the outcome when it is finally introduced.
"There is a lot of uncertainty there, but at the moment it hasn't affected us, but that could change. There is not a lot we can do about it until we know what is exactly happening.
"In fairness, there has been an upturn in business over the past few years. Tourism has certainly increased in the country. The only issue I would have is that we need more hotels in the country to great more competition amongst them. Hotel prices are dear and that is putting a lot of people off coming here."
Peter has been involved in the business for the past 30 years, but he admits that he still loves to get out on the road instead of being stuck behind a desk.
"Sean looks after the office side of the business which suits me fine. I rather be out on the road and do get out from time to time. We have a good work force here. The drivers are an integral part of the business. They are at the forefront of the company and it is them who are dealing with the passengers on a daily basis. We really appreciate all their efforts. It can be a tough industry to work in and the drivers have to be cut out for this type of work, that is why it is sometimes difficult to sources staff who are willing to do the away from home for a period of time."
Contact Details:
Boyce Coach Travel Ltd
Moorefield,
Ramelton,
Letterkenny,
Co. Donegal
Phone: (074) 915 1043
Published in Irish Trucker & Light Commercials magazine, Summer 2020, Vol 23 No 3