Knowledge is key
27/10/2020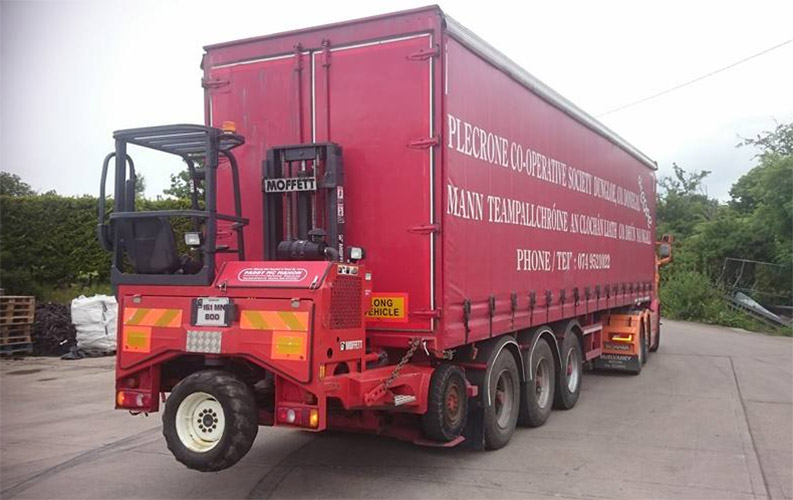 Having an understanding of how a product or machine works is essential, especially if your livelihood involves repair work or maintenance.
Nothing beats experience when it comes to business and providing a service to customers. The longer a company are operating the more experience they gain and when a customer knows that they are dealing with someone that has many years' behind them in their field of expertise, they feel that bit more at ease than they would if it was someone that has not been in business as long.
When it comes to truck mounted cranes, there are few to rival the knowledge that Paddy McMahon of McMahon Repairs possesses. Having travelled all over the world solving problems for Moffett Engineering during his time with the company, Paddy decided to set up his own business in 1997, a decision he had never regretted.
Twenty-three years later and the business located in Dunraymond, Co Monaghan is still going strong, so we called over to see what the secret to Paddy's success was.
When it comes to solving issues with truck mounted cranes, Paddy is the go to man, not only in Ireland but further afield also.
"I have worked in this field for many, many years and I have gathered a lot of experience and knowledge over that time. I have been all over the world solving issues and it has been a great learning experience for me," said Paddy.
"A lot of the issues I could solve over the phone, but I'm still on the road a good bit. I would have called to hauliers all over Ireland and the U.K down through the years."
For Moffett Mounty spares, repairs or parts, McMahon Repairs is the place to go and all issues are generally resolved within a small timeframe.
This well-established and trusted company throughout the country has a core mission to ensure client satisfaction through timely and affordable repairs, servicing and spare parts.
"Our aim is to provide the best service possible at an affordable price. Our customers know that they will get that when they come to us and that is why the keep coming back over the years," added Paddy.
McMahon Repairs employ two people and the business is consciously kept small as Paddy believes that he can provide a better service this way.
"Fortunately, we have managed to keep the overheads down and that has made a huge difference. You cannot take any decision lightly, but at the same time, we are looking forward to the future and hopefully further expansion if the work is there.
"I'm happy with the customer base that we have here. There is enough work for three of us and I've no aspirations to grow much bigger. As long as we keep our customers happy that is the main thing."
Their parts department is always well stocked to ensure that a customer won't be waiting long for what they are looking, but if there's ever a case that they don't have the part in stock, it is sure to be there by the next day.
"We stock as much as we can here, and we buy in parts on a regular basis. We can get parts very quickly if needed, but generally we will have them in the workshop."
There has been a lot of changes to the engineering of the Moffett Mounty over the years and Paddy revealed that every day is a learning process, despite the wealth of knowledge he has at his disposal.
"I'm learning all the time, technology has changed over the years and everything is now computerised, so I've basically have had to start from scratch. There are always changes been made and you have to keep up with them to ensure that you can source the problem."
The haulage industry has gone through a turbulent time over the last few years, but certainly in the last eighteen months or so, there has been a huge improvement across the board.
It is arguably the most competitive business to be involved in, and the margins between success and failure are a very fine indeed. There are so many issues to deal with on a daily basis and for those operated the Moffett Mounty, the want to ensure that there are no problems in that department. That is why Paddy and his team take great care in their work.
"We are meticulous about our planning and every stage of a project will be planned out to the smallest detail. Our customers recognise this and our ability to deliver and that is why we have so much repeat custom.
"The company provides a good service and as long as we can continue doing so, then we will remain being competitive in the market-place for many years to come."
"A lot of our customers have been giving us their business for many years now and we're very grateful for that. It is up to us to ensure that they maintain happy with that service, standards, and products we supply them and try to improve on it if we can."
Contact Details:
McMahon Repairs
Tullyshelferty
Dunraymond
Co Monaghan
Tel: 0868 33 5363 / 042 9744119
Email: [email protected]
Published in Irish Trucker & Light Commercials magazine, Summer 2020, Vol 23 No 3