Hume Transport lead the way
19/10/2020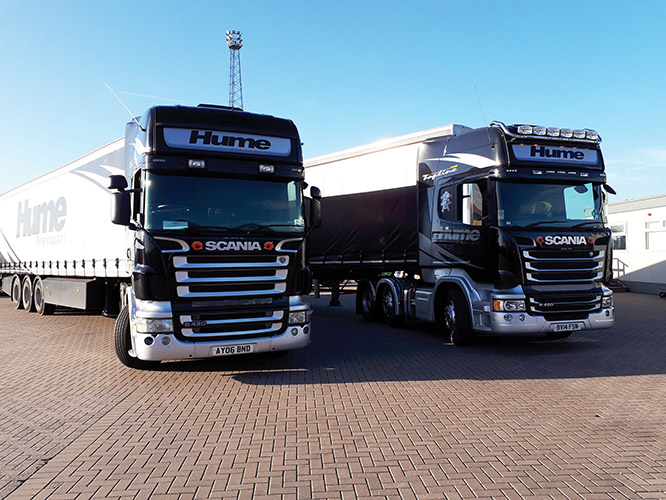 Efficiency is one of the greatest assets to obtain when running a successful haulage company. There are so many daily issues to contend with that everything has to run smoothly.
The time constraints within the industry are massive, but the more experienced haulage firms have the knowledge and know-how to deal with all eventualities.
Twenty-five years ago this year, Derek Hume decided to establish his own business from his home in Randallstown, Co Antrim and Hume Transport started operating.
Specialising in general haulage, the company has developed a reputation for providing a reliable and efficient service to their loyal customers many of who have a strong business relationship with the Hume Transport team.
To run the business so proficiently, Derek operates a modern fleet of trucks and trailers that are kept in pristine condition.
"We have five trucks, four of which are Scania and we added a Renault to the fleet as well. I've always found Scania very reliable and economical, but Renault gave a great package which includes a five-year warranty and 0% finance, so we decided to go for that last year and I have to say we are delighted with how it operates.
"Every Monday morning, we would get an e-mail from Renault stating how the truck ran over the course of the past week as they can monitor that from an onboard computer and we have learned a lot from receiving this data every week."
The combined Hume fleet needs an experienced team of drivers and Derek admits that he is fortunate to have some excellent drivers on the books.
"We have 5 drivers here and they are experienced at what they do. It gives us great peace of mind knowing that they can go off on a job and there will be no issues with them. They look after the trucks very well too and that is an important part of the job."
Hume Transport operate a fleet of 14 trailers including six Euroliner curtainsiders and they have added to the fleet in recent times.
"We are always investing in the business and two new trailers have been added to the fleet as well as the new trucks. We are hoping to expand even further next year."
With regards to their customer base, Derek revealed that they are working for the same firms for many years now and have developed an excellent relationship with them all.
"Some of our customers would be with us from the start. We would have a good working relationship with them and we strive to give them a good service every time. We would have four trucks going over the mainland UK every week, while we would do some work down south as well. Most of our sailings are out of Belfast."
Communication is key for Derek and he revealed that he is always available to deal with any queries that his customers may have any time, day or night.
"I'm always just a phone call away for them. They know when they have an issue all the have to do is pick up the phone and they will get me. Service is everything and you need to be able to offer that personal touch as well."
Working in Northern Ireland and mainland UK could have its concerns for the likes of Derek as the uncertainty of Brexit has many companies speculating as to how it will affect them, but for this haulage operator, there is no such concerns.
"I don't have any real concerns to be honest. I don't think it will make a huge difference, everybody needs each other and trade has to go on.
"To be honest, I think there is a lot of scaremongering going on and it's a big fuss over nothing, but time will tell I guess."
There are many overheads to contend with in the haulage industry, but Derek stressed that the biggest of the lot was always the same.
"The diesel bill is always the biggest. The price of diesel has been up and down a lot lately, we have been doing a lot of work to get the best out of our trucks and find the 450's very economical. We carry out regular checks and keep the trucks well maintained to get the maximum output and this all helps."
The next generation of the family is already involved in the business as Derek's son Graham drives one of the trucks and the company MD admits that business is going well at the moment.
"We have a very good team here and like I said, they are trustworthy and experienced. Business is good and we work for a very good customer base. We are happy with the direction of the business and as long as we continue to deliver the level of service that our customers are used too then there should be no issues."
Contact Details:
Hume Transport
44 Maghereagh Rd,
Randalstown,
Antrim
BT41 2EQ,
United Kingdom
Phone: +44 28 9447 9690
Published in Irish Trucker & Light Commercials magazine, Summer 2020, Vol 23 No 3