A Part of the service
12/10/2020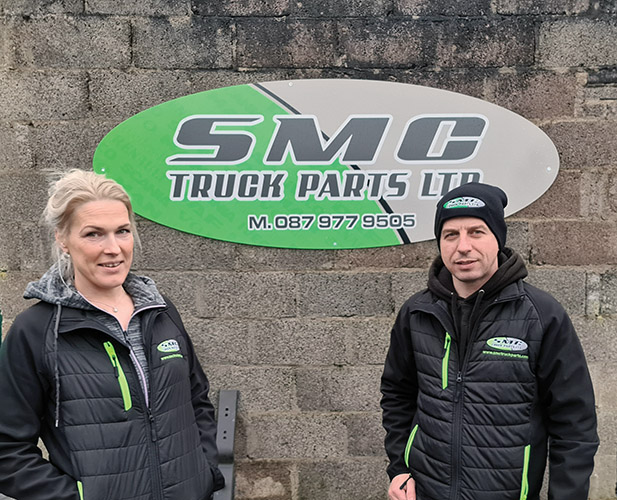 The haulage industry works to many time constraints and downtime is something that they always strive to avoid, but unfortunately it occurs from time to time.
The focus then is try to get the truck up and running as quickly as possible and this is where truck part companies are called into action.
When a customer needs a part, they generally need it there and then, given the time constraints that are part of everyday life in the transport sector.
The fact that it is such a competitive market means that service is everything and hauliers and transport workers strive to avoid downtime, something that is virtually impossible, but can be eased through a quick and efficient service when dealing with parts.
One business that has strived to meet those demands since it first opened its doors in 2018 is SMC Truck Parts Ltd, which is based in Newbliss, Co Monaghan.
Established by Sean McCusker, the business has gone from strength to strength in the last two years as he continuously look at ways of improving his service to their ever-increasing customer base.
Sean spoke to Irish Trucker about the many changes that have been made to the business in the last few years as he focuses on investing in the company.
"It is all about the service and to provide the best possible service, you have to invest in the business and that is what we did," stated Sean.
SMC Truck Parts Ltd is proud to stock the widest range of genuine and aftermarket truck, bus and trailer parts in Monaghan. Everything from air brake components, clutches, turbos and body panels to lubricants, filters and airbags is stocked. Parts for Scania, DAF, Hino, Iveco, MAN, Mercedes-Benz, Volvo, Isuzu and Mitsibushi trucks are available. The company also supplies many of the leading brands on the market.
Sean added that they are always trying to increase their stock and they are going to great lengths to source parts that are not widely available to the Irish market.
Meticulous planning has two vans covering the whole country, which Sean feels helps them give the customer a set time as to when they will receive their part or parts.
"We do same day and next day delivery, depending on what time an order comes into at. We have the vans operating all the time and this allows us to get the part to the customer quickly as well as more often on the same day."
The company has developed a reputation for being the place to go for your truck parts and Sean pointed out that it has taken a few years to garner that appraisal, but it is one that they are determined to maintain.
"As I said earlier, we go to great lengths to source our parts and we know how important it is to stock a comprehensive range of parts for our customers. We have all the leading brands stocked here. There are so many options available to the customer when it comes to parts and dealers that is essential you try to stay ahead of the competition and keep at the forefront of the market."
Sean has noticed a change in attitude when it comes to the purchasing of parts as he revealed that customers now go for the quality product that will last longer instead of the cheaper option.
"All products that we stock are high quality and there are some cheaper than others. The main difference is the life span of the part and definitely customers are going for the ones that last longer and getting value for their money."
Sean and his wife Agita along with their two employees have strived to develop the business and their mission statement describes the company best.
"As a business, our mission is to mature and grow through Customer Service Excellence & provide a professional experience for all our new and existing clients in a respected and friendly manner in the commercial parts industry. To expand for the future and innovate with the ever-changing demand of the market with Top-Quality Truck Parts at Affordable Prices."
Sean added that his aim was to make the company one of Ireland's leading truck part specialists over the coming years.
"We would have plans to expand in the future and we want to be a leader in this field. It is very much customer driven and the aim is to improve on the level of service that we provide.
"We have been very busy over the course of the past few months with a number of new customers coming on board, but we know that we can't rest on our laurels and need to keep pushing the company forward."
Working from their own premises, SMC Truck Parts Ltd have fewer overheads than many of their competitors, which allows them to invest more in the business.
"We are very keenly priced for all our parts, which are sourced both locally and further afield. Our customers know that they will receive a quality service and at the end of the day, we are not here to make millions; just a living."
Contact Details:
SMC Truck Parts Ltd
Corkeeran,
Newbliss,
Co. Monaghan,
H18 D982,
Ireland.
Tel: +353 87 977 9505
+353 87 795 0571
Open 24 hours a day
Published in Irish Trucker & Light Commercials magazine, Summer 2020, Vol 23 No 3