One of Limerick's leading haulage and plant hire solutions provider
12/10/2020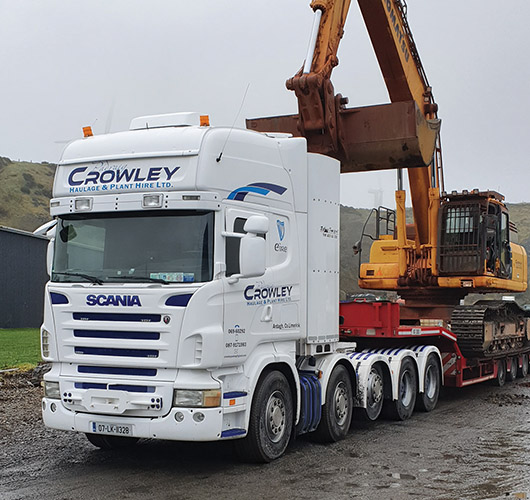 With a fleet of eleven trucks on the road supplemented by an extensive array of plant machinery, Padraig Crowley Haulage & Plant Hire Ltd. provides a comprehensive range of general haulage and plant hire solutions. Irish Trucker popped into their Ardagh, County Limerick HQ and interrupted the eponymous Padraig's busy schedule to find out more about his exceptionally-versatile, customer-focussed, family-run operation.
When you bring together excellent equipment and brilliant people, you will invariably achieve outstanding results, Limerick-based Padraig Crowley Haulage & Plant Hire Ltd. being a case in point. Both the plant hire and haulage arms of this industry-leading family business boast the best of the best in terms of manpower, trucks, trailers and machinery, culminating in a flexible range of prompt, professional and completely dependable solutions.
The business as it exists today was initiated by Padraig and his wife, Liz, in 2014 but is built on a proud family tradition that goes back almost half a century, his father, Denis, having been a founding partner of Crowley & Keane (Sand & Gravel) Ltd.
Padraig admits that haulage is very much in his blood and concedes that it was almost inevitable that he'd pursue a career in this sector: "I grew up with trucks in the back yard and developed an interest in them from a young age," he reflects. "This is what I always wanted to do. The business at the moment is roughly 60% plant hire and 40% haulage."
There are more than 20 pieces of heavy machinery – exclusively Komatsu - in the plant hire fleet, available for hire to local industry. This includes excavators from 3 tonne up to 60 tonne, a range of loading shovels in the 30 tonne bracket and a selection of screeners, not to forget the Caterpillar D9 bulldozer. Regarding his association with and faith in Komatsu machinery, the Limerick man notes: "You are guaranteed quality and reliability with Komatsu and the back-up service we get from our local dealer, McHale Plant Sales in Birdhill, is second to none.
"In the haulage side of the business, we buy our trucks from McCarthy Commercials – who we've been with since 2015 - and our trailers from Ashbourne Truck Centre, both of whom also provide top-class service as well as high-quality trucks and trailers. You are guaranteed a very good trailer from Ashbourne Truck Centre – they're great people to deal with and they provide a superb back-up service."
In the first half of the year, Padraig Crowley Haulage & Plant Hire collected a stunning, top-spec, fully-power-steered and extendable new Faymonville 5 axle low loader from Ashbourne Truck Centre as well as a new 70-cubic-yard Schmitz Cargobull bulk grain tipping trailer.
Ongoing investment in fleet replenishment and upkeep – coupled with the team's dedication and enthusiasm – ensures that the highest levels of service and customer satisfaction can be maintained across the board.
All general haulage needs are catered for, from bulk haulage to rough material, flat trailers, curtainsiders, etc., a trusty team of 20 motivated, conscientious and vastly-experienced personnel on hand to guarantee service levels that cannot be beaten. Padraig's brother, Donagh, is Transport Manager, while wife, Liz, and mother, Evelyn, are part of the office-based team. Here, they are joined by the long-serving, Ann, who has been working for the Crowleys since the early 1970s. In the best tradition of a family-run business, customers are afforded a personal, friendly and fully transparent service at all times, with all queries handled in double-quick time and rapid, professional responses guaranteed.
Services are provided for a who's who of industry leaders in both plant hire and haulage, the company having worked for the likes of Rusal, Murphys, Roadbridge, BAM and Will Bros in plant hire, while regular haulage clients include Irish Cement, CPL Fuels and Argosea Services Ltd. in Foynes. "Most of the haulage is in the greater Limerick region, but we do a lot of coal for CPL Fuels from August through until May and we travel all over Ireland for them."
While the Covid-19 pandemic temporarily affected most Irish businesses, Padraig Crowley Haulage & Plant Hire Ltd. were able to weather the economic storm and come out the other side. "The normal we had is gone for a while," he states. "Things have been picking up a bit and are starting to come good again, thankfully, so hopefully we'll be okay. We had already scaled the business back somewhat, both in terms of the number of trucks and the staff. We had about 40 here a couple of years ago but are down to half that now. It's a tighter operation now and easier to control."
Always prepared to move with the times or diversify into new areas, Padraig Crowley Haulage & Plant Hire Ltd. also provide sandblasting and spray painting services to all industries, including haulage and manufacturing. This service was started in 2017 and caters for everything from trucks and trailers to industrial warehouses, tanks, etc., with either in-house or mobile solutions offered depending on the client's specific needs.
As for the company ethos and the secret of Padraig Crowley Haulage & Plant Hire Ltd.'s enduring success, Padraig points out: "We go out of our way to offer the best service we can possibly provide. Once you look after your customers, they will stick with you. Some of our customers have been with us going back to my father's time in the '80s."
Going forward, Padraig envisages a period of consolidation: "We'll be focussing on maintaining what we have for the time being," he concludes. "I don't think we'll be buying much more this year, but hopefully next year we'll add some new equipment because you have to stay with the times and keep things fresh. We have our own garage and team of mechanics here, who make sure everything is in top condition with Horgan Commercials doing repairs for us as well, while the newer trucks are under contract maintenance with McCarthy Commercials.
"I can't say enough about the excellent service we receive from McCarthy Commercials, Ashbourne Truck Centre and McHale Plant Sales, while we are also deeply grateful to all our customers for their loyalty and ongoing business as well as the hard work and professionalism of our own staff, without whom we'd be lost."
Padraig Crowley Haulage & Plant Hire Ltd.,
Grouse Lodge,
Ardagh,
County Limerick.
Tel: 069 60292
Mobile: 087 9171983
Email: [email protected]
Published in Irish Trucker & Light Commercials magazine, Summer 2020, Vol 23 No 3