Dennehy's trucks are real show stoppers
30/09/2020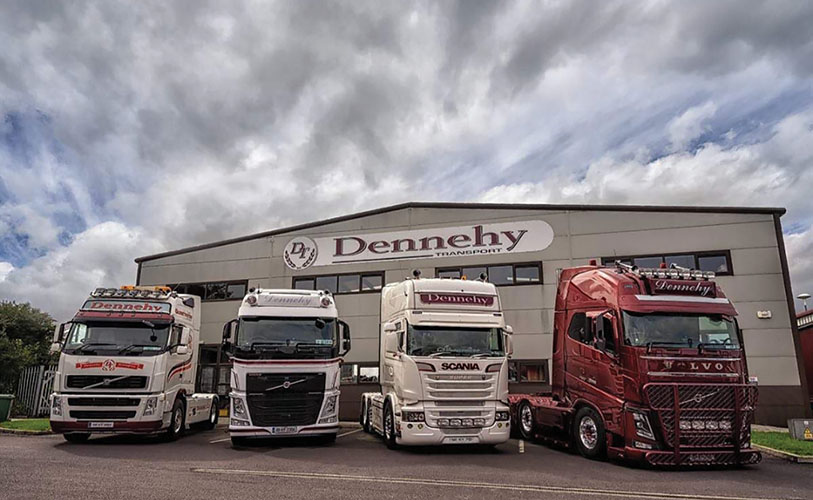 This interview took place before Coronavirus hit our shores and exhibitions were postponed until 2021.
In July, 2020, Punchestown Racecourse will again host the magnificent Full of the Pipe Truck Show extravaganza, where industry-leading Kerry company Neil Dennehy Transport will once more be well represented. Irish Trucker touched base with Adrian Dennehy to discuss his plans for the annual trek to one of Europe's premier truck shows and also to get an update on the current well-being of this exceptional family-run operation.
For Kingdom-based trucker Adrian Dennehy, Full of the Pipe now represents an annual pilgrimage. Every summer, Adrian puts a truck or two from the fabulous Neil Dennehy Transport fleet on display at FOTP and they always receive a wholly positive reaction … 2020 will suely be no different!
It'll be the sixth successive year that the popular County Kerry family-run general haulage operator – established by the eponymous Neil Dennehy in 2007 - has been represented at Ireland's flagship truck show (switched this year from its traditional slot in June to the first weekend of July) and Adrian is looking forward to what promises to be another enjoyable weekend in Punchestown:
"I'm definitely going to head up again," he confirms. "I've had the 2018 wine Volvo up twice already and I'd say we'll be bringing it up again. We attend a few of the shows and Full of the Pipe is one of the best. It's a big financial commitment taking trucks to these shows, so you try to get a bit of work as well to justify the expense."
Between rigids and artics, Neil Dennehy Transport currently has a fleet of twelve trucks on the road, predominantly Volvo but also Scania. Pride of place goes to the two stunning new Volvo purchased in 2018 – an FH16 750hp looking resplendent in its breath-taking pure wine livery and the second a 460s white and wine unit which is equally appealing on the eye.
To say that the jaw-dropping all-wine Volvo turns heads each time it is rolled out at Full of the Pipe would be an exercise in understatement. Adrian is bringing it back to Punchestown this July and the reception is guaranteed to be as favourable as ever.
Apart from displaying the finest trucks in a haulier's fleet, a more satisfying aspect of Full of the Pipe is the social element of the gathering, where like-minded individuals from every corner of the island – and oftentimes further afield – come together to let their hair down and swap stories and ideas.
The day-to-day worries of running a haulage business are manifold but it's nice to leave thoughts of insurance premiums and fuel prices at the door for a couple of days and celebrate the trucks themselves, perhaps even make some valuable contacts moving forward!
"The main attraction for me is just how well the show is organised," Adrian reiterates. "It's worth all the effort of preparing your trucks and bringing them to the show when you can see that the organisers have put so much effort into making sure it's a show to remember. It's gone from strength to strength since it was relocated to Punchestown Racecourse and the excellent organisation makes it all worthwhile, even if it is still a big commitment and expense bringing the trucks up to Kildare from Kerry."
Adrian is pleased to report that business is brisk for Neil Dennehy Transport at the present time. Running SDC and Montracon curtainsiders, the Kerry-headquartered haulier provides a prompt, professional and value-added general haulage service, covering all of Ireland.
All the trucks and trailers are maintained in immaculate condition and tick over in optimal running order at all times, with daily trips undertaken from the south west to the capital and beyond. "We cover all of Ireland and we're in Dublin literally every day," the personable Kerry trucker confirms. "The outward loads could go to anywhere in the country and then we generally bring the backloads down to Kerry from Dublin."
A trusty team of twelve experienced, fully-qualified and highly-conscientious drivers is fronted by father and son Neil and Adrian, with no stone left unturned in pursuit of achieving perfect solutions and service levels every time.
"We're busy and it's going really well for us at the moment and we have to thank all the drivers and staff for all their hard work over the years. The haulage game is tough going so you have to keep your standards high and you can't afford to become complacent in any way or take anything for granted. We're fully focussed on looking after our clients and giving them the best possible service. We're trying to keep on top of it at all times and that's why our customers are sticking with us."
Having a wonderful fleet always helps! To this end, it's clear that the fresh and well-maintained trucks and trailers are at the very heart of Neil Dennehy Transport. Ongoing investment is required to replenish the fleet of a regular basis and ensure that all units are in prime condition to offer unrivalled service levels with no downtime whatsoever.
"We do a lot of our own maintenance and we also have a mobile mechanic who comes into the yard and works on the trucks as well," says Adrian. "We feel that it's vitally important to have the trucks looking nice – not just for presenting them at shows but also out on the road every day. There's no doubt that a good-looking truck creates the right impression and we pride ourselves on having the trucks looking nice as well as performing well."
Finally, Adrian confirms that investment in the fleet is going to continue unabated: "We'll be adding a trailer or two this year," he concludes. "We purchased a few Mercedes Sprinter vans last year and we'll look at adding to the truck fleet again in 2021."
For now, the 2018 Volvos deservedly take pride of place in the Neil Dennehy fleet. They have a regular presence on the roads of Ireland and also at Full of the Pipe. See you there on the first weekend of July!
Neil Dennehy Transport Ltd.,
7-8 Fourpark Technology Park,
Farranfore,
Killarney,
County Kerry
Tel: 066 976 4423
Published in Irish Trucker & Light Commercials magazine, March/April 2020, Vol 23 No 2
Mobile: 087 8169623
Email: [email protected]