For a Truckin' Good Cause, makes a Truckin' Lot of Money
18/09/2020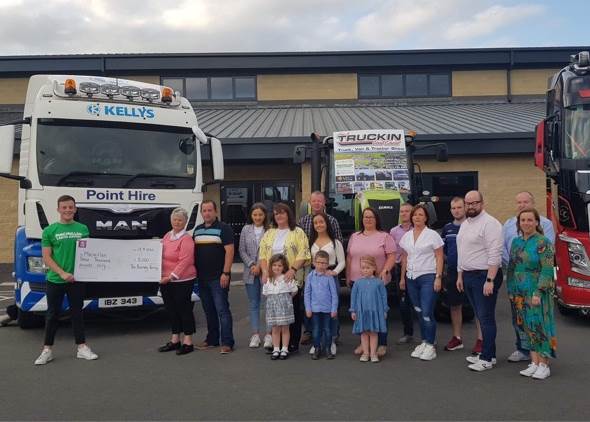 The Rooney family set out the idea of raising money for three local charities by organising a static truck, van & tractor show and raffle on the grounds of St. Mary's GAC, Burren while their husband and father was battling terminal cancer. The idea evolved from early December 2019.
Unfortunately their husband and father Dessie passed away peacefully at home on 4th February 2020 surround by his wife Imelda, daughters Marie, Majella, Michelle; sons Seamus and Eugene, Sons-in-laws, Brendan, Mark and Gervais, Daughter-in-law Patrice and grandchildren Cathal, Sheryl, Cliodhna, Shenna, Jack, Annie, Ollie, Patrina and Ellie. As a family they decided to go ahead with the event in memory of Dessie.
The date was set for 2nd May 2020; but due to the worldwide Covid-19 pandemic this had to be re arranged to a date later in the year. The Rooney family continued to fundraise for their chosen charities. These charities were Southern Area Hospice Services, MacMillan Cancer Care and Life & Time Palliative Care.
The new date was Saturday 29th August with approximately 250 lorries as well as tractor and vans for a static show on in Burren. The vehicles were being judged by experts and awards being given to 25 winners.
With the current pandemic as a family and in conjunction with Burren GAC it was decided to postpone the event to a later date for the safety of the attendees and the community. The fundraising continued with the aim of hosting the raffle on the 29th.
The raffle was held on Saturday 29th August 2020 in the Burren Community Hub with an amazing raffle with a total of 69 prizes. All prizes were all donated. The family would like to thank everyone who donated so very generously.
Raffle ballots were sold all over Ireland and the UK. 59 of the prizes remained within the South Down area and the remaining 10 went further afield.
The Rooney family have been astounded by the support of everyone not only from the time of Dessie's diagnosis but in more recent times and since he passed away in February.
The total amount raised was £22,053.12! This is an outstanding amount to raise from one event.
Southern Area Hospice Service received £3000 as did Macmillan Cancer Care. Life and Time received £16,053.12.
The amount raised is an honour in memory of Dessie and say's so much and him as a person and the Rooney family as a whole.
The Rooney family state they could not have gone through this very tough and challenging time without the support of their family, friends, and community and again would like to pass on their sincerest thanks for all the donations and support! They would like to special acknowledge the care and support of Life & Time who not only cared for Dessie, but also cared for them as a family. Dessie spoke very highly of Life & Time and stated on many occasions 'It is nice to know that someone cares!'