Busy times at Durkan Transport
16/09/2020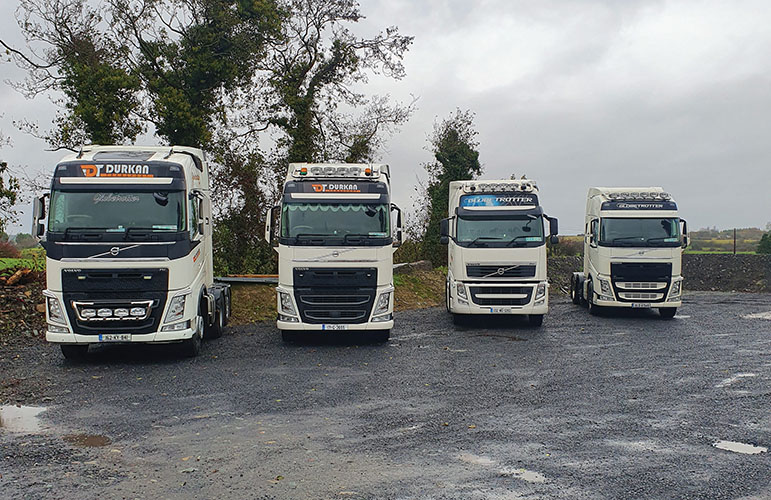 Based in Westport, Co Mayo, Durkan Transport is a walking floor and general haulage waste and recycling specialist which is up and running almost three years now. Irish Trucker heard all about the company from its founder TJ Durkan recently.
These are busy times for Westport-based haulage firm Durkan Transport and the plan for owner TJ Duran and Co is to keep things that way throughout 2020.
The company has grown year on year since its inception a little under three years ago, now operating with four lorries in its fleet and an additional operation base outside of Westport.
TJ himself has been immersed in the transport game all of his working life and eventually took the decision to go out on his own in the Spring of 2017.
The Co Mayo native was good enough to take time out from a hectic schedule to fill Irish Trucker on his business venture and his hopes for the year ahead.
"We were set-up in April 2017 and at the moment we've three staff working here," explained TJ.
"We've another operational base just outside of Westport and basically we are heavily involved in the waste and recycling industry."
Since setting up in '17, Durkan Transport has moved towards waste and recycling haulage and it's a line of work which keeps the company flat out on the roads for all 12 months of the year.
Bourke Waste Removal just outside of Westport played a major part in helping TJ get his company off the ground and the two businesses continue to work side by side to this day.
Now Durkan Transport is well-established in the west of the country and continues to grow with each passing day.
"We do a lot of general black bag waste and some non-waste then as well," said TJ.
"Right now we have four lorries and a flat trailer here and all year round its busy for us, especially with recycling in the winter time."
It's a far cry from when TJ first set-up shop in April 2017, as prior to that he had been working with a transport company in Castlebar as a driver.
The experience he gained has clearly stood to him well as Durkan Transport continues to grow and develop a reputation for a quality service amongst its clients.
"I was with Brian Cunningham Transport back in 2002 and, after working there for years, I suppose I seen a little niche in the market," TJ outlined.
"I decided to go out on my own and started with a truck and just took it on from there. Thankfully, we're still here now nearly three years later."
And business is looking promising for the year ahead too, according to the Managing Director.
The hope is to make at least one new addition to the company's fleet in 2020 and add to their list of growing clients as well.
Brexit, of course, is a concern but overall the present picture is bright for Durkan Transport.
"It's looking good," TJ stated. "You'd be kind of worried about Brexit because we do some work up in Lurgan but, in general, things are going well for us.
"Diesel prices and the carbon tax are the biggest challenges for us at the moment, but we're on the same boat as everyone else in the country in this line of work in that regard."
Brexit certainly remains an unknown entity for businesses all throughout Ireland, leaving the likes of TJ Durkan and his wife Elizabeth, whom is involved with the office duties, to "wait and see" on what effect it has.
For now, Durkan Transport continues to drive forward in the commercial waste industry, working alongside the likes of the aforementioned Bourke Waste Removal, Loftus Recycling in Ballina and Thornton's Recycling in Dublin.
Looking back on it now, he's been happy with his decision to keep the business small while steadily growing.
"When I started off I leased a new lorry off Murphy Commercials in Galway and bought a new trailer from David Kidd in BMI and it grew from there," TJ reflected.
"But I don't, and would never, take on work I can't do, so you can be sure that if I say I'll do it, I'll do it."
He continued: "I'm looking at adding to the fleet this year and hopefully we'll be up to five trucks here before long. As for staff, I'll be looking at a new driver as well and when I take them on it will be taking them on full-time."
The year ahead promises to be an interesting one for Durkan Transport as Brexit seemingly looms but, going on present form, the company should see some more steady growth.
Only time will tell.
"Hopefully we can continue to keep doing what we're doing here and keep up the commercial service which has been going well for us since we started," TJ concluded.
Durkan Transport
Westport,
Co Mayo
Mob: 085 727 9979
E-mail: [email protected]
Published in Irish Trucker & Light Commercials magazine, March/April 2020, Vol 23 No 2