Thompson Transport continues to deliver
02/09/2020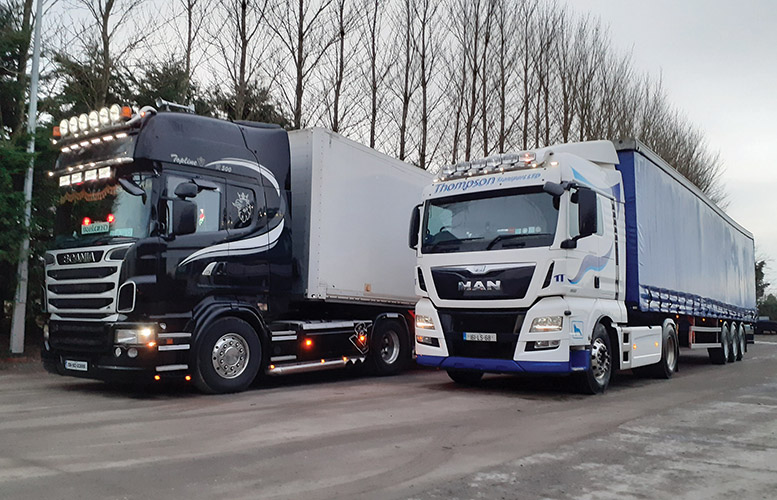 Operating 24/7, 365 days a year, Thompson Transport Ltd is ideally located in the heart of Ireland to look after all your transportation needs. The long-established, family-run business offers a wide range of services, including groupage, curtain-sider, bulk haulage and tipper work.
Thompson Transport has come a long way since it was set up by John Thompson in the village of Rosenallis, Co. Laois in 1964 (it became a limited company in 1984). Having initially focused on agriculture-related work, the business started hauling beet to the old sugar factory in Tuam and grain from Dublin Port to Odlum's flour mills in Portarlington, Dublin and Cork in the 1970s.
Since taking over from his father in 2008, Ivor Thompson has brought more modern management to the company with newer trucks, greater use of technology and driving training programmes. His decision to branch into groupage transport five years ago has paid off spectacularly with this having become his core business.
"We used to do parcel and pallet deliveries for Fastway Couriers, but stopped doing that to concentrate on doing groupage work instead for them in Ireland and the UK," Ivor explains.
"The idea was first mooted in 2014 and, as a company that is always up for a challenge, we decided to give it a go the following year. Starting with one truck, we now have five dedicated to groupage and sometimes can have up to eight trucks with Fastway in Ireland and UK. We provide a day and night delivery and collection service to and from their main hub in Portarlington, which is only a 20-minute drive from Rosenallis.
"We have full loads coming in from the UK and also going out. We also do groupage work for Walker Recycling who export farm plastics to the UK for recycling. They are another local company who we have started working for recently. We've taken a completely different path to the one my father took all those years ago."
Thompson Transport continues to provide a bulk haulage and curtain-sider service for Odlum's, while O'Dwyer Transport in Littleton, Co. Tipperary and Irish Dairy Services (IDS) in Portlaoise are two other long-standing customers. The partnership with IDS goes back over 25 years and sees Thompson's distribute poultry and pig feeding systems as well as poultry housing throughout the country. In addition, the company has four vans dedicated to delivering car parts for marquee brands on behalf of DSV Global Transport & Logistics.
"We used to have a plant hire business and moved away from that in the same way as moved away from parcel and pallet deliveries," the affable managing director adds.
"The lesson I have learned from being in this business all of my life is that you can't stay still. You have to keep moving and be willing to diversify and take opportunities when they come along. We're happy enough with what we're doing at the moment and have 10 or so core customers who are all treated the same. They're our number one priority.
"It's a 24/7 business and that's the way we look at it. There's plenty of work out there, but the competition is getting tougher and the margins are getting tighter. You cannot afford to rest on your laurels."
All work carried out by Thompson Transport is to the highest standard by an experienced team of 16 drivers. The services provided are totally adaptable and can be tailored to meet your specific requirements.
Aware that different companies have different priorities, the Co. Laois-based firm strives to develop intelligent, cost-effective transport solutions that help its customers to achieve their business goals. When you work with Thompson's, you're working with a reliable team with a thorough knowledge and passion for the haulage industry.
Thompson's prices are competitive and however tight your deadline or budget is, they promise to do their best to meet them. Solid family values, hard work and a strong commitment to customer service have built the business from a one-man operation into the exceptional transport provider it is today.
The family business runs a fleet of 11 articulated trucks – nine MAN, one Renault and one Scania. It also has four vans and a wide range of box, curtain-sider, low-loader and tipper trailers. The company has implemented a fleet replacement programme in recent years and is planning to invest in two new trucks in early 2020.
"We have done a complete fleet replacement with the exception of one truck, which is 06-registered. Our newest truck at the moment is a '171'. We're constantly upgrading and recently took delivery of five new curtain-side trailers. A fresh and reliable fleet pays off in the long run," Ivor contends.
Maintenance, servicing and repairs are mostly carried out inhouse by mechanic Robert Cooper who knows MAN trucks inside out. Trucks that are under warranty are maintained by the main dealer.
Ivor is full of praise for his staff, who have contributed enormously to the company's success. He is joined in the business by his wife Dawn and 19-year-old son Glen, who recently started driving. Ivor and Dawn's two other sons, Gary and Mark, aren't currently involved in the business. Gary has just qualified as a solicitor and Mark is studying chemistry.
"I would love for them to be all involved, but you can't blame Gary and Mark for taking a different career path. You work long hours in this business and that's one of the biggest reasons why it's so hard to attract young drivers. It's not your typical 9-5 job."
With plans to redevelop its site in Rosenallis, a top-class fleet and an excellent customer-base, the future has never looked brighter for Thompson Transport.
Thompson Transport Ltd
Meelick,
Rosenallis,
Portlaoise,
Co. Laois.
Telephone: 057 8628556 / 087 6128645
Email: [email protected]
Published in Irish Trucker & Light Commercials magazine, March/April 2020, Vol 23 No 2