Exciting times at Dunleas of Kilcullen
12/08/2020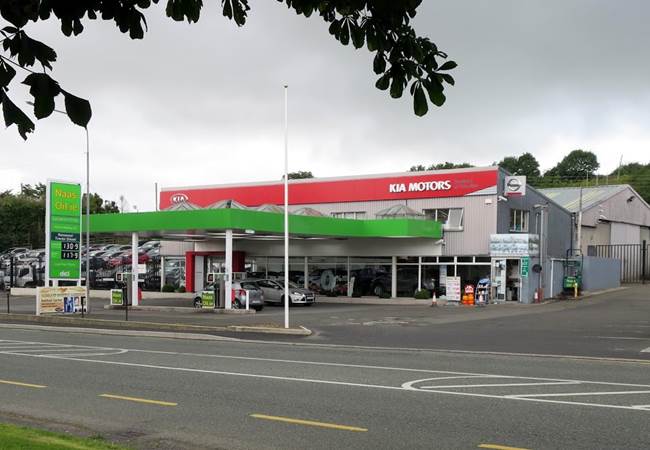 Due to continued expansion, Dunleas of Kilcullen have plans to relocate to a larger premises in 2020 which will allow them to showcase the full range of FUSO trucks and Kia cars, and provide an even better service to their customers.
Since managing director Anthony Murray and sales director Mark Grainger took over Dunleas of Kilcullen in 2005, the dealership has gone from strength to strength, so much so that it has outgrown its existing premises. This growth has been driven by the success of its FUSO and Kia franchises, while it has also remained a main Nissan authorised repairer for Co. Kildare, having been a long-established Nissan dealership prior to the change of ownership. In addition to this, the garage has a comprehensive range of used commercials and cars in stock at all times.
Dunleas of Kilcullen acquired the Kia dealership in 2008 and were appointed main FUSO dealer for all of Co. Kildare as well as West Wicklow and North Carlow in 2016.
"To grow the two brands and our business as a whole, we need a bigger premises," Anthony Murray explains.
"To this end, we have purchased a four-acre site close to our current base where we have secured planning permission to develop purpose-built showrooms and workshop along with a commercial display area. We feel we need to improve our facilities and to do our products justice. At the moment, our commercial truck and passenger car ranges are cohabitating. We want a place where our FUSO and Kia brands will have their own identity.
"We hope to be in our new premises by the end of the year."
Dunleas of Kilcullen have an outstanding reputation in commercial sales and the FUSO Canter is the perfect fit for them to continue their tradition of providing a first-class commercial vehicle service in their catchment area. The Canter has cornered the 3.5T – 7.5T chassis cab market in recent years and offer a fantastic range of trucks to a wide range of customers. Mitsubishi FUSO have been building Canter trucks for over 80 years and has had a presence in Ireland for over 30 years.
The FUSO Canter range includes 3.5T, 6.5T, 4X4, 7.5T, 8.55T and the 7.5T Eco-Hybrid models, all with FUSO Ireland's leading five-year warranty. FUSO continue to be to the fore of innovation and technology and 2020 will see its latest model to be added to the line-up, the Canter E-CELL – the world's first pure electric-powered light truck, following on for the successful Eco-Hybrid.
"There is something for everyone in the Canter range," Anthony says.
"The Canter E-CELL will be a game-changer in urban areas. A lot of companies and semi-state bodies are looking at ways to lower their emissions and already have recharging facilities in place. The Canter E-CELL will cater for their needs.
"The Canter 7.5T Eco-Hybrid truck has been a great success. It uses up to 23% less fuel and also benefits from DUONIC, the world's first fully automated dual-clutch transmission for trucks that enables smooth, efficient shifting and consistent power delivery."
Since 2017, the FUSO Canter can be ordered with ex-factory bodies as part of a single-invoice transaction. Three-way tippers and platforms from Scattolini turn your 3.5T Canter into a fully-functional, workhouse ex-factory. With tipper and platform variants available in three different lengths, there are almost 80 Canter models available for the 3S and 3C model variants. This impressive range of ex-factory bodies for single-cab and crew-cab vehicles is currently unmatched by any other manufacturer.
"The pre-factory made Scattolini bodies give FUSO an edge over the competition. Customers can choose from a wide range of bodies to suit their requirements. The Canter truck and Scattolini bodies make for a winning combination. Our customers are delighted with them," the affable managing director adds.
"The Canter range is substantial and every model comes with a five-year / 150,000km warranty on both cab and chassis as well as a three-year body warranty. We can offer a range of finance options to assist you in the purchase of your vehicle. FUSOs are an easy sell thanks to their quality, extensive range, price and warranty. It goes without saying that we stand over everything we sell.
"It's important that you know your customer and that that the product you sell to them is the one that best suits their needs. Having a reliable truck is so important – if the truck's not working, the customer isn't working.
"All in all, the FUSO Canter range offers great peace of mind."
Dunleas of Kilcullen employs 34 staff, who are all focused on the extra service levels required in this busy and demanding business. The dealership specialises in the following areas: sales, service, parts, accident & repair centre, hire & leasing and 24-hour breakdown and recovery.
The garage's fully-equipped car service department provides everything from car servicing, vehicle health check, car repairs, car valeting, oil changes, timing belt changes, battery replacement, emissions test failures, diagnostics and repairs to steering and suspension systems, engine performance and repair, brake systems, including ABS, safety systems, including airbags, heating and air conditioning, automatic and manual transmissions / trans axles, pre NCT work, factory recommended maintenance, advanced engine diagnostics and electrical / electronic systems. Service prices are very competitive and all work carries a main dealer stamp for your service schedule.
The exceptional Co. Kildare concern has earned an enviable reputation for the quality of its after-sales service, with its fully-trained technicians and service manager boasting a wealth of technical knowledge and experience. Whatever your requirements, Dunleas of Kilcullen can provide the facilities to ensure your vehicle is properly serviced and its value protected.
Opening hours are 9am to 6pm Monday-Thursday, 9am to 5pm on Fridays and 10am to 2pm on Saturdays.
For sales, service, parts and warranty on Fuso Canter trucks, look no further than Dunleas of Kilcullen.
Dunleas of Kilcullen
Naas Road
Kilcullen
Co. Kildare
R56 HN60
Phone: 045-481299
Web: www.dunleasofkilcullen.com
Published in Irish Trucker & Light Commercials magazine, March/April 2020, Vol 23 No 2