The personal touch guaranteed at McCaffrey Transport Ltd
05/08/2020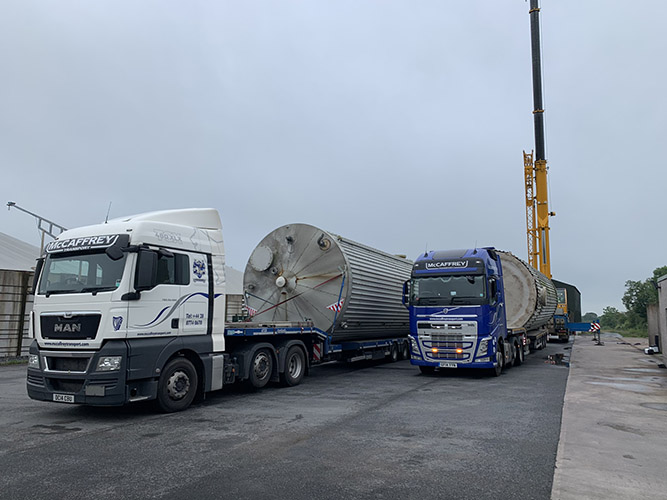 McCaffrey Transport Ltd is a family-run business which prides itself on its personal approach to its customers and their freight. Operations Manager Owen McCaffrey is always available on the end of the phone to answer any queries their customers may have.
With depots in Dungannon and Leicester, and a partnership with Crusader European Logistics Ltd, McCaffrey Transport Ltd service full loads, part loads and groupage to and from Ireland, UK and Europe.
They specialise in abnormal loads, ugly or out of gauge cargo and freight, offering full logistics service with pilot car also available.
"In recent years we've moved away slightly from the refrigeration end of with the exception of work we do for McBurney Transport," explained the company's Operations Manager Owen McCaffrey. "These days we're very involved in transport around the construction sector and, thankfully, we're very busy at the moment.
"There was a small bit of a lull in November due to Brexit hangover but business picked up considerably again with the mad rush before Christmas. There are always peaks and troughs along the way in this business but, overall, we've been kept going steady all year."
One of the keys to McCaffrey Transport's continued success is their flexibility. Whatever you need delivering, and whenever you need it, they can find the most cost effective and efficient option whilst still providing a first class service.

As a family owned company, they take great pride in ensuring their customers are always provided with the excellent levels of service they should receive. That's why the majority of their work is generated by word-of-mouth from satisfied customers.
"I'm very much hands-on when it comes to every job," Owen pointed out. "A customer can ring any time and I'm up to date with the ins and outs of their job."
Another thing that McCaffrey Transport has going very much in their favour is 15 highly skilled and dedicated drivers. All drivers are CSCS card holders and are routinely trained and updated in all prevailing safety regulations.
The quality of their service is only matched by the experience of their drivers.
"In the grand scheme of things we have a fairly low turnover in drivers," Owen revealed. "Guys tend to stay with us which bodes well for us but we're always on the lookout for specialised drivers and it's not easy to get good ones at this point in time but we're lucky enough to have a good group. Reliable drivers are essential to the success of any transport company.
"As they old saying goes 'you can't live with them and can't live without them!'" he quipped.
In addition, a versatile fleet of well-maintained vehicles allows McCaffrey Transport to lift and carry a variety of goods and materials. The company's modern fleet consists of 11 trucks (4 MAN, 4 Volvos and 3 Mercedes) and 20 trailers.
"We're always updating our fleet, we recently added a new Dennison low loader and a couple of flat beds and more are likely in the new year. We're also due to take delivery of a new Mercedes.
"They're cost-effective and are well thought of by our drivers," Owen answered when asked: why Mercedes? "On top of that, we have a great relationship with the local dealer."
Owen – who is joined in the day-to-day running of the business by his father Martin and brothers, Stephen and Michael - is pleased to report that the economic climate has been very kind to the ever-burgeoning business of late.
"We're very busy at the moment. We're heavily involved in the construction industry, exporting from Ireland, and then in turn bringing back machinery mostly. We have a partnership with Crusader Europe Logistics which is effectively an agent for us in the UK."
Not content to rest on their laurels, the McCaffrey family has ambitious plans for expansion in the pipeline.
"As things stand, we currently offer a bit of pallet storage here for two customers. We're looking to grow that going forward and add an extra string to our bow. We currently have the capacity to store 500 pallets but intend to increase that up to 5,000 pallets with the construction of a new warehouse by the end of next year."
Whatever your transport needs, you need a company that's professional and reliable. Look no further than McCaffrey Transport Ltd.
McCaffrey Transport Ltd
96a Reenaderry Road
Dungannon
Northern Ireland
Tel: +442887 740670
Website: www.mccaffreytransport.com
Published in Irish Trucker & Light Commercials magazine, March/April 2020, Vol 23 No 2