Two stunning additions to Gerry Ronan's Manchester-based fleet
30/07/2020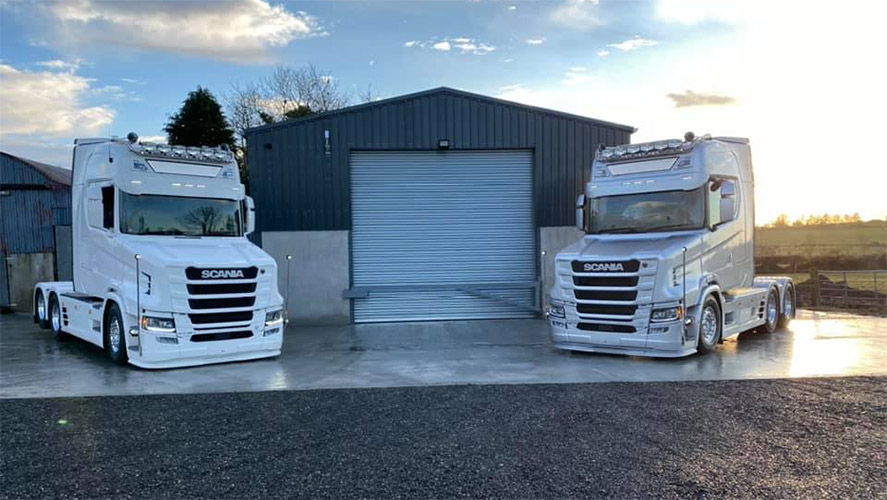 Originally from County Mayo, Gerry Ronan operates a superb fleet of trucks providing unrivalled waste transportation services across the North West and North of England. As he took possession of two magnificent new bonneted T-Series Scanias, Irish Trucker touched base with Gerry to get an update.
There's something about the classic look of bullnose Scanias that never fails to turn heads. Whether on the road or soaking up attention at truck shows, a bonneted Scania is indeed a thing of pure beauty. The response on social media was exceedingly favourable when UK-based Irish haulier Gerry Ronan recently added not one but two wonderful T-Series tractor units to his eye-catching fleet.
Providing top-class waste, scrap and recycling transport services across the top half of England from his base in Cheshire, Gerry has enjoyed a long association with Scania trucks. Indeed, the very first lorry he bought 21 years ago was a Scania 143 and tipper. Fast forward to 2020 and his fleet comprises predominantly Scania and Volvo.
But it's without doubt the two new high-specification S730OT 6x2/6x4 T-series Trucks – due to take to the road next month – that take pride of place in the Gerry Ronan Bulk Haulage fleet at present!
Both trucks feature a host of exciting embellishments including alloy wheels, 6" chrome exhaust stacks, light bars, two-tone air horns, LED lights on the headboard, sun visor, rear wind kit and rear top light, while all-round safety and visibility is enhanced by the inclusion of wing poles and cameras.
Meanwhile, full tipping and walking floor gear is located behind the flat floor cabs, with the chassis fully covered, including the fifth wheel. These new S730Ts are going to be real head-turners going forward, both on and off the road, and Gerry admits he is considering putting them on display at some forthcoming truck shows, including the big one in his native County Mayo – the upcoming 2020 Connacht Truck Show in Claremorris on May 31st.
Gerry Ronan Bulk Haulage,
71 Great Oak Drive,
Altrincham,
Cheshire,
WA15 8UH.
Tel: +44 (0)161 743 0023
Mobile: +44 (0)7598 592 082
Email: [email protected]
Web: gerryronan.co.uk
Published in Irish Trucker & Light Commercials magazine, March/April 2020, Vol 23 No 2