CMT Transport celebrates 15 years on the road
22/07/2020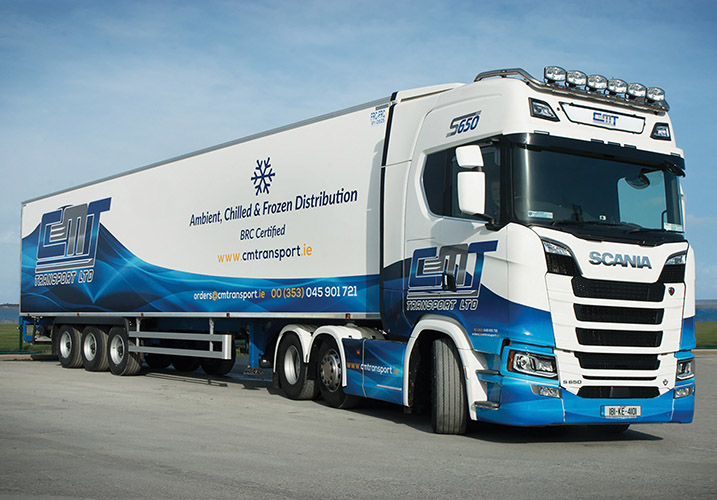 Shortlisted in three categories at the recent Fleet Transport Awards 2020, CMT Transport Ltd continues to go from strength to strength after 15 years in business.

CMT (Cill Mhantain Transport) was established in 2004 by brothers Robert and Liam Browne as a small haulage operation with just four trucks and four trailers. Since then, it has grown into a leading solution-focused logistics organisation that puts the needs of its customers first. CMT Transport now runs an exceptional fleet of 35 tractor and 55 trailer units, and employs 60 people. The company operates from a 28,000 sq. ft. purpose-built warehouse and offices in Naas Enterprise Park, Naas, Co. Kildare, which is adjacent to the M7 Motorway, thus giving easy access to all the main motorway / national routes to the north, south and west.
CMT Transport offers collection, distribution, cross-dock and warehouse storage services to a wide range of customers in the food, retail, pharma and dry goods sectors across Ireland and Europe.
The family-run business provides customers with an efficient, cost-effective, professional and secure service using the latest technology and a modern, clean fleet transporting ambient, chilled and frozen produce in its temperature-controlled trailers. CMT holds the CMT holds the BRC Global Standard Certification for Ambient, Chilled and Frozen Distribution, which is testament to the commitment of senior management to food safety standards.
"We have an excellent reputation within the Irish transport sector," compliance manager Gerry Kelly proudly states.
"We're renowned for our reliable, professional, friendly and value-for-money service. Robert and Liam Browne are the directors and both of them are 'hands-on'. Our customers like the fact that they deal with them directly. We have a growing customer-base that includes both long-standing and new clients. They believe firmly in sound collaboration and the company's development has been the result of engaging with a variety of stakeholders with a strong focus on relationships that have enhanced the process and allowed it to develop."
Gerry continues: "The industry is changing all the time and the company has invested heavily in its fleet and premises to keep apace with these changes. Our trucks are all Scania and we recently took delivery of three new units from Delaney Commercials. Most of our trailers are Chereau refrigerated units, while we also run a small number of curtain-siders."
CMT's refrigerated trailers are fitted with a tracking / GPS / temperature monitoring software system that allows it to monitor the temperature and route journey from collection to distribution in real time, and also alerts the monitoring staff to any deviation from the customer contract temperature parameters so that they can ensure that the correct temperature is maintained throughout the distribution process to guarantee product integrity.
The company uses a customised transport management planning system. This allows customers to input their order requests direct to transport office using CMT's web-based customer portal, decreasing needless paperwork and eliminating mistakes. The system also allows CMT to plan, monitor and manage all aspects of customer orders with increased efficiency, through to receipt of scanned documents. CMT takes pride in the fact that customers receive their signed documents within 24 hours.
CMT entered the Fleet Transport Awards – which recognise excellence in the Irish transport industry – for the first time this year and was delighted to be shortlisted in three categories: Best Livery, Technician of the Year and Transport Manager of the Year.
CMT Transport takes tremendous pride in the appearance of its fleet, with its eye-catching livery making it stand out from the competition. The company's modern fleet of Scania tractor and trailer units carry its distinct motif, which is a striking combination of clean colours and swirls that complement the company logo. The use of shades of blue with yellow traces denotes a very strong association with Europe, while the dominant white background signifies a purity of purpose. These stand out to make CMT Transport a readily identifiable and recognisable brand that instils customer confidence, and both national and international success.
Chief technician Owen Browne, who is a younger brother of Robert and Liam, was nominated for Technician of the Year. Owen was born into the family business where he acquired his love of machinery and trucks from his father and brothers. He served his time as an apprentice with Delaney Commercials and spent 12 years with the Naas-based Scania dealership before taking up his current position. Owen eats and breaths all things truck-related and through this and his thorough understanding of logistics, he keeps the truck and trailer maintenance side of the business running smoothly and efficiency so that customers of CMT are assured that everything will be where it should be, when it should be.
Owen recently relocated the garage to a larger premises in Naas Enterprise Park and is open for business to other transport operators who require truck / trailer service and repairs. Visit his website at www.brownecommercialspares.com
CMT transport manager Robert Colquohuon was also up for an award at the glitzy event held in the Citywest Hotel, Dublin on October 10 last. He is a very 'hands-on' transport manager who believes the key to running a successful logistics company is complete customer satisfaction. Robert often deals with up to 40 separate customers and as many drivers in any one day.
Robert has been an integral part of CMT Transport from the formation of the company and is one of the reasons why it has grown from running four trucks to 35 in the space of 15 years.

CMT Transport Ltd
1 Pine Road,
Naas Enterprise Park,
Naas,
Co. Kildare, W91 AY61.
Telephone: +353 (0)45 901721
Email: [email protected]
Web: www.cmtransport.ie
Published in Irish Trucker & Light Commercials magazine, March/April 2020, Vol 23 No 2