SMF adds third base in Balbriggan
01/07/2020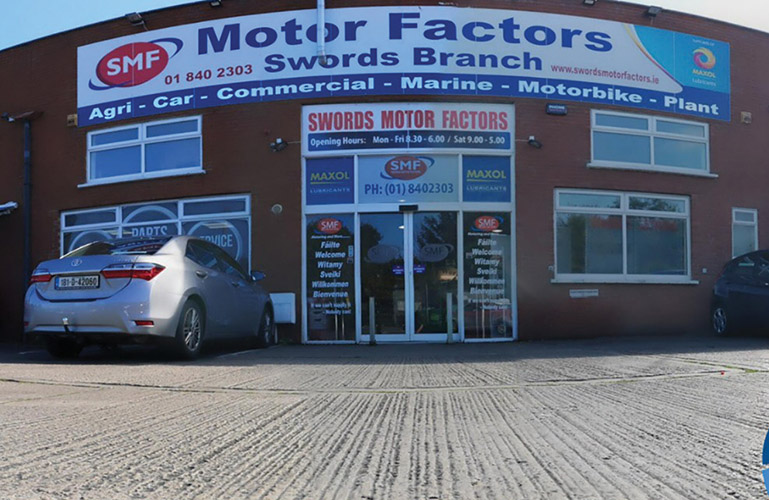 SMF Motor Factors (Swords Motor Factors) has been one of the leading motor factors in Ireland since its establishment in 1982. This past September saw the company opening up its third base in Balbriggan, Co Dublin and Irish Trucker caught up with Managing Director, David Neary to hear all about it.
Now operating from three different locations across Dublin, SMF continue to stock the highest quality parts for not only the Motor Industry, but they also supply parts for the Agricultural, Commercial, Plant, Marine & ground maintenance industries.
The company employs 22 staff between its bases in Lusk, Swords and Balbriggan and is also one of the county's biggest online retailers of vehicle parts and accessories.
Since Leo Neary snr first started in the business in 1982, this family-run company has prided itself in supplying quality brand parts to suit their customer needs.
SMF is always on hand for its customers, their helpful and experienced staff are there to help with any enquiries that a customer may have. With large premises in Swords, Lusk and Balbriggan, they offer a wide and diverse range of products to match their customers' needs.
Vehicle breakdowns are an unfortunate common occurrence in everyday life and can cause many a headache, especially for professionals who rely on their vehicles. Through its fleet division, SMF aim to assist their customers and get them back on the road as fast as possible, day or night.
For Managing Director David Neary, providing an efficient prompt service at competitive rates has been a key factor in the company's success all the years.
"Business is good here at the moment," said David. "We cover a lot of diverse areas within the motor and other industries".
"From a service point of view, we give our customers value for money. We have a 24/7 service and eight vans on the road in total".
The team at SMF are experts in all motoring areas and have years of experience when it comes to auto parts, garage tools, equipment and vehicle servicing.
Whether you need to get your vehicle ready for the NCT/DOE, or you need a new battery, SMF have you covered.
They stock a huge range of vehicle parts from braking parts to vehicle care, travel & leisure accessories, service parts and much more.
All the company's products come from the top brands in the industry, including Philips, Luk, Bosch, and Mobil just to name a few.
Customers are also provided with replacement OE spec parts for vehicle maintenance along with wiper blade replacement, number plate printing, battery testing, parts recycling centre and B2B parts delivery.
So far, 2020 has gone pretty much according to script for the company and the plan for David is to add to his team of staff as the year goes on.
"Basically, we just want to keep selling and keep growing here," said the Managing Director.
"Business is a challenge at the moment and, with electric vehicles coming into the market, we are keeping up with the times through developing and promoting staff and customer training in these new areas".
He continued: "This year we intend to increase our workforce to help keep up with the demand, and to ensure that we hit the ground running in 2020."
Along with its new location in Balbriggan, SMF also branched out two months ago by starting work with a new agency. The company is now distributing for SGS Gases, which is based in the UK and has a range of welding gases, in sizes suitable for garage and home use. "They stock a wide range of gases, like CO2/Argon Mix and Oxygen". This is a particularly good deal, as the customer pays no monthly rental. They pay a once off fee (which is refundable when the cylinder is returned), then just pay each time it needs to be refilled.
So far, the new agency has been a successful one for SMF and, as the company moves forward, the plan is to continue to live up to their billing as Ireland's leading motor factors since 1982.
The SMF slogan is – 'if we can't supply it nobody can' – and it certainly seems to be the case after opening a third base in the capital this past autumn.
So what has been the secret to success? How has a family start up grown from a single store to now operating three, with 22 full-time staff (and counting) and glowing reputation maintained above all else?
David feels that the wealth of knowledge possessed by the management and staff along with their attention to detail and customer satisfaction is key to helping the business to grow and nourish all down through the years.
"Our extensive range of vehicle parts, vehicle accessories and consumables and our in-depth knowledge of the motor parts industry are what makes our business so successful," he said.
"Our staff are an essential part of the business."
It seems SMF have something for everyone when it comes to quality parts and, going on form, one can expect some further growth in the year ahead like they've been doing since first opening their doors.
SMF Motor Factors
SMF LUSK
01 843 7085
Station Road,
Lusk,
Co Dublin,
K45EH73
SMF SWORDS
01 840 2303
Forest Road,
Swords,
Co Dublin,
K67TF40
SMF BALBRIGGAN
01 691 1545
Unit12,
Balbriggan Business Park,
Balbriggan
Co Dublin
K32KF68
Web: smfmotorfactors.ie
Email: [email protected]
Published in Irish Trucker & Light Commercials magazine, March/April 2020, Vol 23 No 2