An impeccable service
24/06/2020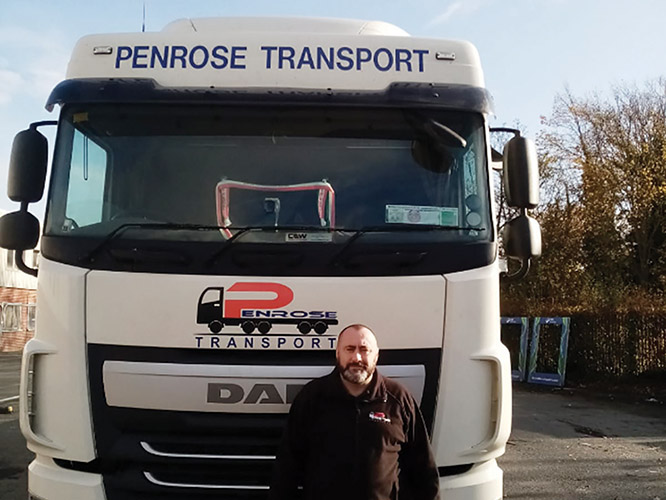 2020 marks 18 years in business for Penrose Transport – a family run business with a fleet that consists of over 25 vehicles. Irish Trucker found all about the company recently from its Managing Director, Wayne Penrose and Transport Manager, John Rooney.
Business is booming right now at Penrose Transport in Artane, Co Dublin and the plan is to keep things that way, according to the men driving the company.
Wayne Penrose (Managing Director) and John Rooney (Transport Manager) lead a team of 25 staff from 48 Ennel Drive and, as Wayne himself explained, 2019 was the best year yet for Penrose Transport.
Each passing year has seen the business adding new trucks to the fleet and the trend is set to continue for the year ahead.
Both Wayne and John took some time recently to tell Irish Trucker all about the business and their hopes for its future.
"We'd have started up in 2001 and became a limited company then in '02," Wayne outlined.
"Right now we've 25 staff employed here and you could say that we can do anything in the haulage industry, with a lot of work on-going for builders around Dublin at the minute.
"We'd move a lot of scaffolding and had a serious crew at Electric Picnic this year helping prepare for the concert.
"It's busy and has been busy for some time. At the moment we have two new lorries coming in to add to the fleet."
The fleet at Penrose Transport consists of articulated trucks to rigid, hiab and curtain side trucks.
The company itself specialises in moving building materials, containers, telly porters and diggers and also offers crane hire vehicles from 7 ½ tonne to 42 tonne, these can offer a range of services to customers.
As one of the most progressive haulage companies in Dublin, Penrose Transport's fleet is expanding every year and they pride themselves in using well maintained vehicles, updating their fleet to more modern vehicles as they continue to expand into all sectors of transport industry.
Rewind back to before the turn of the millennium and things were very different for Wayne.
A plumber by trade, the transport industry was not something he could see himself getting immersed in before taking some advice from an old friend.
"A friend of mine had suggested I get into it and I looked at it and went out on my own in 2001," said Wayne.
"It went well and I was up to five lorries in 2008 before the recession hit and I went back down to one truck. Then by 2014 things started to turn around and we went on to the next level, going up to over 20 trucks."
A huge part of the success for Penrose Transport has been down to the fact that they take huge pride in a high level of workmanship and offer consistency, punctuality flexibility, and, above all, a high level of service to all clients.
It doesn't matter whether you need the use one truck or 20 trucks from the company, as its impeccable service remains the same.

All of Penrose Transport's drivers are fully qualified in all aspects of their business, ensuring a guaranteed quality service that is hard to beat. They have been supplying trucks and drivers to builder's merchants for 18 years now, with only the best trucks and drivers representing the businesses.
"Around 90 per cent of what we do here is repeat business," explained Transport Manager, John Rooney, who came on board with the company in 2009 before taking his current role in 2014.
"Two of our main clients that we do business with is Chadwicks Builders Providers and OutHaus, which is a building materials store in Dublin."
So what has been the secret to success these past 18 years?
For Wayne, he credits the people he has working with him and the professional touch in which they continue to provide customers.
"I've a great team of lads with me and the fleet is maintained very well," said the Managing Director.
"Any time there's an issue, we're able to deal with it and we've always got the truck here. We've two new lorries purchased now in the UK – one's a DAF and the other's a MAN – that we're looking forward to adding here."
As part of Penrose Transport's ever expanding business, the company also offer 'Storage 2 U' containers measuring 10ft x 8 ft or 20ft x 8ft that can be used on sites as canteen facilities or storage facilities. The company guarantees to be very competitive in with its pricing when it comes to this service in particular.

Many of their clients like their own branding on trucks and this is a service that Penrose Transport is more than happy to provide. Not only will they supply the driver and truck, but they can also brand their trucks with a company's logo too guarantee them the most personal professional service.
The company's trucks can transport 20, 30 and even 40 ft containers, which can carry up to 30 tonnes in weight. These are ideal for scaffolding companies, builder providers and stone merchants.
These lorries allow multiple loading of containers saving customers both time and money, while they also provide rental of a tractor unit and driver to companies to transport their goods to their chosen location.
Crane hire service is something which Penrose Transport also provides, with over 20 crane hire vehicles the smallest being 7 ½ ton to 32 ton. They also have a range of curtain side vehicles, ranging from van type to 18 ton trucks and a Palfinger hi-ab 600002 capable of lifting 13 ton and can source larger hi-ab if required.
Looking towards the year ahead, John Rooney is keen for things to follow the same trend of the past 12 months at Penrose Transport.
"We'll be hoping for more of the same and keep on growing the business like it has been over the last five or six years," he concluded.
Penrose Transport
48 Ennel Drive,
Artane,
Dublin 5
Wayne Penrose: 087 923 3943
John Rooney: 085 212 0017
E-mail: [email protected]
Published in Irish Trucker & Light Commercials magazine, Jan/Feb 2020, Vol 23 No 1