Custom logistics software solutions from HUB 360
17/06/2020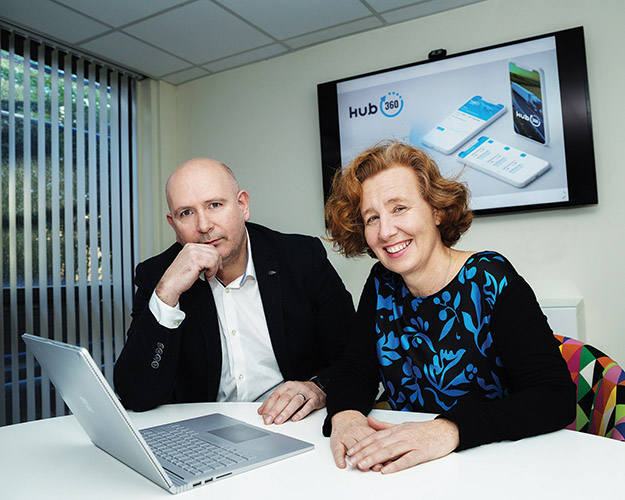 HUB 360 have developed custom optimization supply chain software solution that are proven to deliver significant savings to companies involved in the transportation sector. Irish Trucker touched base with partner / director John O'Neill to discuss the many benefits to customers of these innovative, simple-to-use smart tech solutions, which offer better control and more cost efficient management of the distribution of goods.
Boasting over 20 years' experience and know-how in the technology industry, HUB 360 have developed ingenious supply chain software that can save transportation / distribution companies considerable amounts of money through better control, less waste and increased efficiency.
Fronted by directors / partners Denise O'Kelly and John O'Neill, the expert team at HUB 360 are industry leaders in the development of custom online systems for the logistics industry and specifically the setup and management of ERP (Enterprise Resource Planning) systems. This expertise positions them perfectly to help improve resource efficiency within these organisations.
Essentially, HUB 360 uses the latest smartphone technology to provide SMEs with an affordable product to optimise scheduling, loading and routing of deliveries, as well as full traceability of sales orders. Their skills and expertise facilitate companies in fully optimising how they use their resources.
Considering the savings inherent in HUB 360's logistics-orientated software – and the company's track record of working extensively with global organisations such as Renault, Microsoft, Volkswagen, Bank of Ireland, Flextronics, etc. – their product offering is almost a no-brainer for anyone working within logistics who wishes to streamline their service and eliminate waste.
"The benefits, even for a third-party haulier pulling out of a manufacturer's yard, are significant," John confirms. "They will get paid quicker as there's no messing about with paper. The software allows for close communication between the manufacturer and the haulier, while there are also advanced notifications of when the goods are going to be delivered. There are a lot of benefits for the haulier."
The bottom line is that deliveries can be managed and moved faster, cheaper and easier, with full operational traceability and no more lost paperwork - ever. Furthermore, as well as giving customers better control of the distribution of goods, lowering overheads and eliminating unnecessary waste, HUB 360's mobile technologies can also play a leading role in reducing a company or haulier's carbon footprint through optimising deliveries and lowering fuel consumption.
HUB 360 is designed for companies that either manage their own distribution (i.e. employ their own drivers and maintain their own fleet of vehicles) or plan loads to be delivered by third-party hauliers and contract drivers. Designed to deliver measurable savings on day-to-day operational activities by using smart technologies to optimise distribution activities, HUB 360 achieves five immediate, high-value benefits for customers:
Firstly, the automation of tasks eliminates wasted time. Secondly, resource monitoring ensures maximum usage. Thirdly, increased customer satisfaction is a natural follow-on from regular and more timely communications. Day-to-day costs are also minimised by accessing full transparency over all activities, while paperless distribution and document storage (with digital searchable archive of sales records and accompanying documentation) also saves time, effort and money.
"It's all about optimising things for the user," John continues. "For example, one of our customers has 13 hauliers drawing 100 loads per day and you can make substantial savings if each consignment is more efficient.
"The software comes with different modules for the grouping of loads, building of loads, etc. The HUB 360 system runs a series of algorithms and codes behind the scenes. It's extremely dynamic in that it builds the loads on the trailer and then uses Google to autoroute the delivery on the optimal route, automatically sending out advance notifications as well as paperless invoicing."
The genesis of HUB 360 came about as a natural solution to a niche in the marketplace: "We had been working in IT for 20 years when, in 2014, an existing customer asked us to go to the UK to validate software he was considering investing in," John recounts. "I checked this software and told him it was okay, that it would do about 60% of what he wanted it to do. I asked him to let me build software that would meet 100% of their requirements. That's how it all started and that original customer is still using our software today.
"When their accountant looked at their numbers at the end of the first year, it transpired that they had saved €112,000 in in total savings by optimizing load planning, routing all resulting in a reduce fuel costs, and better utilization of resources i.e drivers/trailers etc., as a result of using the software. It's all about utilising what you have and, if needs be, maybe taking a truck off the road if it's going to save you money."
Over the past five years, the development team at HUB 360 has worked tirelessly on rebuilding and perfecting their software, which was rolled out a new revision of the software in August, 2019. With six potential new customers in the pipeline at the time of writing, the software has enormous potential due to the fact that it represents an obvious way of reducing overheads, increasing efficiencies and thereby saving money.
"In November, we were contacted by a company from New Jersey in the US, who has viewed our PA video," John continues. "They have 350 lorries on the road every day and are concerned about reducing their carbon footprint. They reached out to us and hopefully we can arrange a deal with them."
The global village nature of the modern world is nowhere more apparent than in IT! "The software travels well. It's all cloud-based and secure and it can be deployed anywhere. We have a tight team of experienced developers and they are as skilled as you would find anywhere in the world," says John. "Going forward, in the short term, our plan is to concentrate on the Ireland / UK market but we will also happily accept any other business that comes our way."
A potential stumbling block when it comes to smart tech and app-based solutions might be that, despite the times we live in, some people may still possess a phobia of technology and what it entails. Does John find this to be an issue at all?
"There's still a little bit of that but we are winning people over quite quickly. I spent ten years doing logistics IT management and I totally understand the driver's side of it. There is that bit of fear but once they see the benefits of it – getting paid quicker and having no paperwork – they buy into it.
"Also, the way the software is designed – in particular the mobile software for drivers – it is very intuitive and easy to use and that is key. That was something I absolutely insisted on. When we go into a company and give them a demo, they are invariably surprised at how simple it all is. That's because the real workhorse is the algorithms behind the scene and the user doesn't have to worry about any of that."
HUB 360,
Glencullen House,
Unit 209,
Kylemore Rd,
Dublin 10.
Tel: 01 5313784
Email: [email protected]
Web: www.hub360.ie
Published in Irish Trucker & Light Commercials magazine, Jan/Feb 2020, Vol 23 No 1