A seamless one-stop shop providing Transport, Vehicle Maintenance and Mobile Repair Services
10/06/2020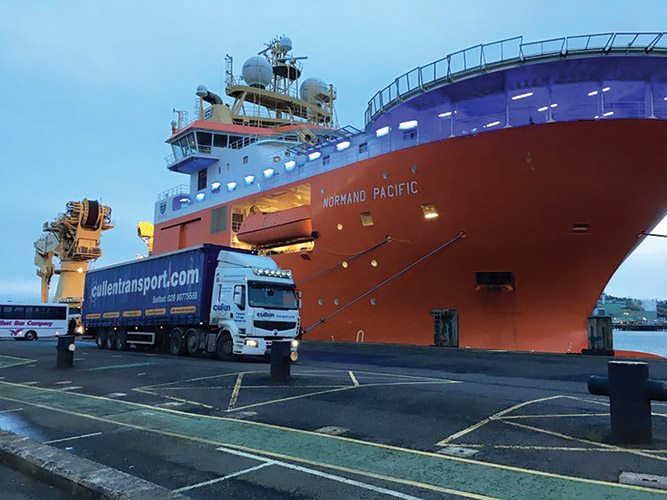 Complementing a full range of haulage solutions throughout Ireland and the UK with diagnostic, repairs and maintenance services for all vehicles and trailers, Cullen Transport & Trailer Services provide a complete package. We dropped into their busy Belfast Docks HQ and caught up with directors Patrick and Kevin Cullen to get an update on this exceptional, multifaceted family business.
Specialising in both transport / distribution and vehicle maintenance, it would be fair to say that Cullen Transport & Trailer Services (Cullen) enjoy a prominent position at the very heart of the transport industry. Patrick and Kevin have worked hard to grow this business and provide employment – their passion to succeed is very evident in how they conduct their business and the excellent customer relationships they have grown and maintained.
The company has roots right back to 1965 when their father JJ Cullen started out as an owner operator delivering beer and general goods around Ireland. Today, more than half a century later, the haulage side of the second-generation family business includes ten trucks, catering for all haulage needs, including curtainsider, container, flat work and night trunking.
With the capacity to safely and efficiently transport any load to any location, Cullens cover all types - abnormal, groupage, full loads, part loads, multi-drop and pallet deliveries – and also can strip containers, tranship and provide storage! They service all sectors – shipping, manufacturing, distribution, steel, timber, recycling, wholesale, retail, and many more.
In addition to running its own high-quality fleet, Cullen are also synonymous with providing unrivalled, professional vehicle maintenance - covering trucks, trailers, vans and cars – they also have mobile repair and servicing vans. The vehicle maintenance aspect of the business, initially started in 1991 by Patrick with Kevin joining in 1999, has become an integral aspect of the overall business model.
As a modern vehicle maintenance provider with an inherent understanding of the compliance needs of vehicle operators, Cullen employ an experienced workshop and service van team of highly-trained technicians (trailer fitters, truck fitters and car fitters) to deliver all aspects of vehicle maintenance, repairs and preventative maintenance inspections both on and off site and 24/7 breakdown assistance. They utilise the latest software, tools and specialist diagnostic equipment to achieve consistently outstanding results and minimise downtime for their ever-growing customer base.
All vehicle types, makes and models can be catered for and a maintenance contract for MOTs and planned preventative maintenance can be tailored to customers' exact requirements. Kevin and Patrick understand the importance of excellent communication with customers and their hands on, professional, reliable and efficient service gets all vehicles and trailers back on the road quickly, providing customers with assurance that their vehicles are performing 100% and fully compliant when they leave the workshop.
Operations have scaled up significantly in the last 5 years and the business has grown to become a key provider to commercial fleet users. Cullen have more than doubled their staff numbers and now employ a team of 22. They have three operating centres, with a HQ established at their new self-contained, 40,000 sq ft facility at 30-32 Duncrue St in the heart of Belfast Docks. The premises have been refurbished and shaped to Cullens' precise needs, including a state-of-the-art 10,000 sq ft workshop and 1,500 sq ft of office space – even a gym has been installed for the staff, if they wish to avail of it! "We've brought everything together under one roof now and are now well structured to facilitate future plans," notes director Kevin Cullen.
With its highly specialised team in place, Cullen has achieved steady year-on-year growth in recent years. "Haulage continues to get stronger and in the past five years we have diversified and expanded to provide night trunking throughout Ireland. As well as long standing customers we are delighted to continually attract new customers," Patrick confirms. "We recently invested in two new state of the art double decker trailers and have a five-year plan in place to continue to update and add additional assets to our fleet to continue to address our customers needs."
Kevin explains, "Maintenance has also scaled up significantly – we have five bays operating and are now a key provider of services to many commercial fleet users and a diverse range of businesses both local, throughout Ireland and in UK. We have taken on several big contracts for local and national operators and look after the assets of many UK-based rental companies and breakdown providers. We specialise in diagnosis and repair of EBS braking systems and are agents for Haldex, WABCO and Knorr-Bremse. We authorised repair agents for Meritor, SAF, BPW, SDC, Cartwright, Lawrence David, Donn-Burr, Granning amongst others. To address growth we've invested heavily in lifting equipment, freestanding jacks, column lifts, etc., as well as the best tools and all the latest diagnostic equipment for all makes and models of trucks, trailers and cars."
Regarding the key to the versatile and outstanding family operation's success over the decades, Patrick states: "With us, you get what you ask for. When we take on any job we are committed to complete it to the customers exact requirements. Customers know they can lift the phone and speak direct to Kevin and I. They know our combined vast experience gets the job done and they're confident in the service we provide. We get a lot of referrals in both haulage and maintenance because our customers value our commitment, high standard service and no-nonsense approach. When we say a job will be done, then it will be done as requested and to the highest standards."
Going forward, further expansion is very much on the cards. "We have only been in our new facility for two years but feel that we have already outgrown it," Kevin concludes, "We're looking at purchasing a new yard and opening a new operating centre. Our service vans do a fair bit of work in the Republic of Ireland, so we're also thinking of opening an additional depot close to the border." Modestly, Kevin and Patrick are excited about the future and stress a considerable amount of their success has been down to the continued support and dedication of their father and their team, many of whom have been with the company for years.
Cullen Transport & Trailer Services,
30-32 Duncrue St,
Belfast,
BT3 9AR.
Tel: +44 28 90775588
Facebook: CullenTransportTrailerServices
Published in Irish Trucker & Light Commercials magazine, Jan/Feb 2020, Vol 23 No 1