Caffrey International celebrates 80 years on the road
03/06/2020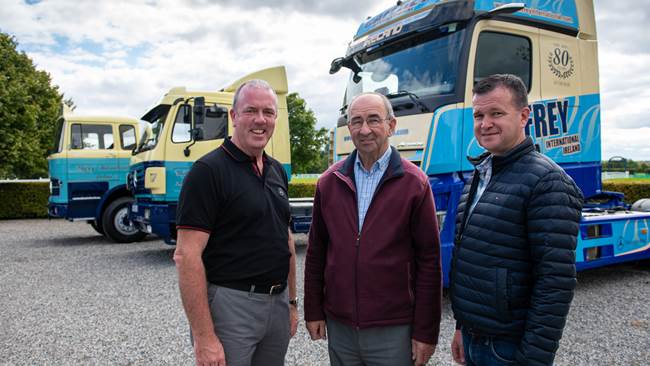 When the late Liam Caffrey started out delivering turf to hospitals in the Dublin area with a humble Fordson truck during 'The Emergency', he could never have envisaged the growth and success Caffrey International would enjoy over the following 80 years.
Established in 1939 and today employing over 200 staff, Caffrey International has become a leading specialist provider of road transport and logistics services between Ireland, the UK and throughout Europe. With bases in Ashbourne, Co. Meath and Gdynia in Poland, the family-run enterprise combines traditional values with technology and innovation to provide efficient, cost-effective and sustainable logistics solutions for more than 500 customers across Europe.
Caffrey International operates a modern fleet of over 120 trucks as well as a large number of refrigerated and curtain-side trailers and box vans, providing specialist logistics services, including pharmaceuticals, air freight, temperature- controlled freight, FMCG and hazardous cargo (ADR). The company was founded by Liam Caffrey and the current directors are Brian Caffrey and his wife Thea. Now a third generation of the family, Brian's sons Mark and Bernard are running the day to day operation.
"Eighty years is a great milestone to reach," says Brian, who goes on to outline the history of the company:
"We've built it brick-by-brick. My father Liam, who passed away in 1986, was mostly into livestock haulage. He also drew the brewing by-product, brewers' grain, from Guinness in Dublin to farms where it was fed to cattle. He continued doing this for many years after I got involved in the early 1960s. I also started in livestock transport before branching into artic work in the 1970s. We still have my father's Ford D800 which was his pride and joy, and is fully restored.
"We also drew bananas from the banana boats that used to come into Cork to the ripening rooms in Dublin for Jack Dolan for a number of years. Then, in 1972, we bought our first Mercedes sleeper cab (1418) and fridge trailer, which was the first 40ft fridge trailer in the Republic of Ireland. Having the fridge unit afforded us the opportunity to draw meat to London from the old Irish Meat Packers (IMP) factory in Grand Canal Street in Dublin where we used to bring cattle to for slaughter."
He continues: "We took a chance on refrigerated transport at the time and thankfully it paid off for us. Those meat runs to London got us started in continental haulage and we have been at it ever since. That work also led to us drawing meat to the American Armed Forces who were based in Germany and Italy during the Cold War."
Brian has witnessed a lot of change during his 60 years working in the transport industry.
"The changes have been unreal," he continues.
"The motorways were great when they first opened in Britain, but over time the traffic caught up and they became congested. The Irish motorway system has also been a game changer. Ashbourne is now considered a suburb of Dublin, but I can remember a time when Dublin seemed a world away because of poor road infrastructure. The biggest change for me has been in the whole area of regulations. Keeping up with new regulations is one of the biggest challenges facing hauliers.
"International transport is a tough game to be at, but I've enjoyed it and wouldn't change anything. I've met some great people and customers, and seeing the company grow to the size it is now has obviously been very satisfying."
Caffrey International continues to go from strength to strength and to mark 80 years in business, it has become the first in Ireland to welcome the new Mercedes Benz heavy-duty Actros truck to its fleet of commercial vehicles.
Among the numerous innovative features to be found in the new Actros is 'MirrorCam' – a system that replaces conventional wing mirrors to deliver improved aerodynamics and an altogether safer and easier driving experience. This 'revolutionary' safety feature – which will inevitably trickle down into passenger cars – is designed to offer better protection and safety to cyclists and pedestrians. By eliminating almost all driver blind spots, it will greatly reduce the risk of an accident whilst assisting drivers in key everyday tasks such as when exiting motorways, lane changing and reversing.
Caffrey's new Actros arrived factory-painted in the company's eye-catching blue and cream livery which has been a regular sight on Irish and European roads for generations. Other features of the 1845LS BigSpace 4x2 tractor unit include StyleLine interior, flat floor, multimedia cockpit, LED daytime running lamps, LED tail lamps, Dura-Bright Alcoa wheels, Traffic Sign Assist, Active Brake Assist and Sideguard Assist.
Having taken delivery of their first Mercedes-Benz over 45 years ago, Caffrey International have been loyal supporters of the brand ever since. Operating from the company's Ashbourne headquarters, this latest unit has been put to work servicing routes across Ireland, the UK and further afield throughout Europe.
"Mercedes-Benz has played a key role in our business for almost five decades. Over the years, they have helped us to grow and provide a reliable and quality service to our customers," says Bernard Caffrey, who also runs Scania and Volvo units.
Here's to the next 80 years of this exceptional family business.
Caffrey International Ltd
Coolfore,
Ashbourne,
Co. Meath.
Telephone: +353 (0)1 835 5200
Fax: +353 (0)1 835 4624
Email: [email protected]
Web: www.caffreyinternational.com
Published in Irish Trucker & Light Commercials magazine, Jan/Feb 2020, Vol 23 No 1