New addition to Oliver Conroy Pallets fleet
14/05/2020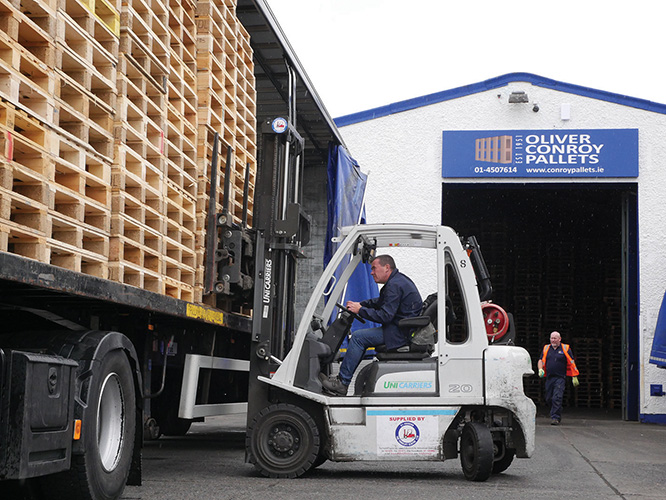 Coming up on 70 years in business and providing a nationwide service, Oliver Conroy Pallets Ltd is a leading pallet and packaging specialist with depots in Mullingar, Dublin and the UK. The company recently took delivery of a stunning new Renault T-460 4x2 articulated truck to work in its collection and distribution fleet.

The new truck represents a major investment by the family business which is built on excellence, high quality products and superb customer service.
Head of Production & Logistics Niall Conroy and driver Mick Kilmurray collected the new Renault from Setanta Vehicle Sales in Dublin last October and immediately put it to work alongside the company's other six trucks.
Oliver Conroy Pallets now have four Renault T-460s on the road, the first of which was purchased in October 2014 with the rest following in 2015, '16 and '19. They also run a DAF CF 85 artic, two DAF rigid trucks and also use local haulage contractors such as BR Transport in Mullingar to collect and deliver their products.

In addition, the company has rebranded its fleet of trucks and trailers, with the trucks sporting eye-catching white and navy livery, and the curtain-siders all-navy.

These are exciting times for the company which was founded in 1951 by Oliver Conroy – who is still going strong – and is a leading supplier of wooden and heat-treated pallets in Ireland and the UK. Oliver's sons Fergal (CEO) and the aforementioned Niall now head up the business which has depots in Mullingar (Sonna), Ballymount and the UK. Over 50 staff are employed in total.

"At Oliver Conroy Pallets, we strive to translate our competitive advantages – our people, our infrastructure, our products, our relationships – into value for our customers, delivering to them a superior service and providing products that exceed expectations," Fergal Conroy explains.

"We do this secure in the conviction that, through ever-evolving operational excellence, we will continue to grow and deliver to all our customers. We pride ourselves on our professionalism based on our loyal workforce, market understanding and our exemplary supply chain.

"We have invested very heavily in the latest IT and storage solutions which allows us to strive for a greater elimination of waste and a constantly improving reduction in environmental impacts."

Oliver Conroy Pallets are grateful for the support of their loyal customers who have come to rely on their ability to meet their demanding requirements for high-quality products which are delivered on time at a competitive price. The company's customer-base includes businesses that operate in the following sectors: Food and Drink; Pharmaceutical; Agriculture; Construction; Logistics and Horticulture.

Technology, some of it proprietorial, has been a constant investment at Oliver Conroy Pallets. The production line is managed by a state-of-the-art PSM machine which can repair any pallets that may be damaged. The company's policy is to reuse and recycle pallets rather than making them from scratch. The delivery system, based on Roadtrack, which is complemented by an integrated barcode system, allows both the company and its customers to know precisely where their orders are.

Oliver Conroy Pallets is a manufacturer of ISPM 15 compliant pallets through its kiln heat treatment centre. They are a Timcom registered company and NSAI audited to supply heat-treated pallets which are required specification from outside the EU. This means that customers won't have to worry about anything if and when Brexit happens. The company also holds ISO 9001:2015 accreditation and is Repak-registered.

In recent years, Oliver Conroy Pallets has become a one-stop shop for pallets and packaging. "We can now offer a pallet and packaging solution tailored to our customers' requirements. We work with the client and offer them advice on what best suits their needs. Every customer, regardless of their size, is treated the same," Fergal adds.
Oliver Conroy Pallets have all types of pallets, including standard pallets and euro pallets. The full list of pallets and specifications can be viewed on www.conroypallets.ie
Lean manufacturing principles are at the heart of Oliver Conroy Pallets because of the company's commitment to protecting the environment. The Conroys have invested heavily in the latest storage systems and technology to meet all expectations in the elimination of waste, and are constantly resetting their internal KPI's to meet their stretched targets – they have not sent any pallets to landfill in over 20 years.

Sustainability is integral to their core business as it shapes the way they work across their operations in Ireland and the UK, and how they engage with their global supply chains. Oliver Conroy Pallets aim to minimise the environmental impact of their products at each stage of their life cycle. They look to deliver innovative and sustainable solutions and services to their customers that promote circular economy principles.

Timber is one of the earth's most sustainable resources and is carbon neutral. With climate change being a hot topic of conversation, Oliver Conroy Pallets are committed to reducing their carbon footprint where possible – reduced transportation use, local sourcing of raw materials and maximum reuse of that raw material.

"We are always on the lookout for used pallets for which we pay top prices," Fergal concludes.
Oliver Conroy Pallets – the leading pallet and packaging specialists.

Oliver Conroy Pallets Ltd
Sonna,
Slanemore,
Mullingar,
Co. Westmeath.
Telephone: 01 4507614
Email: [email protected]
Web: www.conroypallets.ie
Published in Irish Trucker & Light Commercials magazine, Jan/Feb 2020, Vol 23 No 1