bmi Intelligent Trailer Technology
11/05/2020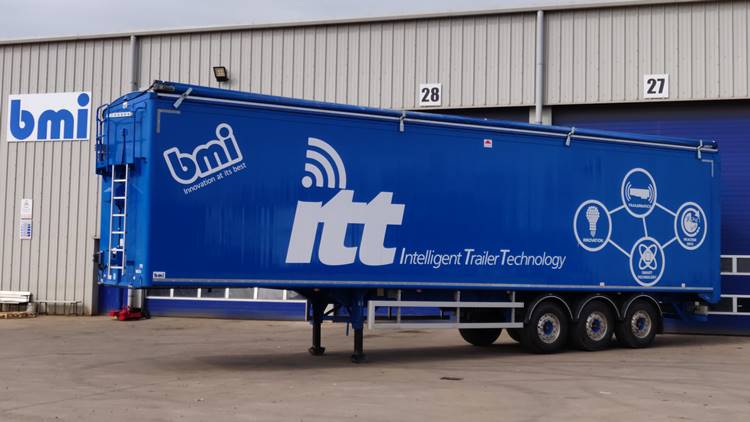 At bmi trailers one of the key factors of their success is a continual investment in innovation and a willingness to embrace new technologies.

The move towards electric autonomous vehicles is changing the truck and car industries. With the new technologies available the trailer industry will soon follow the same path. Using the latest developments in telematics and IoT, bmi trailers have produced their first SMART trailer. The trailer collects information from the brake system ECU and a range of digital sensors to monitor and record all the critical data relevant to your trailers performance. The telematics system collects data on the below items:
Location (GPS global tracker)
Payload Speed Driver performance
Roll stability activation
ABS activation
Tyre pressure Brake pad wear
Brake fault warning
Total miles Hydraulic pressure
Hydraulic flow rate
Using this information, a range of reports and early warning systems can be developed. Using these tools drivers and transport managers can ensure their trailer is safe and operating efficiently. The trailer telematics allows information to be provided in real time to smart phones, tablets and through and internet portal. In partnership with some of our local customer base the prototype trailer is being tested with a range of tractor units, in different environments, moving a range of materials.
Look out for this lady on the road, bmi 125yrd moving floor trailer, 7mm extreme durable cargo floor, bmi Powercover, Heavy duty SAF axles with auto tyre inflation system, Powered retractable bulkhead, Full length domex chassis, High grade steel top-rails.
Established in 1999, bmi trailers are the longest established manufacturer in the UK and Ireland of Waste Ejector, Tipping and Walking Floor® trailers. Their success to date has been built on their service and after-sales commitment along with well-built durable products whilst delivering excellent customer service by listening to their customers' requirements. For over 20 years, bmi trailers have designed, manufactured and commissioned high spec trailers. They lead the way with innovative new designs on trailers, sheeting systems and waste compaction vehicle equipment and our dedicated team constantly establishes new products, new markets, new partners and new successes. With sales partners in many locations throughout Europe, bmi trailers pride themselves on helping clients move more quickly through their design and manufacturing processes which have allowed them to become one of Europe's leading manufacturers of bespoke Waste Ejector, Tipping and Walking Floor® trailers.