Meeting the customers' expectations
22/04/2020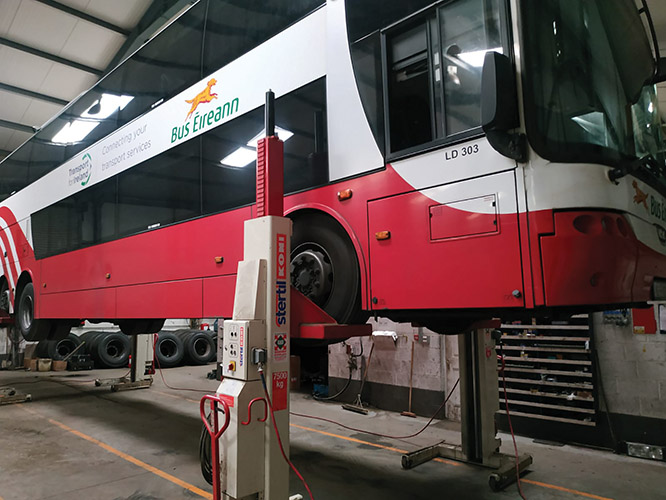 Kingswood Commercials Ltd, Navan Bus and Truck Services Ltd and Kingswood Commercial Vehicle Test Centre Ltd are three companies that are run under the one umbrella and the services that they provide their large customer base are second to none.
General Manager of all three firms is Shay Murphy and for this month's edition of Irish Trucker, we profile the three companies in this article.
First, we will take a look at Navan Bus and Truck and reveal what makes this branch of the business so successful.
With A state-of-the-art depot in Gibbstown, Navan, Co Meath, Navan Bus And Truck specialises in the servicing, repair and maintenance of coaches, buses and commercial vehicles. Kingswood Commercials based in West Dublin are the parent company of Navan Bus And Truck Navan Bus And Truck offer a full range of repair services to the bus and coach industry as well as the haulage sector. Core activities include the servicing and repair of all PSVs and HGVs; body refurbishments (floors, seating glass etc.; structural work and fitting); modification work; auto-electrical; engine re-mapping; Air con repairs and computer diagnosis on all vehicles.
Navan Bus And Truck are Ireland's leading ABS,EBS and ECAS specialists, Operating from a fully-equipped commercial vehicle workshop in Navan, with a vast range of cutting-edge equipment and tools to provide optimal fault-finding and repair solutions on coaches and trucks, Navan Bus and Truck employ a team of experienced mechanics/technicians who are City & Guild/Fetac qualified. To ensure a complete one-stop-shop under one roof, Navan Bus and Truck offer customers an around-the-clock mobile call-out service specialises in mechanical, electrical and pneumatic systems.
Highly-regarded in the industry as an independent repair centre for HGVs and PSVs for 20 years, Navan Bus And Truck have been undertaking work for Bus Eireann / Galway Tour Companies, having carried out regular maintenance on both school and service fleet vehicles and currently maintaining a portion of the school bus fleet in the Meath areas as part of the existing school bus maintenance contract. In addition to mechanical maintenance, they also carry out Air conditioning repairs and diagnostics equipment for local bus companies. Regarding the genesis and early years of the company, which was established in 1999, Shay reveals: "It started off centred around mobile repairs and maintenance."
Navan Bus And Truck have the facilities and capacity to carry out literally any work on a coach, bus or commercial vehicle, from general maintenance and repairs to diagnostics, refurbishments, fitting etc. etc. Skilled personnel play a key role in the success and sheer professionalism of the operation. "All of our technicians would have served their time in the PSV/HGV and have been with us since the start, a number of our mechanics have also served their time with us.
"We have brought in dedicated HGV specialists who are ex DAF, Iveco and Mercedes guys and others who worked previously in the industry."
Between the workshops and test centre, employment is generated for a team of 26, plus the directors. "The Air Con technicians and the guys who specialise in ABS and EBS braking systems can be transferred between the two depots as and when required."
The fact that Navan Bus and Truck boast a long-running partnership with Ireland's largest company speaks for itself. "We have been working for Bus Eireann since the early days and that work has continued with them right up until now," Shay confirms.
"This work is the backbone of our business and we're very proud to be associated with them. We maintain a section of Bus Eireann's school fleet as well as a crash repairs, bodywork, respraying programme, a refurbishment programme and carry out modifications to buses.
"As an agent for Wabco and Knorr-Bremse braking systems warranty work, we have specialist knowledge of looking after those vehicles when they go out of warranty as well."
While the work carried out is primarily in the bus and coach sector, a considerable amount of commercial vehicle servicing and repairs are also completed at our Navan Depot . About 75% of it would be bus and coach," Shay estimates.
"We also work for local haulage and oil companies, close to the depots. To run a cutting –edge operation such as Navan Bus and Truck necessitates huge investment. Things are evolving very quickly in terms of the technology that's in the vehicles, so you have to invest in the latest diagnostic gear and also keep all of the lads up to speed.
"We do on-the-job familiarisation, with back-up from the likes of Wabco, Knorr-Bremse. If you haven't got the right equipment, you can't do the work. We are continually investing in equipment, installing new facilities and upgrading existing ones –you have to if you want to remain in operation in this business."
Considering that every euro counts, how difficult is it to provide a quality service at a competitive price? "You have to try to strike a balance but you can't ever compromise on safety when it comes to vehicles. Cost is always a factor but safety has to be the No.1 priority. We will never compromise on safety to meet a budget. You just can't paper over the cracks when it comes to public service vehicles. Obviously, you do everything in your power to keep costs down to the minimum, but safety is at the forefront of everything we do."
In addition to the aforementioned public contracts, regular work is also done on behalf of Galway Tours company, Swilly Group as well as local private companies such as Fitzsimons Coaches and Kelly Coaches. Looking to the future, Shay Murphy promises that Navan Bus And Truck will continue to deliver the high-quality services for which they are renowned.
"We'll keep doing what we do best. We have a couple of irons in the fire regarding expansion and the future development of the company, which could see us diversify further. We'll see how that goes.
"Our staff have played a massive role in the success of the business. Key staff and good people are very important and we've been lucky in that we have been able to delegate accordingly. Martin Galligan runs the Navan depot; Helen Callaghan looks after customer care; Colin Maher is the workshop manager in Navan. All of those lads have been here with us for a long time now and we really appreciate the work they have done is getting us to where we are today."
Kingswood Commercial Vehicle Test Centre Ltd: One of Ireland's leading CRVT, service and repair centres As one of Ireland's leading CVRT and commercial vehicle service centre, Kingswood Commercial Vehicle Test Centre Ltd allows operators to keep downtime to an absolute minimum by having their vehicles tested at a time that suits them.
Conveniently located just off Junction 2 off the N7, Kingswood Commercials Ltd's fully-equipped workshop caters for all light and heavy commercial vehicle needs, from a minor service, safety inspections or CVRT preparation work through to a complete refurbishment, with all work carried out by experienced and qualified professionals.
The workshop team of 13 includes motor technicians, HGV technicians, metal fabricators, tachograph and speed limiter technicians and CVRT testers, ensuring that consistent high-quality, friendly, professional and reliable solutions are provided in line with operator expectations.
Kingswood offer a 24hr mobile ABS & EBS service that covers the 32 counties. This service is operated by fully trained Wabco and Knorr-Bremse technicians who are trained to a very high standard. At present, Kingswood are setting up a dedicated area for Adblue repairs. Shay says: "This service is badly needed and the area will have state of the art diagnostics and fully trained staff in adblue systems."
In addition to high standards and versatility, another thing which really sets Kingswood Commercials Ltd and Navan Truck & Bus apart is the fact that they provide an unrivalled 24-hour service.
As well as complete vehicle / fleet maintenance, repairs, servicing, test preparations and CVRT testing, Tachograph calibration, speed limiter and vehicle plating , Clutch replacement, Air Con repairs and ABS & EBS Braking and Air Suspension repairs all carried out in an ideally-located, secure, modern, spacious facility –fully insured and manned by master technicians using the latest tools and diagnostic equipment, Kingswood Commercials Ltd also offer a 24/7 breakdown recovery service and are willing to collect and drop off trucks, vans and trailers at any time of day or night. No stone is left unturned in the commitment to guaranteeing absolute customer convenience and satisfaction. As the only man in Ireland who oversees a 24-hour repair centre, Shay Murphy certainly knows a thing or two about offering customers a unique and tailored service.
"Navan Bus And Truck Ltd. was initially set up in 1999 to look after and maintain PSV vehicles before expanding into Dublin by acquiring this premises and then putting in the test centre and second workshop," he reveals.
"So, we are coming very much from a background of understanding exactly what is required in terms of getting vehicles tested without having them off the road. The idea of waiting over a week to get a test booking is completely impractical for any haulier. "We're expanding all the time and we expect to keep growing," says Shay.
"The way the company has grown in the last five years I wouldn't be surprised if we had 30–40 men working here by next year. We have a team of really good people with exceptional knowledge in the trade working here and have recruited some of them from overseas as the company expands. There are three testers working full time, while repairs and maintenance are a big part of our business. We also carry out same day clutch fitting for our customers."
As well Kingswood Commercials Ltd. look after vehicles for a who's who of major fleet owners including Shannon Transport, Harris Group, DID electrical, Westel Utilities, Swilly Group, Mc Guinness Forwarding, Flynn Transport, Avis Fleet Rentals, Farrelly Transport, Norton Peat and Thompson Transport.
"We offer a full range of services with a quick turnaround," Shay confirms. "Companies don't have as much spare capacity as they used to have. The days when there are spare vehicles in a fleet are gone and they want them in and out of the test centre or workshop as quickly as possible. When it comes to commercial vehicles, there's not much we can't do and we complete all work as quickly and professionally as possible."
Kingswood Commercials Ltd. are also agents for Wabco, Knorr-Bremse, Webasto as well as running a Stoneridge tachograph dealership. Going forward, the prognosis is highly encouraging for this unique commercial vehicle workshop and test centre, which has cleverly tapped into a niche market by offering 24-hour services.
"We strive to be as customer-focussed and friendly as possible, with a very professional outlook. We're in an excellent location –it's literally 40 seconds from the N7 to our gate –and we have also night-time security here so all vehicles are 100% safe. As we're on a four-acre site with the capacity to park 100 lorries, there is plenty of space. Everything's going really well and we're looking forward to making further progress in the coming months and years."
Working around the clock to cater for commercial vehicle owners' needs, Kingswood Commercials Ltd. is a unique, progressive workshop and CVRT test centre with a big future.
Contact Details:
Kingswood Commercials Ltd
Kingswood Cross,
Naas Road,
Clondalkin,
Dublin 22
Tel: 01 4640160
Email: [email protected]
Navan Bus And Truck Ltd,
Donegal Road,
Gibbstown,
Navan,
Co Meath
Tel: 046 9055743
Dublin depot: 01 4640160
Mobile: 087 2861078,
Email: [email protected]
Tel: 01 4593480
Published in Irish Trucker & Light Commercials magazine, Jan/Feb 2020, Vol 23 No 1