Busy times at TVC Garage Ltd
16/04/2020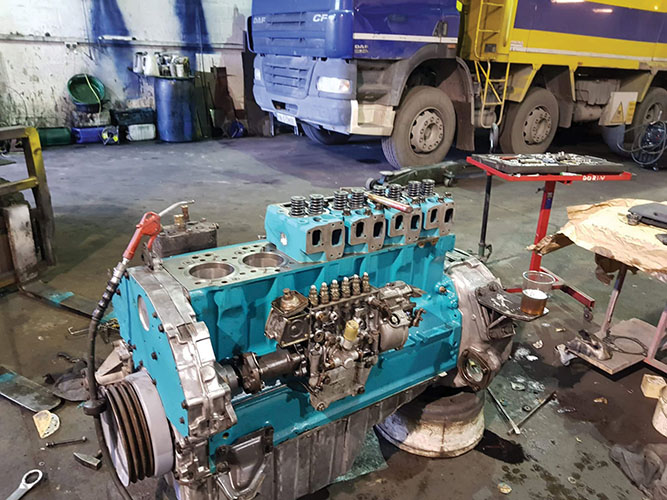 Established in 2013, TVC Garage Ltd offers its customers all the services of a 'one stop shop' when it comes to car, truck and van repair and maintenance. Irish Trucker got the lowdown from company founder Dumitru Palici recently.
Business is good right now at TVC Garage Ltd and company owner Dumitru Palici is intent on keeping things that way throughout 2020 and even further down the line.
Based in Balliboggan Business Park, Glasnevin, Dublin 11, the family-run business recently passed six years in existence, which was another proud achievement for Dumitru, having moved to Ireland from Romania 15 years ago.
Irish Trucker caught up with the man himself to learn all about TVC Garage Ltd – from the wide range of services it offers clients to the state of business today.
"We are established since November 2013 and right now we have four staff working here," said Dumitru.
"My wife Monica looks after the accounts and we do everything here. Brakes, suspension, engine, pre-CVRT, electronics – we do everything for our customers here at TVC Garage."
TVC, of course, stands for Trucks, Vans, Cars and Dumitru has the capability and resources to repair and maintain all three types of vehicle.
It had been his vision when he first started out a little over six years ago, having worked in garages around Dublin for the best part of a decade beforehand.
Dumitru's background had seen him learning his trade in his native Transylvania before eventually taking the move decision west of the continent.
Now, a decade and a half later, he is running his own garage in Glasnevin with other mechanics working under him.
"I am from Transylvania, Romania," he outlined. "I was living with my parents in my house over there so I needed to move somewhere and one friend of mine from Poland moved to Ireland said it was good money and nice people.
"I moved here in 2004 and I worked for Auto BT for five years as a trucker driver and a mechanic," he said.
"After that I worked for ESR in Dublin and in 2013 I decided to set-up my own business with my wife."
Things were tricky at the start, according to Dumitru, with the country just coming out of recession and companies all over Ireland struggling cash flow-wise.
Dumitru started from scratch and built his business from the ground up as it began to get recognition for its excellent work through word of mouth.
The rest, as they say, is history…
"Business at the start was very tough for us," he said. "I was going home at 11pm but it is something that had to be done for us to get off the ground.
"Another company that we work for in Finglas is C.A.B Freight Services and they gave us a lot of work to help at the start and we are thankful to them for it, like we are all our customers here."
It seems customers have a habit of coming back to TVC Garage which only reflects well on Dumitru and his team in Balliboggan Business Park.
Penrose Transport – a family run business with a fleet that now consists of over 20 trucks in Artane, Co Dublin – has been a long-time customer of the company as well.
Wayne Penrose (Managing Director) and John Rooney (Transport Manager) lead a team of 25 staff from 48 Ennel Drive and, as Wayne himself explained to Irish Trucker this year, 2019 was the best year yet for the company.
"Penrose Transport has been a customer for us from nearly the beginning," said Dumitru.
"At that time they only had one truck, so when he grew the business and got more trucks it meant more work for us and today he recommends us number one."
So what has been the secret to success for TVC Garage Ltd? How has a small start-up in Glasnevin come through the tail end of a recession to have business seemingly booming some six years later?
According to Dumitru, always being reliable to your customers is key when it comes to this line of work.
"I always finish the job when I say I will," he stated plainly.
"We understand very well what they (customers) need with their trucks, cars and vans and we stay to finish the job until it is done.
"Maybe I'm not perfect, but we must be doing something right here after six years."
Next year Dumitru and Monica are hoping to expand their business by perhaps adding another staff member.
However, it's a DOE Test Centre service that Dumitru is really eyeing up, with hopes to open it up on a new premises further down the line.
"We hope to grow and to make business more profitable," he said.
"My hope, with the help of God, is that we can one day buy a building and open up a DOE Test Centre.
"Hopefully, maybe, next year some time we can do that but there's a lot of work to do."
Going on form, Dumitru won't shy away from the work end of it anyway.
TVC Garage Ltd
Unit 1A Balliboggan Road,
Balliboggan Business Park,
Glasnevin,
Dublin 11
Mob: 086 250 6257
Published in Irish Trucker & Light Commercials magazine, Jan/Feb 2020, Vol 23 No 1