One of Kerry's top motor factors
31/03/2020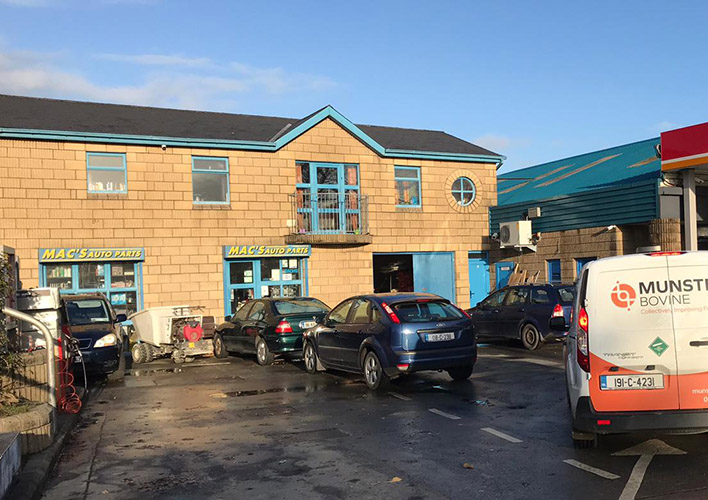 From their well-appointed base on Castleisland's Tralee Road, Macs Auto Parts provide motorists with a comprehensive range of spare parts for all makes and models – and a service to match! As the business approaches its 20th anniversary, we had a chat with manager Colm Sheehy to find out more.
During the 19 years since its inception, Macs Auto Parts in Castleisland, County Kerry has developed a solid reputation as the Kingdom's premier motor factors, complementing a vast range of high-quality, manufacturer-approved parts for all makes and models of cars and vans with unrivalled service levels, thus ensuring that demand continues to grow on the back of steady repeat custom and positive referrals.
Since Day One, proprietor Declan McGaley and manager Colm Sheehy – who have a long history of working together in the motor industry – have offered a decidedly customer-focussed service, going out of their way to supply the very best parts on the market, promptly and at an affordable price.
The premises on the Tralee Road is a veritable hive of activity, with the adjoining Circle K filling station and shop adding to the considerable parts offering and helping make Macs the one-stop shop for a motorist's every need. Gainful employment is generated for a team of twelve and every member of staff is experienced, friendly, helpful and determined to make sure that every customer who crosses the threshold or picks up the phone to make an enquiry enjoys a positive experience.
By consistently satisfying customers through the provision of industry-leading products and extremely helpful advice and guidance, the business has gone from strength to strength for coming up on two decades – a period which included a severe economic downturn.
"We're in business 19 years, although myself and Declan have actually been working together since 1980," reveals store manager Colm. "We had both worked for Kerry Motor Works, the main Ford dealer, but we saw an opportunity to go out on our own and Macs Auto Parts has been a big success."
A team of three [namely Declan, Colm and Declan's grandson, Stephen McGaley] are on hand in the motor factors, looking after passenger car and light commercial vehicle owners, while truck parts are also ordered in from time to time to meet customer demand.
"We do everything from tyres and oil to batteries and literally all parts – anything you can think of, we have it here. We also fit bulbs and wipers or check oil, etc. free of charge. We go out of our way to help people as much as we can, because they will always remember it if you give them a good service."
As well as a brisk retail trade, Macs Auto Parts also supply dealers, garages and the motor trade in general. Car wash and valeting services are available on site, too, as well as the aforementioned filling station and shop. The location is excellent, with lots of passing traffic all day long and ample parking space to make access convenient and hassle-free.
As for the key to the ongoing success of Macs Auto Parts, Colm says it all boils down to excellent customer service: "It's all about providing a good service and this is something we pride ourselves on," he confirms. "We get deliveries in twice a day from both Cork and Dublin and we carry a huge stock of up to €300,000 worth of parts. There's no way around that. In this line of business, you just have to do it because people won't wait for a part. You have to have it available. We have a very strong over-the-counter trade and we also use couriers to get parts out to customers either same-day or next-day."
Geographically, Macs Auto Parts have regular customers from a large swathe of Kerry, from Castleisland to Ardfert, Listowel to Tralee and down into Killarney and the south of the county. "Quality is everything and we only stock good-quality, OEM parts," Colm continues. "Most of our business is in car parts and, due to our background, we know Ford inside-out and would be considered Ford specialists.
"On the commercial vehicle front, obviously you have the Ford Transit and we'd stock a lot of parts for Transits as well as the likes of Mercedes and Volkswagen vans. We use the partslink24 system, which takes away all of the guesswork and enables us to confidently identify and order the exact right part every time, giving customers quick and reliable access to genuine, manufacturer-authorised parts."
Going forward, Macs Auto Parts are in a very strong position to consolidate their status as Kerry's leading motor factors. Colm says they don't want to get too big, lest they lose the personal touch and attention to detail that has defined them since the business was set up in 2000:
"Small is good and we're very happy with the size we're at right now," he concludes. "We have a very good reputation and we're well known both locally and further afield. People keep coming back to us because we look after them, so that's how we will continue to approach the business. We'll focus on customer service and making sure we have the best selection of high-quality parts at good prices.
"The market is picking up again and we are always busy. Things have become a lot more sophisticated, with around 100,000 parts in an average car, so you have to educate yourself all the time and know what's happening in the industry and in the market. But we cater for every make and model here and that's why people keep coming back."
Macs Auto Parts,
Tralee Road,
Castleisland,
County Kerry.
Tel: 066 7143954
Fax: 066 7163873
Taken from Irish Trucker & Light Commercials magazine, Jan/Feb 2020, Vol 23 No 1