Cavan Motors: The People's Choice
23/03/2020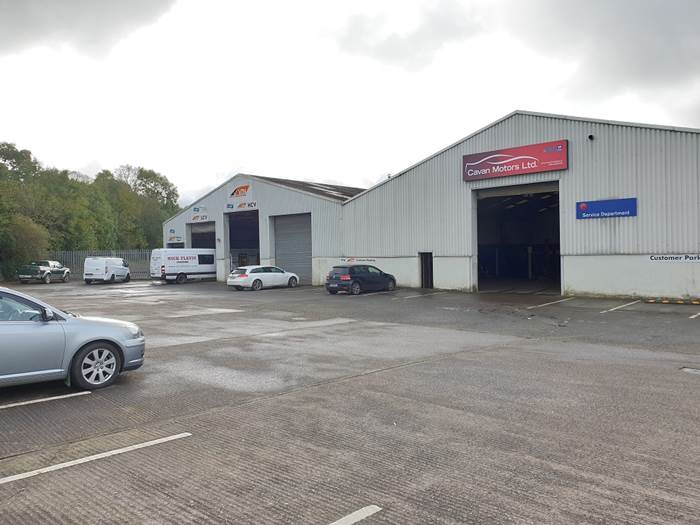 Cavan Motors supply a wide range of services including car and commercial sales and service, CVRT testing and much more.
Experience is vital in any business, and to this end Cavan Motors has more experience than the majority of their competitors having been established in 1980 by Eugene Reilly.
As one of the country's first CVRT test centres for light and heavy commercial vehicles, this Cavan based business operates its test centre five days a week and this sees any vehicle up to an artic tested.
Firmly established as one of Ireland's premier commercial vehicle test and repair centres, the business continues to deliver and unrivalled level of services to its ever-expanding customer base, finetuning the operation to ensure that customers can avail of better service levels than hitherto. General Manager Seamus Reilly is pleased to report that all the hard work going into the business is showing and with the improvement in the economy the centre is very busy.
"Our business is built mainly on repeat custom. We have customers coming to us for many, many years and our aim is always to ensure they get a service that they are more than happy with," said Seamus.
"We are pleased with how the business is going. Our customers have stayed loyal to us over the years, so we must be doing something right.
"Our reputation has been built on the fact that our word is our bond and if we say we will do something then it will be done without any hassle."
Part of the CVRT Network since 1980, Cavan Motors is in an ideal location which adds to the popularity and success of the business.
"Our location has played a huge part in the success of the business, being situation on the Ballinagh Rd on the outskirts of the town means there is a lot of passing trade, while we have plenty of room at the premises also."
As mentioned, Cavan Motors operate a CVRT test centre that consists of two lanes, one for light commercials and the other for heavy goods' vehicles.
"We have two testers working here full time. We test all light commercials and heavy commercials. The testers are experienced and they go on refresher courses every year to ensure that they are up to date with all the changes that are being introduced on a regular basis. We are open Monday to Friday from 9am to 6pm, finishing at 5pm on a Friday.
"With regards to our customer base in the CVRT section, we would look after many haulage firms in the area. We also provide pre-tests and 12-week checks for our customers. There are always new regulations being introduced and the legislation is always changing, so it is essential that we keep up to date with all these changes and inform our customers of these."
Seamus added that their state of the art workshop is fully equipped and is updated with new machinery when needed.
"Our workshop is fully equipped with all the leading technology to carry out services, maintenance and the testing. The technicians in the garage provide commercial vehicle repairs which complements the CRVT side of the business offering competitive quotations for work required and ensuring a very quick turnaround all under one roof."
Cavan Motors are the leading independent agents for new and used cars, car servicing and other services. Eugene Reilly and his team attributes the success of the business to providing a first class, professional service, a quality product and a keen awareness of customer needs.
Their ability to help the customer choose the vehicle that best suits their needs has earned them rave reviews both from customers and in the media.
The company's mission statement is to ensure that their customers are treated with honesty and courtesy from the premise on the Ballinagh Road, Cavan town.
Cavan Motors has an excellent and professional workforce in place which assures the winning of important contracts and maintaining repeat business. Their team is committed to delivering the highest possible level of customer and vehicle care.
"There are 12 employed here and many would have between 20 and 35 years' experience in the business, so the customers are very familiar with the employees and familiarity puts people at ease when they come through the door.
More than three decades since its inception, this progressively operated business, which also provides keen commercial vehicle maintenance and repair services, is going from strength to strength.
Their parts department stock a wide range of items to ensure that their customers are not left without for too long.
"At Cavan Motors we stock a full range of genuine manufactured parts. This ensures superb quality and dependability, guaranteeing the level of dynamic performance and comfort for you and your vehicle."
Substantial investment has been made in Health & Safety and in new tools and equipment. The company also invested a lot in training in order to upskill our staff and provide them with the necessary skills and qualifications.
Offering outstanding commercial vehicle testing and repair / maintenance services, Cavan Motors is in a very strong position going forward. The hard work doesn't stop now … they'll continue to work hard to serve their customers as efficiently and conveniently as possible.
Contact Details
Cavan Motors
Ballinagh Road,
Cavan,
SALES OPENING HOURS
Mon – Fri: 9:00 am – 6:00 pm
Saturday: 9:00 am – 1:00 pm
PARTS & SERVICE OPENING HOURS
Mon – Thurs: 9:00 am – 6:00 pm
Friday: 9:00 am – 5:00 pm
Saturday: Closed
CVRT OPENING HOURS
Mon – Thurs: 9:00 am – 6:00 pm
Friday: 9:00 am – 5:00 pm
Saturday: Closed
Tel: (049) 4332133, 086 8542699
Taken from Irish Trucker & Light Commercials magazine, Jan/Feb 2020, Vol 23 No 1