Galway Truck & Van Centre celebrate 40 years in business
19/03/2020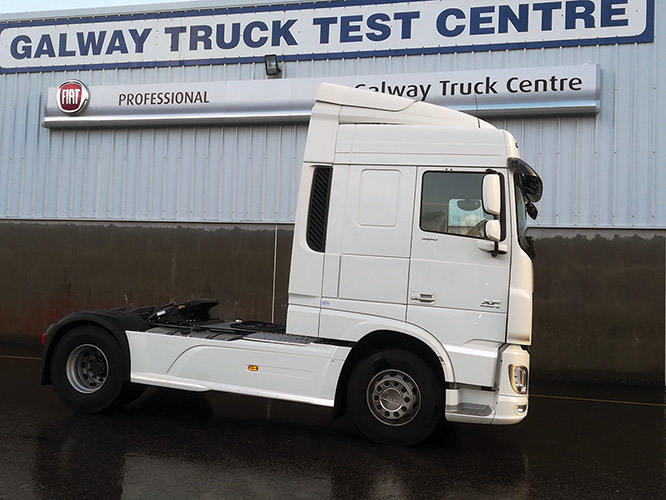 After reaching the milestone of four decades in business, all those involved in Galway Truck & Van Centre are confident they can continue to build on their well-deserved reputation as a leading commercial garage in Connacht.
Established in 1979, Galway Truck & Van Centre have a comprehensive knowledge of commercial vehicle operations and the needs of owners and transport managers.
For them selling a vehicle is only the beginning of their relationship with their valued and loyal customers. They will do their utmost to ensure the vehicle fulfils the expectations of the customer.
"We always aim to advise the customer what best suits their needs," Sales Manager David Rodgers pointed out. "We pride ourselves on our service and back-up. For example, we're on call 24/7 and there is always someone available on the end of the phone. We also specialise in servicing and stock a huge range of spare parts.
"If a customer encounters a problem we'll get them a replacement vehicle ASAP and keep the wheels turning for them. We'd never see one of our customers stuck because we realise that their van is essentially their office."
Mutually beneficial partnerships with DAF, Mitsubishi Fuso, Iveco and Fiat Professional are key ingredients in Galway Truck & Van Centre's winning formula.
The new Euro 6 DAF product range encompass completely new designs for maximum efficiency, reliability and the highest driver comfort as well as new state-of-the-art PACCAR engines, smart chassis layouts and attractive cabs that set the standard in the industry.
Fiat Professional offer a full range of commercial vehicles to fit your business needs, starting with the Fiorino and Doblo vans, up to the more spacious Fiat Talento and Ducato Vans.
The transport solution you choose needs to be flexible, reliable and above all else, cost effective. The new Mitsubishi Fuso Canter is packed full of innovation such as the DUONIC dual-clutch transmission (a world first), the automatic start/stop function (ISS).and independent front suspension for all 3.5-ton models.
And these are just a few examples. The result? Greater efficiency. Greater comfort and convenience for your daily transportation needs. And greater economy for your business!
Located on the Headford Road, approximately 6km out from Galway city centre, Galway Truck & Van Centre also sell quality used commercial vehicles of all shapes and sizes. They are the experts when it comes to providing used commercial vehicles.
Meanwhile, they subscribe to the motto that 'only the best is good enough' when it comes to genuine parts. Their wide and extensive stock includes genuine DAF parts, genuine Iveco parts, genuine Mitsubishi Fuso parts, a large selection of aftermarket parts stocked, a large selection of wabco valves, a large stock of workshop consumables and tachograph accessories.
Galway Truck & Van Centre's commercial vehicle product lines include engine, body components, electrical and lighting products, oils and lubricants, comprehensive range of filters, exhausts and aircon parts, clutch friction, brake and clutch hydraulics, cab panels and cab structural products, workshop consumables, tools and much more.
They are proud to be known as having one of the best stocked stores for truck, bus, machinery and general engineering supplies in the country. They carry top brands and stock everything from filters, oils, batteries, tyres, bearings, clutches, brake pads, starters, alternators, stereos, wipers, headlamps, belts, mirrors, bulbs, tachograph charts and number plates to work wear and safety boots.
This year saw the opening of a TRP parts shop onsite and a dedicated sales rep on the road covering all of Connacht. TRP are the no1 supplier of all makes and models of truck and trailer parts.
Another considerable string to their bow is their commercial vehicle, LGV and HGV service, repair and maintenance.
They cater for all vehicle servicing, maintenance and repairs in their large service centre and can attend to all your requirements for cars, vans, camper vans, heavy trucks, small and large buses, coaches, ambulances and minibuses.
The Headford Road-based operation provide complete bus, coach and truck mechanical service and repairs including manufacturers' warranty scheduled services on all vehicles and full engine reconditioning or rebuilding if required.
Scheduled services of your vehicle can be arranged at a time to suit you. A scheduled servicing programme at Galway Truck & Van Centre will help increase vehicle life, reduce costly breakdowns and improve your bottom line operating profit.
For faster service a pre-arranged booking will ensure their fully qualified mechanics get your vehicle roadworthy in the shortest possible time.
Galway Truck & Van Centre is an RSA approved CVRT test operator for light commercials up to 3500 kg and heavy goods vehicles.
The ultimate one stop shop!
Galway Truck & Van Centre
Sylaun
Headford Road
Co Galway
Sales Enquiries: (091) 751 984
Parts Enquiries: (091) 751 984
Service Enquiries: (091) 751 984
CVRT Test Enquiries: (091) 751 984
Website: www.galwaytruckcentre.ie
Taken from Irish Trucker & Light Commercials magazine, Jan/Feb 2020, Vol 23 No 1