Ensuring regulation compliance
13/03/2020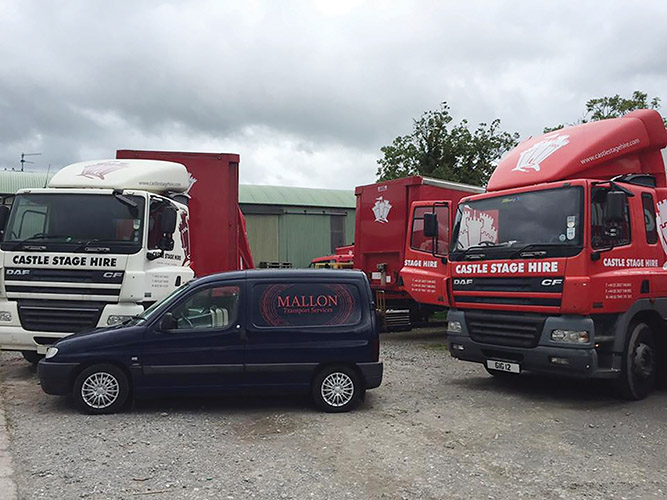 Based in Portadown, Co Armagh, Mallon Transport Services Ltd offers compliance services to hauliers all over the country. Irish Trucker learned more about the business from its Managing Director, Philip Mallon recently.
For Philip Mallon, the original interest in compliance started some four years ago when a friend asked him to have a look at his compliance systems prior to an upcoming audit. It sent him on a whole career new path from driving.
Philip got his HGV license in 2001, and since that time compliance "has become the major player" impacting every business in the haulage game.
Philip set up Mallon Transport Services Ltd in 2016 to help and support haulage companies with their compliance audits. With experience dating back over 20 years, Philip has successfully undertaken compliance audits for every customer. The company also offers clients a wider range of services including Digital & Analogue Tachograph, Downloading & Analysis and compliance Consultancy.
Philip took some time out from the hectic schedule to fill Irish Trucker in on the importance about his operator licensing and compliance consultancy services.
"As every haulier knows compliance is essential in the industry and what we do here is offer a complete compliance service to hauliers," Philip explained. "I've had a background in haulage industry for 25 years and I travel the country educating operators and drivers. We provide driver and operator training such as Transport manager CPC qualification and Transport manager refresher courses and driver CPC training.
"We also provide Digital & Analogue Tachograph Downloading & Analysis suited to the company's needs. Whether it be via manual onsite service or remote downloading systems."
Repeat business is a big aspect of what Mallon Transport Services is about, as the same hauliers continue to choose the company first when it comes to their compliance. Philip's expertise and service quality has enabled him to adapt to the needs of every customer from a single vehicle haulier to a multi vehicle operator was what originally made him take the decision to go out on his own and, thankfully, he hasn't looked back since.
"I started off as a driver and when I qualified as a Transport Manager, I then started to learn the compliance side of the industry," Philip stated. "It's all about education and my job essentially is education of both the operator and the driver. I've always talked to a driver as a driver and it's my job to try and eliminate the faults and help them learn more about compliance within the industry."
He added: "It's about making the company aware of their responsibilities in regards of compliance within the industry and helping and supporting them put systems in place to achieve this."
It's all a far cry from when Philip first started out in the industry a quarter of a century ago. Back then he spent years on the road, before opting to move into the office. From there, things took a different direction and compliance with regulations was something that would end up catching his eye. The rest, as they say, is history. Today, as an Approved Driver CPC Centre, Mallon Transport Services offers drivers and hauliers alike all they need to know when it comes to having the proper compliance for regulations.
"I got my HGV license back in 2001 and back then the level of education with regards to compliance in the haulage industry was pretty basic or non-existent" said Philip. "Since then, compliance has become a major player in the industry. In 2016, my friend asked me to come over and help him set up his systems in preparation for his compliance audit he successfully passed his audit and Mallon Transport services was established from this.
"Thankfully, every audit I've completed since has been successful. The success and business that we've had since starting here has been achieved through word of mouth."
For Philip, "it's all about mutual respect in the haulage industry" and customers seem to have been satisfied time and time again with the service he provides. In fact, much of the work he carried out sees him dealing with the same client's month in, month out to ensure that their standards are up to regulation.
"It's a lot about repeat business. I see the same people every month and there's always room to grow and help more hauliers within the industry," said Philip. "I've always had the intention of growing the business and the main goal has always been to keep hauliers compliant with regulations."
2020 will see Mallon Transport Services enter into its fourth year and, according to its Managing Director, they're as busy as ever up on Derryvore Lane in Portadown.
So what has been the secret? How has this compliance consultancy grown to earn a reputation which sees its clients' nationwide coming back time and time again? Honesty with clients has always been the best policy for Philip, who will hope to grow the business further next year and continue to build up its reputation amongst clientele.
"I'd like to think that I tell it like I see it," he stated plainly. "I've been in this industry for 25 years and I started at the bottom and worked in every aspect of the industry on my way to where I am now. One thing I've always felt in this industry is that if you're willing to tell someone the truth, you'll earn their respect.
"It's about telling a man honestly – that's the industry I grew up in." For all your Compliance Consultancy needs, be sure and give Mallon Transport Services Ltd a call today.
Mallon Transport Services Ltd
6 Derryvore Lane
Portadown,
Co Armagh
Tel: +44 7599 577 800
E-mail: [email protected]
Taken from Irish Trucker & Light Commercials magazine, Jan/Feb 2020, Vol 23 No 1