Continuing a proud legacy
11/03/2020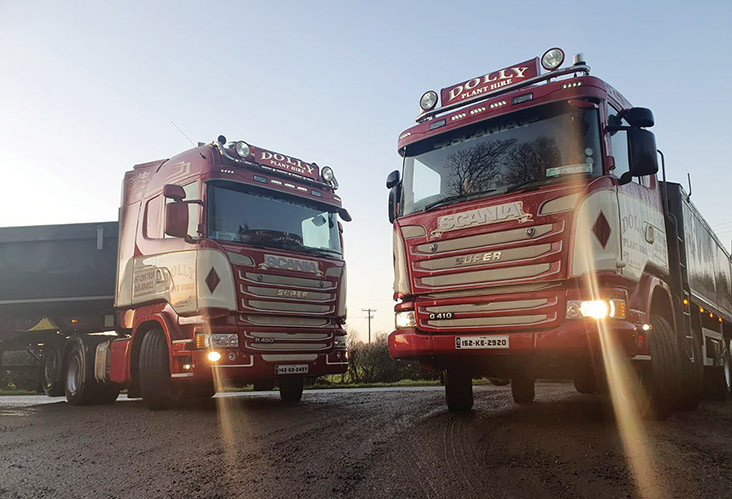 From their base in Newbridge, County Kildare, the Dolly brothers, Paul & Stephen, are running two successful businesses – Dolly Plant Hire and Dolly Textile Recycling. Irish Trucker caught up with the brothers to get an insight into these exceptional family-run operations.
Dolly Plant Hire was established as a limited company by husband and wife duo Paul & Shirley Dolly in February 2016.
Having gained years of invaluable experience working in the haulage / plant hire sector while running the family business back home with his Dad, this was nothing new to Paul Dolly.
It has proven to be an inspirational move as – building upon the goodwill he'd earned while running the family business down through the years – Dolly Plant Hire has hit the ground running, quickly acquiring a stellar reputation as one of the premier plant hire operators in the greater Kildare / Dublin region, enjoying steady growth and continuing to go from strength to strength.
At the heart of Dolly Plant Hire is the stunning fleet, with Scania taking pride of place. The truck fleet at present comprises of five Scanias – four tippers and one artic. The artic was recently paired with a striking new 8.2 Schmitz tipping trailer from Casey Trailers, which matches in beautifully with the company's rather fetching new red and white colour scheme.
Both Paddy and Darren Casey have a back-up that is second to none and have a second trailer on order for early next year. A case of back to the future for Dolly Plant Hire with the new colours being a throwback to their late grandfather Christopher Dolly's original colours. The beautiful spray job was completed by Brendan Tierney from Monaghan and his son Mark was the brains behind the new colours.
The maintenance of the trucks is carried out by Trevor James Commercials, Prosperous and Delaney's in Naas. Murty in Delaney's is always on Paul's speed dial and keeps the show going.
Dolly Plant Hire would be nowhere without the loyal staff. The top of the range Scania Artic is driven by Conor O'Hagan who is no stranger to this business either, being the son of the late John O'Hagan from O'Hagan Skip Hire. The tipper drivers are Willie Taylor and Christopher Supple, who keep the show going together. And not to forget about our part-time driver and baby brother Kevin Dolly! Another up and coming entrepreneur who will carry on the Dolly name further, he is one to watch!
The office is run by David Smith and Shirley as Paul doesn't do well behind a desk, as David well knows! Paul comes from a long trucking lineage, following in the footsteps of his father and grandfather, both of whom were also heavily involved in the haulage sector for many years.
A fully independent breakaway from the original family business, Dolly Plant Hire, though essentially still in its infancy, already has many clients on its books, Paul having forged lasting relationships through contacts built up down through the years.
Specialising in site clearance and the provision of sand and gravel, Dolly Plant Hire are fully insured to carry out all types of site work in an efficient, professional and value-added manner, removing any material from site and disposing of it.
Meanwhile, Dolly Textile Recycling, which formed in 2011 as a national clothes recycling initiative, is a 50-50 partnership between Paul and Stephen. This company collects and exports second-hand clothing and recycles mobile phones, books and scrap metal. Again, fully permitted and insured, this is a fully licenced waste collection company, registered with all county councils in the Republic of Ireland and fronted by people who have worked extensively in many areas of the recycling industry.
Dolly Textile Recycling's primary aim is to help divert as much waste as possible from landfill. All operations are environmentally friendly and drivers' routes are organised in order to reduce unwanted journeys.
Predominantly providing services across Kildare and Dublin, Dolly Plant Hire, in conjunction with Dolly Textile Recycling, generates direct employment for a team of 20.
Having played lead roles in successful haulage, plant hire and recycling business down through the years, the Dolly brothers are still going strong, perhaps stronger than ever. With decades of experience, a conscientious approach to all works carried out and an eye-catching fleet of excellent trucks and trailers to more than meet customer requirements, Paul and Stephen Dolly are well placed to continue providing unrivalled services for many more years, nay decades, to come!
Dolly Plant Hire
Ballymany Manor,
Newbridge,
County Kildare
Tel: 045 394021
Mobile: 087 2987929
Web: dollyplanthire.ie
Email: [email protected]
Taken from Irish Trucker & Light Commercials magazine, Jan/Feb 2020, Vol 23 No 1