BMI Trailers rolling out new service network
05/03/2020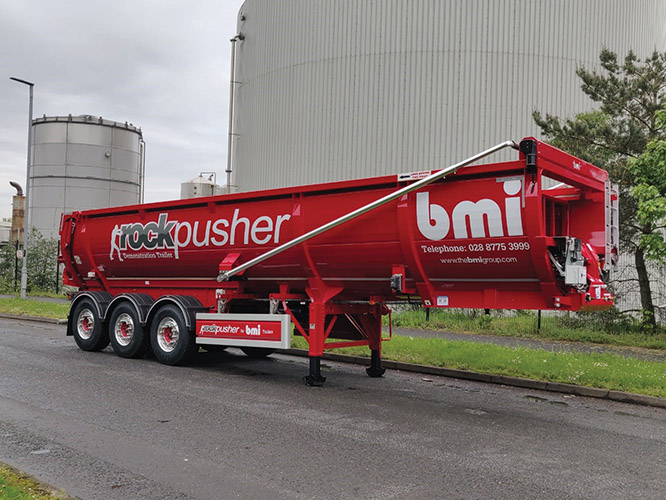 To accommodate their growing customer base throughout Ireland, Dungannon-based BMI Trailers Ltd. – Ireland's largest manufacturer and supplier of waste ejector trailers – are launching a new service network (BMI Pit Lane) in January, 2020, comprising strategically-located service partners in Dublin, Cork and Galway. We visited their County Tyrone HQ and touched base with Regional Sales Manager David Kidd to find out more.
Formed in 1999, The BMI Group is the longest-established manufacturer and supplier of waste ejector trailers in Ireland and the UK. They pride themselves on being the leading supplier of walking floor trailers within these markets and have also recently started to manufacture and supply tipping trailers.
A veritable one-stop shop for ejector, walking floor and tipper trailers, BMI have shot to the forefront of the market by providing customers with a complete, bespoke service in-house, including design, manufacture, sales and unrivalled aftersales service. As the number of vehicles out in service in Ireland and the UK continues to increase exponentially, they have recognised the need to build the support network their customers deserve.
Thus, as of January, 2020, complementing their well-appointed manufacturing facility and repair centre in Granville Industrial Estate, Dungannon, County Tyrone, in conjunction with carefully-chosen partners in the capital, Cork and Galway, they are rolling out a new service network, BMI Pit Lane, which will provide full island-wide coverage, ensuring that there is always a service / repair / parts department within close proximity to every BMI trailer in Ireland.
Specialising in moving floor, ejector and tipping trailers, BMI have worked with prestigious companies, both large and small, from all across the UK, Ireland and Europe. BMI believe in innovating rather than imitating and this is wholly apparent in some of the revolutionary new market concepts on their waste spec trailers, be that an ejector or a moving floor built with a variety of renowned walking floor systems. Customers can choose from the Keith walking floor system, Cargo floor system or Hallco live floor system.
Boasting more than a decade at the forefront of moving floor design, BMI's walking floors are available with steel or aluminium body structures featuring extensive use of new materials to improve tare weight while still maintaining strength and performance.
BMI Trailers' success to date is built on their service and aftersales commitment, guaranteeing invaluable back-up for their well-built, durable, value-added products – each manufactured and delivered to meet the customer's precise needs. By constantly listening to customers' requirements, be that sales or service, they have the knowledge and expertise to tailor their solutions based on this feedback.
From their waste spec and light spec walking floors to waste spec ejectors and their specially-designed, recently-launched, award-winning Half Pipe Ejector as well as heavy-duty HardBox steel scrap tippers, the BMI Group lead the way with innovative new designs on trailers, sheeting systems and waste compaction vehicles and equipment.
Almost two years of innovation and design change are behind the flagship, benchmarked BMI steel ejector trailer, which sets the standard for durability, longevity, tare weight, serviceability, support and residual value. BMI's ejector trailers are available in a range of specifications with an impressive list of options and features to enhance the user experience.
BMI's range of bespoke tipper trailers cater for the specialist aggregates, quarrying and construction markets and are available in alloy and Hardbox steel options. Scrap metal recycling users can benefit from the HardBox design for reduced tare weight, increased payload, better aesthetics and longevity.
These bespoke HardBox scrap tippers are manufactured using the highest grade steel, which provides high durability and maximum wear resistance, demonstrating resilience and withstanding the toughest working environments.
BMI Group's new service network in Ireland will be operated through their dedicated Repair Management team, based in Dungannon and headed up by Greg Hamilton. The network will specialise in walking floor repair and will also provide a number of other services, including PTO installation, floor installation / replacement and bodywork. An island-wide parts delivery service has also been rolled out and BMI aim to assist customers on a same-day basis wherever possible.
"The new service network is something that has been brewing for a while," confirms David Kidd, BMI's Regional Sales Manager Ireland. "We have always served all of Ireland through our main site in Dungannon, where we build the trailers, but in order to service our bigger customers at opposite ends of the island more efficiently, we've decided to pair up with a network of service providers.
"In addition to our full offerings in Dungannon, the new service centres will cover everything from repairs, servicing and parts to warranty work and essentially anything else the customer needs from us. Previously, they had to leave their trailers with us here in Dungannon, which obviously isn't ideal. As a customer-focused company, this is the right move to make and no other manufacturer of walking floors in Ireland is doing this.
"We are an Ireland-based company, now giving an improved local service. When the new service network is rolled out, it will be available to both existing customers who already own BMI trailers and also to new customers. This new service is in keeping with our status as a one-stop shop for trailers – we build them, sell them, repair and service them and also stock parts. If somebody wants to talk to us, we are here to have that conversation."
A truly incredible homegrown success story, BMI Trailers have experienced steady annual growth since the company's genesis in 1999. Today, across Ireland and the UK, they employ 100 people. While their largest market remains in Ireland and the UK, they have also branched into Europe and the rest of the world, including Australia, Africa and the United States.
"Our trailers offer the perfect combination of quality and value backed by an unbeatable aftersales service," David continues. "Structurally, they are a lot stronger than the competition and the fact that they are built in Ireland – and serviced locally – offers obvious advantages in terms of value for money. Customers can avail of well-built, durable, bespoke trailers, tailored to their exact requirements, backed up by top-quality aftersales service."
In keeping with their forward-thinking, proactive mentality, BMI are in the process of constructing a new three-bay repair facility in Dungannon, including a second spray booth and new offices. "We've been growing every year since '99 and our ambition is to strengthen our position as one of Ireland's leading trailer manufacturers and to continue to lead the way in innovation, sales and service," David concludes."
With an ever-expanding, flexible range of ejector, walking floor and tipper trailers meeting customer requirements on a daily basis and a new service centre coming soon to an area near you, BMI Trailers is a progressive, pioneering, trailblazing, Irish-based trailer manufacturing and servicing operation that continues to move with the times. The company has forged a stellar history over the past 20 years and counting … its future looks every bit as bright!
The BMI Group,
20 Granville Industrial Estate,
Dungannon,
County Tyrone,
BT70 1NJ.
Tel: 0044 (0)28 8775 3999.
Email: [email protected]
Web: www.thebmigroup.com
Taken from Irish Trucker & Light Commercials magazine, Jan/Feb 2020, Vol 23 No 1